To say that drones have created efficiencies for numerous energy & utilities organizations is an understatement. Drones are being utilized for the inspection of power plants, power lines, solar panels, substations, transmission towers and wind turbines. They're helping to assess damage to oil rigs and pipelines. Water and wastewater facilities are using them for leak detection, mapping, monitoring and storm restoration. But how are these efficiencies being measured? Can they scale across an entire organization? Has regulation impacted what an organization does with the technology? These details and more are set to be explored in detail during the Energy & Utilities session at Amsterdam Drone Week (ADW), taking place March 29th-31st.
There are few better people to moderate this type of discussion than Sebastian Babiarz, who now serves as the COO at Dronehub. For many years now, he has been focused on building a bridge between end users and drone technology. He has spoken at countless events to help define what that bridge can look like and plans to further define these connections between the industry and the technology at ADW. Connections that span organizations and entire industries are even more relevant since the value proposition with drone technology can now be considered in a whole different context.
"The development of the drone industry has received an additional boost in recent quarters - the pandemic limited the possibilities and needs of using manpower, many industries and services had fewer opportunities to use employees on site," Babiarz said. "A quick conversion to drone technology has been made. New applications of drones have appeared, the existing ones have gained popularity and widespread use."
That popularity and use of drone technology across energy & utilizes will be fully explored during several distinct segments of the session, each of which will feature insights from the people who both know and are using drone technology to make a difference.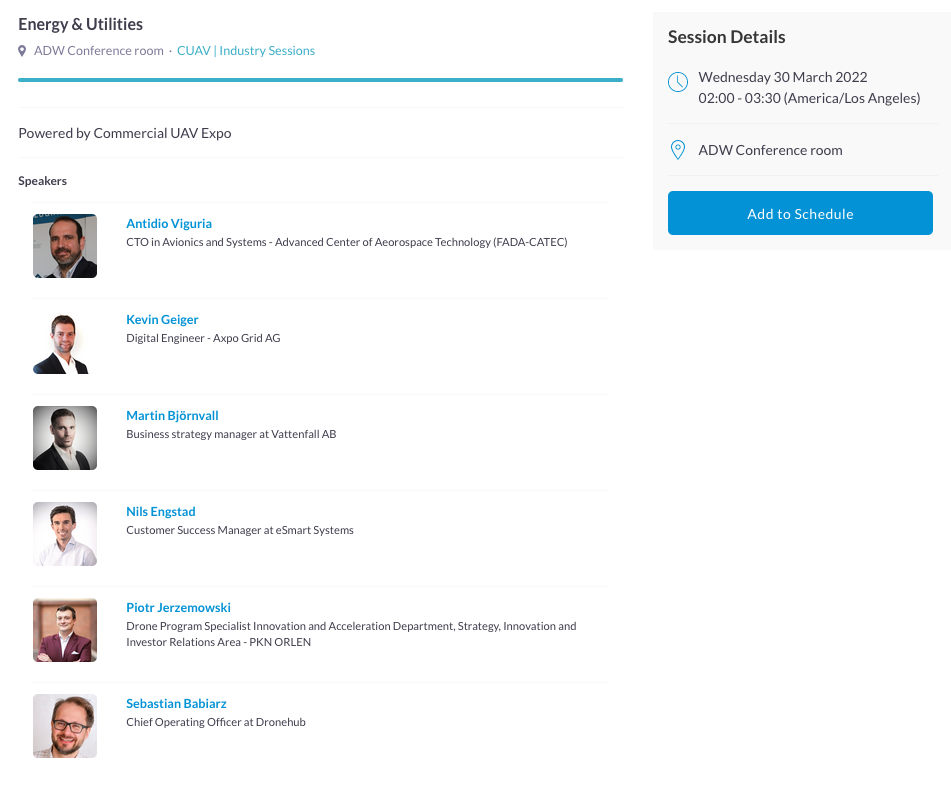 During the Digital Transformation of utilizing airborne technologies portion of the session, representatives from Axpo Grid AG and eSmart Systems will detail the journey from classic climbing inspections to virtual inspections of overhead power lines using airborne imagery technologies. They'll detail the challenges that have to be solved to achieve a complete autonomous inspection and discuss how better data contributes to more accurate and safer inspections.
How to effectively scale drone operations within utilities will see an expert from Vattenfall Services Nordic AB how the company has quickly gone from having no experience with drone technology to a place that now has 400+ pilots and performing continuously UAS operations. Anyone interested in scaling field operations within the utility sector will learn how one of the top utility companies in the world did just that.
Rounding out the session, PKN ORLEN' innovative use of drones for security and inspection purposes will highlight the results of multiple case studies that utilize drone-in-a-box solutions and VTOL drones to enhance predictive maintenance, while Contact inspections in the Oil & Gas sector using novel UAV configurations will showcase two novel UAV configurations that allow contact inspection (for wall thickness measurements) both in large structures and in congested piping.
After these presentations, all of the speakers will come together for a panel moderated by Babiarz, who's looking forward to further discussing the value that each will define for their specific project and how such insights can scale and expand beyond them.
"We will show real use-cases of the use of drone technology in the Energy & Utilities industry and we will look at the measurement of the results - so that we know exactly in what areas and on what scale drones optimize processes."
ROI and scale are top of mind for energy & utility stakeholders whenever the question about the adoption of drone technology comes up. Some of the top organizations in the space are set to define how their organizations have and will continue to address each, enabling attendees to better understand what the further adoption of drone technology can mean for them in the present and future.
Click here to see the full Amsterdam Drone Week Programme
Click here to learn more about Amsterdam Drone Week