"5G!Drones project is focusing on bringing a massive ecosystem together to demonstrate various use cases involving 5G technology, Unmanned Aerial Systems, UTM and relevant technologies. The consortium consists of 20 partners from 8 European countries, ranging from SMEs to large corporates, municipalities, and research organizations. The main focus of the project is to integrate UAVs, UAS, IOT devices, 5G MEC, and UTM into the 5G network to demonstrate high value use cases and validate the performance, efficiency, and capabilities of the entire system through specific, and well-defined KPIs. Through this, the consortium looks to be able to provide invaluable insights and contributions toward standardization activities, policy making, business models, U-space architecture, and public acceptance."
Gokul Krishna Srinivasan, Director of Technology at Robots.Expert
The term ecosystem is used frequently these days to talk about the drone industry. Coming from the natural sciences, the term very generally means that individual elements have complex relationships with each other that make up a system of systems. If one part of the system fails or overpowers the other, then other parts of the system will most likely be adversely affected. This seems like a fitting term for the drone industry where technology, politics, regulations, and the public all impact whether it will thrive or not. But unlike organically occurring ecosystems, there is the potential for the drone industry to test out various systems within the ecosystem for viability before they are widely implemented.
Many of these tests to date have operated within a certain segment or niche of the industry, working on proof of concept for various applications like last mile delivery and beyond visual line of sight, to name just a few. These have been landmark tests that are proving that the technology and protocols exist to execute these important missions. And as important as testing these applications has been and continues to be for the industry, many of our tests are still making the pieces rather than seeing how and if they fit.
For example, what happens when a drone making a life-saving delivery needs to operate simultaneously within the same airspace as a tactical beyond visual line of sight operation and a commercially manned aircraft? And who gets the right of way and how do we delegate bandwidth for each mission? We've seen how these types of scenarios have already played out in real life, causing some serious issues for the drone industry and critical operations. What happens when it is happening at a magnitude far greater than this when potentially millions of aircraft are in the sky?
What is the protocol? How do we allocate resources? What is the cost and who pays it? How do we make this a viable business model? How do we convince regulators it is safe and people that it is a positive life-changing service?
These are some of the questions Commercial UAV News was able to explore in-depth with several consortium members of the 5G!Drones Project over the course of several interviews. During these interviews, we discussed who the key stakeholders were, the roles they played within it, and why they are important to building a viable drone ecosystem. We also discussed the challenges that come with safely managing increasingly complex traffic systems and the technologies required to support that kind of system from unmanned traffic systems to ensuring reliable high-bandwidth, ultra-low latency telecommunications.

Although Commercial UAV News spoke about many things with the 5G!Drones consortium, some of which were covered in a previous interview earlier this year, the bigger picture—the ecosystem and stakeholders—kept coming up throughout. This aspect of the 5G!Drones project, the ability to see this bigger picture and the complexity of the ecosystem as a necessity to building success as an industry, is something that is worth breaking down in more detail because these pieces working together will ultimately define the future of the drone industry.
The Stakeholders
"This consortium contains experts from the telecommunication industry, drone legislation, drone technology, edge computing, software, and so on. It is challenging to align different fields of expertise and open up, explore, and absorb the complexities of the other stakeholders in the ecosystem and figure out how to work together. 5G!Drones Project is bringing expertise together, learning from each other—what the capabilities and the restrictions are today, what the requirements are—and working toward achieving those requirements, those KPIs (key performance indicators) and standards to enable use cases to scale."
Kim Clement, CTO of Unmanned Life
Those within an ecosystem that stand to benefit or lose as a result of the ability of the ecosystem to thrive are what we call stakeholders. Within the drone industry, this includes politicians, regulators, software and hardware engineers, scientists, the public, business leaders, and many others. They all have something to gain or lose as a result of the drone industry's performance, but they all come from other ecosystems as well with different languages and expectations. As was stated in that previous interview with members of the 5G!Drones consortium, one of its biggest achievements in the first few months of working together was establishing a common language and understanding. This is something that many within the industry are still trying to do. For example, when we bring together commercial drone stakeholders with regulators, politicians, or the public.
The results of those interactions can and have determined policy and regulations as well as helped shape public acceptance and support. In short, how these stakeholders work together and find common ground and equilibrium, or what the consortium would call standards and KPIs, determines the health and sustainability of the drone ecosystem.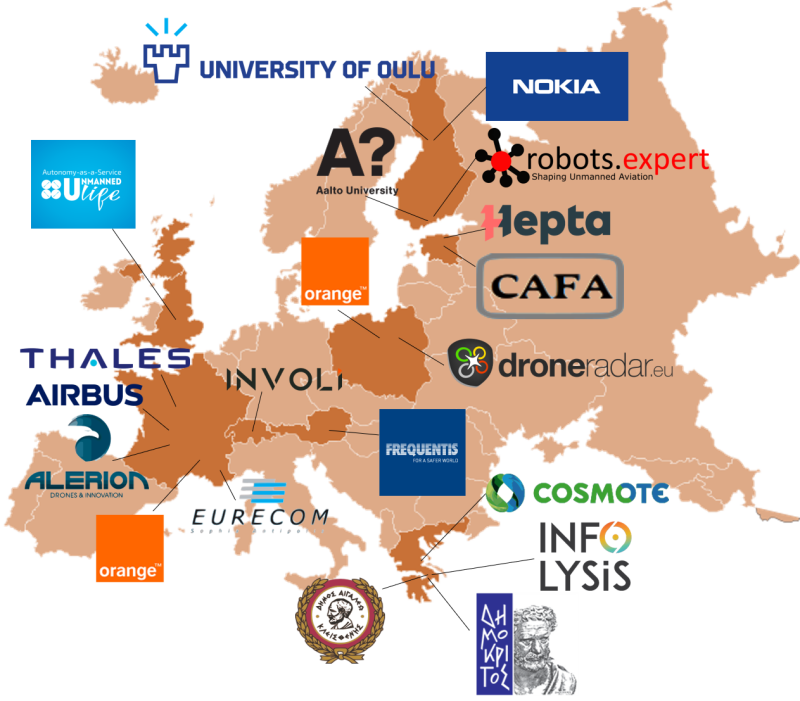 The Builders of the Architecture
"The goal here is to try to learn enough to be able to design and scale the software, such that deployments can not only happen, but that they can happen reliably and repeatedly. It is one thing deploying a few drones for a crowd monitoring scenario, it's another thing to do that repeatedly over a 5G network. That needs certain levels of design and architecture on the software side."
Kumardev Chatterjee, Founder and CEO of Unmanned Life
A large part of the consortium consists of those who are building and designing the drone interface or architecture: the hardware that goes into the drone platform, the software that tells the hardware what to do, the sensors that gathers the data, the software that processes the data, the cell towers and modules that enable connectivity with the drone, and so on. Their concerns are around making sure the pieces they make work together in a predictable way with everyone else's in terms of function, security, and safety.
This level of technology integration is helping the builders of the drone ecosystem to better understand what is needed for the industry to mature, to test these technologies, define KPIs, and make improvements to the system. By doing this, both the telecommunications and drone industries are determining not only how they will work on a technological level but also how they can both develop a sustainable and viable business model.
The Businesses
"I want to see the results of the collision between two worlds: UAV and telecoms. There have already been long, fruitful discussions between our UAV partners, research industries and telecom operators, so I am optimistic. Our drone partners have wide experience of the aviation industry, which is a crucial element while combining UAV's business potential to 5G networks. In addition, I want to understand how the EU-research project processes will work and what the benefits are to having multiple different approaches to a common research challenge."
IIkka Kansala, AI/ML Engineer, Nokia
Many of the builders are usually part of a business, but this business-side is motivated by a different code of rules that revolve around economic viability. They ask different, but equally important questions: Is there a demand? Can we supply that demand? What is the cost, who pays, and do they want to pay? Is this economically sustainable?
Within the 5G!Drones consortium, this was an important aspect to consider. How do telecoms and drone companies split the costs with the consumers of their products? What will people be willing to pay? Both the drone stakeholders and the telecoms, like Nokia, Orange, and COSMOTE, worked together to figure out these answers together.
"Obviously the business models are a very important factor for full-fledged 5G deployments. 5G promises end-to-end reliable premium services, but these come with a significant cost," said Fofy Setaki, Principal Scientist in Research and Development at COSMOTE. "They mandate a close cooperation with the business customer and investments in terms of edge services and network resources that need to be accounted and most probably not to the end-user. 5G services shall be mainly exploited by industries and businesses (the so called 'verticals') and, as such, the business model shall be shaped in cooperation with them."
Both the telecoms and other members of the consortium understood going into this project that the cost of running on a 5G system needed to be intelligently distributed to all key stakeholders. Not one industry or sector could shoulder the brunt of the costs. Although there had been some work done from the 5GPP automotive industry, there has been little done to date to determine that cost distribution for drones for 5G, especially how those costs could scale in the future. This became an integral part of the project.
"By understanding the existing and future possibilities of UAVs and 5G networks for real business needs," IIkka concluded, "The 5G!Drones project will become a key enabler to create that feasible business model."
The Regulators and Law Makers
Regulators and law makers operate under completely different mandates — they are expected to maintain safety standards and represent the people they serve, respectively. Their decisions can sometimes be made irrespective of the cost or feasibility of safety requirements, as this comes secondary to safety and their constituents. Therefore, how our industry works with legislators, governments, and regulators can have a profound impact on business models, especially in terms of cost and the technology, particularly when it comes to system requirements.
As part of the 5G Public and Private Partnership (5G PPP), the 5G!Drones Project is being funded by the European Union's Horizon 2020 Research and Innovation Programme, which means that government rule makers and regulators are setting the bar for the project in terms of performance and safety. This also means that the results of these tests will most likely have an important impact on how 5G is integrated into the drone ecosystem in Europe, if not globally, and the members of the consortium take this mandate very seriously.
"Let's first define the watermark level of safety that we want to keep: that's at least what we have now with manned aviation, which is a very high level of safety and comprehensive regulation," stated Thomas Lutz, Senior Technical Lead at Frequentis. "We need an approach to keep that safety level for an integrated system, and that approach should be risk- and performance-based."
5G is capable of providing high-bandwidth and ultra-low latency connections, but this only scratches the surface of what the system is potentially capable of. The 5G!Drones project is planning on testing these capabilities and more, including the testing of network slicing for providing a dedicated signal for mission-critical operations, 5G network devices for the creation of hotspots in critical areas, the functionality and reliability of the network to provide up-to-date notifications of data coverage, and the ability of edge computing to enable split second decisions. These capabilities, if proven effective, will help to better define the safety case to regulators and law makers who have to answer to their constituents.
"In the end, the faster your system can react and transport information to the one who has to actually react — which is the drone up in the sky — the safer the operation," explained Thomas from Frequentis. "It boils down to risk assessment before you start a flight, by checking your connectivity in the area of your mission and to risk assessment in flight, in which you get up to date, near-real time updates on mobile network connectivity and strength — for instance if there is a sudden drop in network connectivity. If you have a forecast about whether there will be data or not, you can do something about it. 5G is going to enable this in new, better, faster, and safer ways."
Testing these kinds of scenarios will enable 5G!Drones to recommend and define safety and security KPIs, which is especially important to share with legislators and regulators. These recommendations could help enable key use case scenarios and define the integration of unmanned aerial technology into the national airspace.
The Public and Media
"Not too long ago, drones were the enemy because of their large-scale military use, and it took a lot of good people to show to the world that drones can be used for good, for commercial and humanitarian purposes. Now that military use is fading into the background, they are understanding these applications more and more."
Cristina Mihalachioiu, Co-Founder, Legal and Communication at INVOLI
The public and media play an incredibly important role in the ecosystem. The public drives demand for services, which makes them incredibly important to businesses and the builders they employ, and they generate opinions about drones and 5G, which influence regulators and law makers. The media helps to inform and shape the opinions of the public and help people understand what drones are capable of — for better and worse.
One of the on-going challenges in the 5G!Drones project has been contending with public perception and the fear of these technologies. 5G and drones on their own have been causing concerns among global populations, and this has led to some bad PR for both industries over the years — some more recent than others. They recognize that the solution to this problem will not happen overnight, but that it comes down to positive use cases, positive press, and providing proof with science that these systems are safe and vital to improving the lives of everyday people.
"I am getting bombarded on social media on a daily basis with people saying that 5G is evil, 5G is engineered by Bill Gates to control the population, and that COVID-19 is caused by 5G. It is hard to fight beliefs with science," explained Gokul Krishna Srinivasan, Director of Technology at Robots. Expert when talking about some of the concerns people are expressing about 5G. "Every technology has had its own share of bad PR — there are good people and there are always one or two bad elements or incidents that happen. You have to overcome those things and find a way to manage this PR for the good of everyone else. We believe that this project is going to play a vital role in proving that 5G is not all that bad for human beings by providing scientific evidence. This doesn't mean that the general public will embrace 5G overnight. I believe that 5G will be used by corporations to start with and the public is going to see it is safe and useful. As the PR becomes good PR, I believe the public will start using 5G more frequently."
As with almost every disruptive technology that has come before it, drones and 5G will/has run into skepticism and misinformation. The technologies that prove invaluable tend to get past this hurdle, becoming essential tools in daily life. Electricity, elevators, the internet, computers, and cellphones all ran up against fear and misunderstanding, but their utility ultimately won. The goal of the 5G!Drones project, and so many tests around the globe, are about proving the utility of drones. To a large degree we are seeing that test case proven again and again with drones finding missing persons, fighting wildfires, delivering COVID-19 test kits, and taking on the dull, dirty, and dangerous jobs that put human lives at risk.
Conclusions
"We are pioneering the development and testing of solutions that combine both 5G and drones. Because the core details of 5G were decided in June 2020 and commercially the core of 5G will be available in the second half of 2021 — maybe — we are testing cutting-edge technology. And our contribution will be to share our results and our expertise to the whole drone community."
Tanel Järvet CEO of CAFA Tech
At the writing of this article, preliminary feasibility tests are being conducted with results being published periodically in papers, articles, and journals, as well as in scientific and peer-reviewed international forums such as IEEE, IFIP and 5GPPP, demonstrating their dedication to sharing their results to the entire drone community. So far, they have reported that the initial results from tests in Finland have yielded positive results on KPIs, giving them the green light to go into the next phases of tests and trials, which should yield important results for the entire global drone ecosystem and its stakeholders.
You can watch highlights from the May 2020 feasibility trial below and can find more information here.