The digitalization of the energy industry has enabled capabilities related to machine learning and artificial intelligence (AI) could completely redefine that could reshape how the entire industry approach individual tasks and entire projects. One company is committed to effectively exploring and leveraging this digitalization in order to apply skills and technologies related to software, technology expertise and data science expertise in the energy sector.
DNV GL
operates globally across a range of industries to provide trust and help stakeholders understand and manage risks. The company has over 2,200 experts providing advice for renewable generation, transmission, distribution and energy management and efficiency. The work they do ranges from testing high voltage grid components to bankability assessments to allow solar farms to be financed. Their
latest research
showcases the insight related to how drone technology and computer vision can help with inspections while also providing a global outlook to 2050.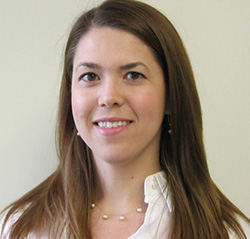 We wanted to learn more about the energy innovations DNV GL is exploring and utilizing, so we talked with Elizabeth Traiger, Senior Researcher, Power & Renewables DK & GB at DNV GL – Energy. We talked with her about the biggest issues in the energy industry, what some of the most notable takeaways were from her research, how DNV GL has measured the difference the technology makes and much more.
 Jeremiah Karpowicz: In what ways have you seen digitalization reshape the energy industry? Is that more in terms of logistics or expectations? 
Elizabeth Traiger: The energy industry is undergoing rapid change and in our
Energy Transition Outlook
(dnvgl.com/eto) we forecast a major shift away from fossil fuels, towards renewable energy. By 2050 up to 70% of the world's electricity supply will be provided by renewable energy. At the same time, the way that we use electricity is changing; consumers are now also generators with a proliferation of rooftop PV and transport is being electrified with a huge uptake in electric vehicles forecast in the coming years. These major trends of decarbonisation and decentralisation are being enabled by digitalisation. It is digital technology which is allowing this reshaping of the energy industry.
 What are some of the biggest issues in the energy industry right now? Do those issues vary from region to region?
Issues surrounding the variability of renewables increasing the proportion of energy sources on the grid and reducing the levelized cost of energy are common in all regions. Digitization, AI and the use of drones help renewables to reduce uncertainty in energy production estimates and the condition of the renewable assets. This allows for grid stability as a greater proportion of energy the energy mix comes from non-fossil generation. In addition, reductions of uncertainly help to get renewables closer to grid parity by opening financing options.
 What are some of the practical applications of computer vision?
For energy facilities, practical applications range across the entire lifetime chain: development, operations and decommissioning. In development, computer vision (CV) is used for environmental and land surveys. During construction, CV is used to monitor progress, and identify any issues with installation. Operations utilize CV to gain insights from drone inspection imagery. CV helps to assess any damage on the plants and aid in determining accurate power production estimates, for example using thermal imagery for solar facilities. Also, CV is used for casting- analysing satellite imagery for cloud coverage which impacts solar facilities, or to predict large storms events that impact any maintenance projects, hinder energy production and have protentional for damage to the projects and connecting infrastructure. In decommissioning, CV is used to maintain accountability and ensure remote sites in hard to access areas are returned to appropriate undisturbed levels for the environment.
 Your 
Energy Transition Outlook
breaks down new risks emerging from sensors, communication, and software. What were some of the most notable insights or takeaways you gathered from this research? 
The decreasing cost of sensors is leading to a proliferation of data that is also enabled by decreasing storage costs. Ubiquitous high-speed internet and mobile communications allows this data to be gathered in a more manageable and automated way than ever before. However, in this rush to digitalize, we need to pay attention to cyber security. The large number of distributed assets are vulnerable to malicious hackers and we are seeing that electricity systems are not immune from cyber threats. This doesn't mean that digitalization is not a net benefit, but it does mean that we need to pay attention to security and remember that our electricity systems are critical infrastructure that need to be protected.
 How has or will flight automation in drone technology change expectations with routine inspections of infrastructure? Is that related to being able to automatically identify defects in renewables assets? 
We will see larger proportions of the assets inspected more routinely. The reduced total inspection time, cost efficiency and increase to worker safety will see automated drone inspection usage increase. Time and cost were barriers to frequent inspections, with some projects keeping to minimum requirements. With more eyes in the sky, owners will be able to build a library of inspection images and a history of their assets, so they can see the change in conditions over time. Automation of the image processing to identify any defects and setting site condition levels will be crucial for effectual use of the data the drones collect.
  In what way has regulation impacted the approach you're able to take with the integration of drone technology? 
With respect to flight and operations, UAV regulation varies by region and is undergoing rapid iterations of change in response to technology advancement. Each country has its own guidelines, though most in general agree with respect to best practice and are in place to enable safe flight execution. We work within each region and market area to ensure project success.
 Have you been able to measure the difference that computer vision and flight automation with drones have made in terms of making a given task faster, cheaper or safer? 
| | | | | | |
| --- | --- | --- | --- | --- | --- |
| | Rope Access | Ground Camera | Helicopter | Manual UAV | Automated UAV |
| Time | 2-3 hours | 2-3 hours | 2 hour | 20 min | 15 min |
| Data Quality | ~1 mm/px | ~10 mm/px | ~10 mm/px | ~10 mm/px | 1 mm/px |
| Data Consistency | Low | Medium | Low | Medium | High |
| Estimated Cost(€ per inspection) | 1500-2000 | 2000-3000 | 1500 | 1000 | 800 |
| Personnel | 3-4 | 2-3 | 3 | 2-3 | 1 |
| Risk to Personnel | High | Medium | Medium | Low | None |
Are there any specific industry trends or developments that you're looking forward to seeing come together in 2019?
Wind Turbines can be up to 200 meters tall and solar projects cover a large area footprint. The flight time needed to inspect an energy asset can be a factor. Increased battery life and larger payloads mean hyperspectral and thermal imagery is more feasible for energy installations.Also, there has been interest in making UAVs more robust to open water environmental conditions for offshore installations. The high winds, corrosive sea spray and stable launch assess challenges, are all hot areas of research where I expect to see some advances in 2019.
  What's one thing you want energy professionals across the globe to know about the impact drone technology and computer vision will have on the energy industry in the short term and long term?
Automated UAV technology and machine learning computer vision analysis of collected images is here, now. It is not a vision of the future; it is a picture of standard operations today. The technology and algorithms have been proven are ready for widespread adoption across the energy industry. In the short term, UAVs give a cost-effective opportunity for owners to better understand the state of their assets.