As the world navigates a host of unprecedented challenges brought on by the coronavirus outbreak, we must look to new and innovative technologies for solutions. Drones, or unmanned aerial vehicles (UAVs), can help mitigate some of the distress caused by the pandemic and can contribute to operational improvements in its aftermath. Drones must be part of the new normal post-pandemic.
Prior to the coronavirus outbreak, drones and UAVs had been viewed by many as nice-to-have tools for asset management and inspection operations, and often as cool but complicated technology for sectors such as parcel delivery, safety and emergency management, and most other industries. However, many of the companies that had already implemented a drone platform may be able to continue their inspections with minimal impacts from mandated social distancing and operational limitations due to the pandemic. This disparity in drone operational capabilities for companies during the pandemic will likely result in an increase in overall activity in the UAV market. More organizations will become interested in deploying UAV systems for operational and cost benefits, but also as a system that remains operable in challenging times.
Dynamic Applications Arise
Ryan Citron, senior research analyst at Guidehouse Insights, discussed the potential for drones to deliver high priority goods and medical supplies as demand for physically distant delivery of consumer goods such as pasta, baby food, and toilet paper has skyrocketed. Additionally, medical campuses are deploying drones to safely deliver medical equipment such as lab tests and supplies across large campuses while minimizing personal interactions. These are only a few examples of drone deployments helping companies address the challenges posed by the pandemic. In addition to programs in direct response to the pandemic, drones are also being deployed for the inspection and maintenance of critical assets such as power lines, railways, oil & gas pipelines, and other networks. With many utilities, oil & gas companies, and transportation providers suffering revenue stream interruptions as a result of the pandemic, the conversion of inspection operations to drones is an option to reduce costs, improve efficiency, and broaden overall inspection capabilities, all while minimizing interpersonal interactions.
The following table highlights the strengths, weaknesses, opportunities, and threats to the deployment of UAVs for asset inspection. The sum of the market conditions and associated benefits position the industry for growth over the medium and long term, although the initiation and integration of new projects is expected to stunt growth in the short term.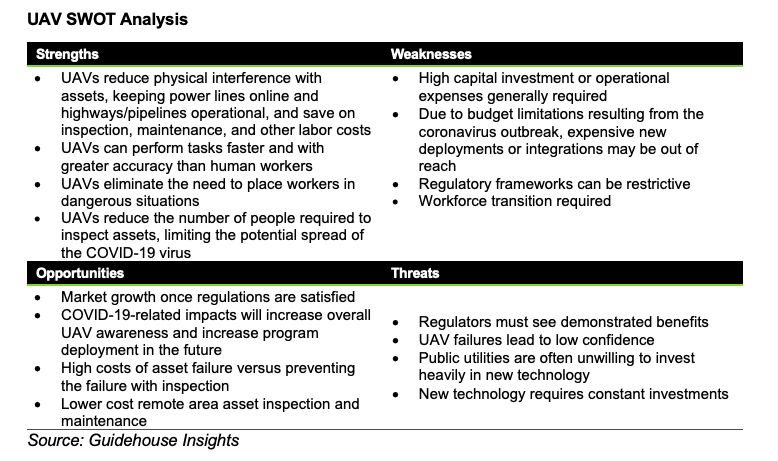 Sky-High Potential
Guidehouse Insights has identified four key market trends that are driving the adoption of UAVs as a result of the pandemic. Companies across all industries are expected to:
Increase their appetite for intelligent automation, data governance, data analytics, and critical infrastructure information
Consolidate and streamline shared services and technology to simplify and reduce the cost of operations and support functions
Seek ways to address the evolving nature of work, roles, and skills while improving asset performance
Desire increased resilience of capital, assets, land, and operational performance
UAV providers must reimagine potential business opportunities and partnerships. Asset owners, energy companies, and shipping service providers (among others) have to recognize the benefits that drones bring, which are now emphasized by the impacts of the pandemic. When the coronavirus outbreak is a thing of the past and we emerge into a new normal, let's make sure that UAVs and drones are part of that future.
To learn more about how the pandemic has shaped and is shaping our industry join us at our 6
th
annual Commercial UAV Expo Americas Virtual event September 15
th
through 17
th
, 2020, which will include keynotes and panel discussions , as well as industry specific conversations on the topic including one on utility inspections with Michael Hartnack and other industry leaders in the space. Register here.