One of the largest electrical utilities in the US, Southern Company has been incorporating drone technology in its work since 2015. The company uses uncrewed systems to perform a wide variety of tasks, including support for transmission, distribution, security, storm response, damage assessment, and power generation.
Last November, Southern Company secured a waiver from the FAA to operate beyond visual line of site (BVLOS). Flying out of Alabama Power's James M. Barry Electric Generating Plant, Southern Company will use drones to conduct a range of mapping and inspection operations. This is just the latest example of how Southern Company is committed to uncrewed technology and eager to find new and better ways to use it in their work.
To learn more about Southern Company's expanding drone program, Commercial UAV News spoke with Dean Barefield, the company's UAS Program Manager.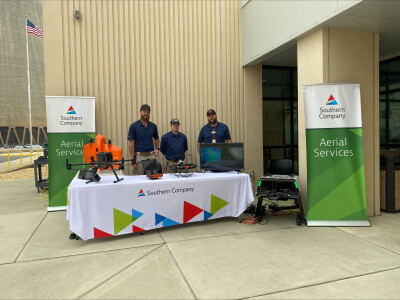 Barefield joined the company in 2017 after a serving as an Unmanned Aircraft Systems Technical Warrant Officer and Aviator in the US Army. In his time at Southern Company, Barefield has been deeply involved in the expansion of the company's UAS-based operations. Today, he supports more than 300 UAS vehicles and more than 200 remote pilots across 15 of Southern Company's major business units.
In our conversation, we discussed how the UAV program is managed at Southern Company, strategies the company has used to expand and enhance operations, and more.
Commercial UAV News: Tell us about your approach managing the UAS program at Southern Company.
Barefield: I refer to our drone program as kind of a hybrid model where there are three ways to leverage drone technology. One of those ways is through vendor and contractor partnerships. We have a number of vetted contractors that perform drone services on our system.
Another way, housed within our corporate aviation department, we have a team of dedicated, full time UAS pilots. Many of them yielding an extensive utility background, these pilots perform advance UAS operations across our system, utilizing the latest in UAS and sensor technology.
Last, but certainly not least, is a way of using drone technology that's been the bread and butter of our program, what we refer to as our "self-dispatch model." With this model, we train internal employees based on a use case or a business need to leverage drone technology within some limitations of Part 107.
Commercial UAV News: What is it about the self-dispatch model that has made it so successful?
Barefield: This self-dispatch model has really been instrumental in helping us to build and scale the program and the drone technology across all of our portfolios. Our approach to putting that technology in the hands of the subject matter experts has helped us to identify probably 90% of our use cases today.
Commercial UAV News: I would imagine that some or even most of the subject matter experts are not drone pilots. Do you offer training and support?
Barefield: As an aviator myself, I believe that aviation, more specifically, an aviation safety culture, is a critical component to an effective UAS program. Operating in a highly regulated professional vertical, we've put a training program in place at Southern Company which raises the bar. So far, we've trained over 300 internal employees that operate drones. About 180 of those employees who've been trained are active today flying more than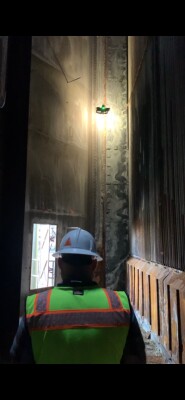 400 aircraft involved in operations that traverse our portfolio and our business units. Based on our experience, we're confident that the program we've set up internally provides our pilots with the tools necessary to operate safely and effectively.
Commercial UAV News: Southern Company has been around a long time. Have you faced any internal obstacles or resistance as you've integrated and expanded drone operations?
Barefield: We've been in the business of keeping the lights on for more than 100 years, and we're really good at what we do. We've gotten very good at those legacy methodologies from storm damage to responding to trouble situations, and so forth. So, because drones are a disruptive technology, they are changing and challenging those methodologies. To help us expand our use of drones, we've worked hard to earn the trust of our stakeholders and demonstrate the capability, reliability and value of the technology. The bottom line is a drone is better than an eyeball all day long. There have been challenges, but our employees see how effective drones can be.
Commercial UAV News: Looking back at your years at Southern Company, what would you say are the keys to the growth of the UAS program?
Barefield: What I tell people when we talk about drone technology is that you've really got to take a measured approach to it. Don't try to force a square peg into the round hole. You know, drone technology is a great technology. It solves a lot of problems. But it can also create a lot of problems. So, we've tried to be very measured in how we're integrating the technology.