The issue of flying time, or time in the air (TITA) as I keep calling it, has plagued the commercial unmanned aerial vehicle (UAV) since the beginning. The key word in that opening sentence is 'Commercial' as hobbyists and amateurs seem to be happy with their 25 minutes of endurance on most multi-copters, but commercial and enterprise drone applications need and demand more TITA.
Over the past several years, Commercial UAV News has strived to bring to the forefront new ideas and technologies that would allow our readers to explore innovative ways of performing their processes as they adopt vehicles poised to change almost every aspect of society. We have covered hybrid models, hydrogen fuel cells and every innovative idea that aims at increasing TITA. Recently we came across an old idea with a new twist that is worth covering.
High Eye of Dordrecht, a Netherlands-based company, has decided to give internal combustion engines a second look. Their only product, the Airboxer, is an ingenious mixture of 21st century materials and design concepts with high efficiency engines and an uncanny capacity to carry loads at low prices.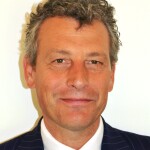 Impressed by their technology we reached out to Joost de Ruiter, CEO and co-founder of High Eye for an exclusive interview about their product and their approach to market.
"All electric multi-copter UAVs have a limited endurance (max 45 minutes to 1 hour). At High Eye we focus on just 1 model, the Airboxer, which is a single rotor fuel driven Long Range UAV and not a multi-copter nor a fixed wing VTOL UAV," Joost explained. "The maximum endurance of the Airboxer is 4 hours, and it can really hover for hours as well. This distinguishes the Airboxer from all electric multi-copters and fixed wing VTOL UAVs. On top of that, the Airboxer is EMI shielded, can take off and land on a moving deck, has an IP rating of 67, all parts are anodized etc., which makes it a maritime UAV as well. All this in combination with the mobility of the system (Maximum Take Off Weight of 30 kg / 66 lbs.) makes it, literally, an unmanned helicopter."
When asked about High Eye as a company and the inspiration for the Airboxer, Joost was unambiguous about the origins of the company and the idea that started it all.
"We started about 8 years ago and saw at that time a huge gap between the electric multi-copters and the large, heavy single rotor helicopters like Schiebel (Camcopter S – 100), UMS Skeldar and Leonardo that are all around 200 kg / 440 lbs. or heavier," stated Joost. "There were hardly any suppliers that could deliver anything in between. We were and are of the opinion that there is a good niche market for a long-range UAV that can fly and hover for hours and that would have a lighter footprint in every sense."
We then asked about the fact that internal combustion engines seem to be on their way out and being replaced by more modern concepts, that are more eco-friendly, and why Joost had chosen this method of power.
"The funny thing is that our Airboxer is very eco-friendly, because it can replace a lot of missions that are otherwise flown by manned helicopters," Joost answered. "The Airboxer burns only about 1 litre of Jet A1 fuel an hour, which is nothing compared to manned helicopters and the fuel consumption of vessels. If you have an Airboxer on board of a ship there is less need to sail the vessel, and faster and cheaper to fly the Airboxer. In the very near future, we will start with testing biofuels, which can make the Airboxer a CO2 neutral UAV. We are quite sure that this is possible with the current version of the Airboxer."
When the conversation turned to applications for the Airboxer, Joost was precise in the markets that High Eye is targeting aggressively.
"We are a hardware manufacturer and not a service provider in terms of flights," emphasized Joost. "So far, we have not sold units for applications such as mapping and agriculture. We specialize in Maritime applications, Safety and Security, including Search and Rescue, and Research and Inspection. By the way, we leave the choice of the pay load up to the customer, we just integrate their pay load of choice. Of course, we do support and advise the customer in their choice, but we think it is important that they understand what the payload can deliver. Having said that, we also have customers that order the complete system including payload as well."
The search for the 'Holy Grail' in terms on endurance is far from over, but we are encouraged that companies such as High Eye are willing to swim against the current and give traditional fuels a second chance for very specific use cases.