Land surveying and cartography turn hard measurements over the surface of the Earth into symbology. Expressed coherently in a piece of paper or a computer screen, that symbology can give managers, soldiers, farmers, and urban planners the information they need to make decisions that sometimes can be the difference between life and death (e.g., crops being adequately irrigated or entire cities receiving electricity).
These days, geospatial instruments are generating thousands of millions of points per minute, and this exponential densification increase has resulted in higher precision at lower costs and incredibly fast. But the problem continues to be the same: how to turn an immense number of points into information that can be used to make decisions.
The solution is simple: use an online Geographic Information System (GIS) powered by artificial intelligence (AI) to keep up the pace of progress in measuring techniques with equally advanced analysis methodologies.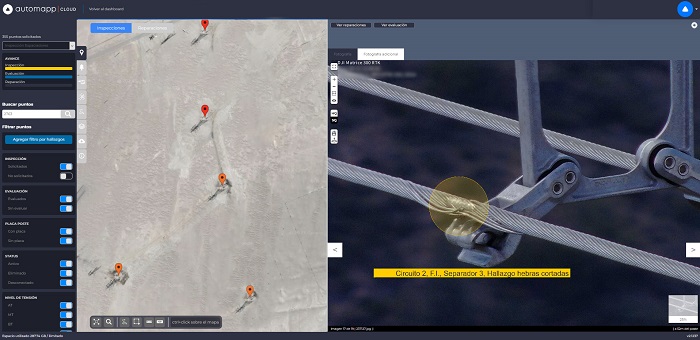 One company in Chile, Ecodrones, has been working for years to create an intelligent system called Automap that is capable of digesting, processing, and creating reports from the hundreds of millions of data points that their sensors generate every day.
We first reported on the Automapp team in April 2020 when the entire planet was entering a period of turmoil as a result of the COVID-19 pandemic. Now, three years later, we are happy to report that the talented group of software developers, pilots, and data scientists have done it again. They have launched Automapp Cloud, a public version of their incredible visual inspection software, with AI incorporated to increase data analysis with improved performance and learning capabilities.
Automapp Cloud is not just a tool—it's a comprehensive solution that addresses several challenges in the drone inspection industry. It is designed to manage the entire visual inspection cycle, from data capture and analysis to post-maintenance evaluation. By integrating georeferenced data and AI-based automation, it enhances decision-making, optimizes inspection processes, and ensures proper asset management.
"After more than seven years developing and using Automapp as an internal tool to help us manage the thousands of gigabytes created from our own drone operations and helping our customers make sense of their electric distribution networks, we understood it was mature enough to allow for the release of a cloud version that would be accessible to the public," said Julian Crespi, Chief Analytics Officer at Ecodrones. "Imagine the amount of development, testing, and fine tuning that we did over these three years to the version that we showed you in April 2020. We have added automatic deployment, localization, labeling tools, custom AI and a very specialized GIS to group assets and create entire datasets that allow the system to interpret faults and potential equipment failures to immediately visualize their risk over a comprehensive map."
Crespi leads a team of electrical engineers, data scientists, and land surveyors to identify transmission lines' risk, develop the strategy to train the AI models, and to find new markets in which the visual inspections enabled by Automapp Cloud can unlock massive amounts of value.
"From the beginning we set out to create a tool that would not only analyze the information correctly and in record time, but it would also display it in an intuitive way that would save hours to our customers," said Crespi. "This version is being offered to the public as SaaS (Software as a Service). We also added the capability to accept data from many sources like smartphones with our mobile apps and drones equipped with a variety of sensors such as high resolution imaging, thermography, and lidar, knowing that a lot of potential customers have their own drones and mobile mapping capabilities and are perfectly capable to do the field work to generate the necessary data that would benefit by using Automapp Cloud to analyze and report on actionable information, and to take it to the next level by allowing users to train their own AI models without a single line of code."
"One of the great benefits of releasing it as SaaS is the ease of adoption for clients who can start using the platform immediately, no meetings, no contracts, just create an account and have access to a fully deployed platform ready to go," said Crespi.
"Thanks to our drone operation experience, we built Automapp Cloud with the core philosophy of focusing on the 'asset' not the 'fault'," said Crespi. "This helps users manage hundreds of assets inspections with ease and to have the proper information related to each asset along with its inspection result. With that in mind, we link images and videos directly to their corresponding assets, which are represented as points on a map. Each point contains all the information about an asset, including all the data from its inspection. It allows users to upload thousands of images, manage them efficiently on a map, and swiftly conduct risk evaluations of assets. The result is informative, actionable reports that can be generated on the fly."
"We also created a series of integration tools to make sure that this information can be exchanged with an existing ERP (enterprise resource planning) like SAP, to automatically create a work order to contractors, therefore increasing productivity by combining identification of issues with fast and efficient replacement of faulty assets," Crespi added.
The team at Ecodrones have collected thousands of images, especially of high voltage distribution networks over vast areas of Chile, from forests to deserts, and it has turned that unstructured data into a labeled dataset that their AI model uses to learn the difference between a clean electric conductor and one with broken strands or a missing glass insulator. This allowed the team to develop and incorporate labeling tools to Automapp Cloud and to train a massive AI model that is capable of finding the most risky and frequent type of faults in transmission lines, making it available for its inspections and to users of Automapp Cloud, At the same time, these tools can be used by its users to let them train and polish their own AI models to automate their specific inspections.
"Customers can now upload thousands of images and videos to feed SOFIA, our AI engine and generate their own AI models that would be used to automate their visual inspections processes," said Crespi.
The utilities sector is also subject to a series of mergers and acquisitions (M&A) that makes having an accurate inventory almost impossible. This is because of the different origins and formats of information, many over 30 years old, and the disparate systems in which this information is stored.
"Asset inventory today in the utilities' sector is in great need of a tool that would allow managers and stakeholders to consolidate various types of outdated databases possibly coming from M&A with other utility companies," Crespi stated. "It is complicated for all these companies to integrate their operations and at the same time maintain services flowing uninterruptedly to the public. It is a great responsibility and Automapp Cloud can help them identify faulty assets and replace them in a timely manner while also letting build an accurate and up-to-date inventory."
Automapp Cloud has matured from an internal tool used by the engineers at Ecodrones to a cloud SaaS, bringing value to drone operators and companies by focusing on a wide range of visual inspection cases beyond electrical inspections. The tool is capable of adapting to the needs of customers worldwide who require a visual and analytical tool to quickly and efficiently evaluate assets over vast geographies, creating workflows to replace faulty items and prevent costly service interruptions.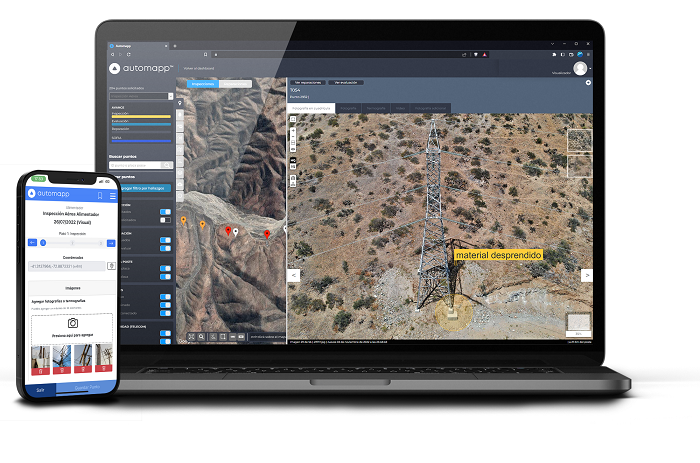 As part of their launch campaign of Automapp Cloud, Ecodrones is offering readers of Commercial UAV News a 30-day trial of their advanced plan, which provides the capability to perform detailed inspections utilizing images, videos, thermography, and lidar data by using Promocode UAVCOMMERCIAL2023 on https://www.automapp.cloud/