Establishing a Drone Business with Part 107
A three-part series exploring what it means to make drone technology make sense under Part 107
Energy companies need to monitor thousands of miles of pipelines, tank farms, transmission lines and other assets in order to determine how and when maintenance activities need to be performed. The sheer size and scope of managing this infrastructure means that the ability to automate tasks related to performing such inspections will create incredible efficiencies. This is one reason why the energy sector as a whole is quickly adopting drones.
With the energy sector representing basically a recession-proof market and renewable energy sources capturing a fast-growing share of that market, opportunities for technological advancement and the adoption of drones will undoubtedly grow. By using Part 107 to their advantage, drone consultants can capitalize on these regulation changes, just as they have in other sectors like agriculture.
Even smaller, locally based drone consultants can take advantage of the upcoming boom in drones in energy/utilities. Whether that work is related to inspecting wind farms, solar farms, electrical distribution lines or a variety of other tasks, drones are making more sense to decision-makers in the energy sector, but they're doing so in a variety of ways that directly and indirectly impact the bottom line.
A Growing Market
The growing market for drone consultants' services in energy is immense. According to PricewaterhouseCoopers (PWC), the market of drone-powered solutions in the world's power and utilities sector is worth $9.46 billion. Other research underscores how important those services are to the world economy. A recent study by Guinn Partners found that in 2017, infrastructure and utility inspections made up more than half of all commercial drone activity.
Strict regulations in the energy sector are just part of the reason for this growing drone market, as many struggle when it comes to determining how new technology can be incorporated into established procedures. Antiquated oil, gas and electrical systems that lack 3D models also play a part, which is one of the reasons that so-called Digital Twin modeling is easing workflows in energy. Creating a virtual representation of a physical asset allows energy stakeholders to reconsider their inspection and maintenance activities in an entirely new light.
Energy company assets and equipment need regular inspection, though it's time-consuming, costly and sometimes dangerous when performed by workers traveling to distant sites. Drones shorten the time and costs associated with inspections and remove employees from hazardous situations in times of critical need.
Consider solar energy facilities, which often contain thousands of panels. Having required inspections completed by an employee can be an arduous and time-consuming process. Inspecting that same facility with a drone equipped with a photovoltaic sensor to see if the panels are operating at optimum efficiency is comparatively simple, and sending out a drone with the right software to capture and analyze the data is time efficient.
Using drones and associated software, operators can easily convert data into 2D or 3D models and actionable information for various areas including right-of-way monitoring. This automation simplifies processes, reducing costs for maintaining assets including pipelines and power lines. These savings are multiplied when flying beyond visual line-of-sight (BVLOS).
Drones are also helping with wind turbine and tower inspection by reducing inspection time. The impact on worker safety is also evident, as the technology makes climbs less frequent. The need for inspections of such facilities will undoubtedly increase since the number of such facilities will grow with increasing investments in renewable energy and the need for wireless connectivity. This growth will, in turn, drive the technology and processes requirements to properly maintain these facilities.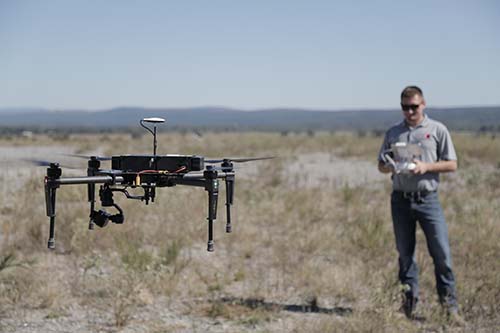 The Scope of the Energy Sector
The Global Wind Energy Council estimates there were more than 341,000 wind turbines worldwide in 2016, according to a recent white paper by Skylogic Research. "Unidentified defects can result in an unexpected catastrophic failure, causing expensive repairs, extended downtime, and associated revenue loss. Revenue losses alone from unexpected catastrophic failures can be as high as $50,000 per turbine."
That pain point is another reason why in the near future, energy executives will embrace drone consultants who can serve energy and utilities. Energy company stockholders want increased profits, reduced risk, and few production stoppages (if any), all of which can be directly enabled and delivered with the help of drones. The energy market is great and the need to deliver these kinds of inspection services without a hassle and with reasonable fees even greater.
When considering energy and utilities, one must also factor in the future effect of laws meant to lower carbon emissions. Such legislation will make the need to optimize the performance of an energy company's assets ever greater. Drones will continue to help companies get the most out of their assets, by pinpointing problems and reducing waste. Through the use of solar photovoltaics monitoring, drones are identifying issues like hot spots, dead zones and debris, while diminishing the need for manual inspections.
Drones also are becoming adept at inspecting high-transmission electrical lines, which are often in remote places where a serious injury can result in death due to the remoteness of the locale. Removing the need for all but the most essential climbs on such structures decreases risk. All of these efficiencies are driving the desire of energy companies to embrace and utilize drone technology, but exactly how they're doing so depends on a number of factors.
Providing Value Right Now
Decisions for energy companies when it comes to adopting drone technology are typically related to creating their own drone program or utilizing service providers. But are utility companies taking an "either/or" approach when it comes to these options?
"Companies are really taking a hybrid approach," says Patrick Lohman, Vice-President of Energy for PrecisionHawk. "There are a lot of benefits to internalizing some of that work. A lot of these government-regulated utilities like to internalize things, so they can benefit on the capitalization side."
Ultimately, it's about selling value and allowing an energy company to see and understand what's going to work best for their organization and established process.
"One of the main ways that service providers can provide value right now to electric utilities across the board is by showing they have the equipment, are local and are licensed," Lohman continued. "The fact that someone could only incur driving costs to provide the work is a big component to the value being there."
Serving the energy market is also a question of being aware of its specific needs. Drone consultants should understand the energy market's issues, such as on-site safety, equipment maintenance and security requirements.
Consultants also should be prepared to provide more than static images and fly-over videos to clients. Instead, deliver a full package, including data analysis. By providing high-resolution, repeatable and frequent data collection, consultants will help customers with asset inventory and management.
Many drone consultants offer video, photography or one type of sensing equipment on the drone they fly, but other sensors are available. By using LiDAR, a drone operator can inspect powerlines for increased sag and encroachment from vegetation. Thermal sensors can detect hot spots or broken insulators, and chemical and energy discharge can be spotted with UV sensors to locate problems. PrecisionHawk's acquisition of InspecTools in order to help provide regular, cost-effective inspections will also help professionals in this sector create value.
In some cases, the go-to operators working for a drone consultant serving an energy company can become almost indispensable to the firm. These close relationships can lead to other opportunities.
"We are also seeing small contractors transition from an external service provider to becoming an internal hire for these utilities since they have already proven they can perform well and have a familiarity with the company's systems," Lohman told Commercial UAV News. "For instance, we've been tasked with quite a few service opportunities in the electric space. A company's plan often is to internalize some of the programs they're currently externalizing with service providers as it gets more mature."
Consultants should remember to price simply and appropriately. Make it easy for clients to engage your services at a scale they prefer. Especially in the energy sector where regulations require sophisticated operations, simple pricing can be a deciding factor in landing a client or keeping one long-term. Exactly how these relationships begin and develop are issues that service providers need to consider for energy clients.
"If you're going to contract directly with a large energy utility company, they're going to have a lot of very strict standards that you need to follow," Lohman concluded. "They're going to ask you for what's basically a full-blown safety program, so one consideration for a small service provider is to weigh the benefits of whether or not they should be investing in that full-blown safety program because doing so is not cheap. Energy is a different ballgame, and there are a lot of strict standards that you need to swim through in order to come up with the best plan as far as how you want to run your drone service business."