Establishing a Drone Business with Part 107
A three-part series exploring what it means to make drone technology make sense under Part 107
In the construction industry, where jobs are fraught with cost overruns, missed deadlines, untended RFPs and more, drone consultants' services are in high demand. Construction projects are bedeviled by many factors that can drive up costs, impact worker safety and spawn lawsuits between stakeholders. Drones have made definable differences in this space, since they decrease the need for lengthy visual inspections, reduce planning time, and identify problems by spotting anomalies. However, these efficiencies are just the beginning.
Part 107 has allowed construction organizations and drone service providers to make a difference for companies of all sizes. However, it's a difference that requires a construction company to define how drones can fit into their established processes, as well as for service providers to define how drone data can be transitioned into actionable information.
Build or Outsource?
Consultants who want to take advantage of opportunities created by the FAA's Part 107 regulations and serve organizations in the architecture, engineering and construction (AEC) sector should understand the needs of this industry as a whole. Any workflow that can be made more efficient by a drone is likely to be of interest to AEC companies. They want results, though, and don't always have a lot of time to learn new technology. That's why many are outsourcing drone work to consultants.
While some AEC companies only need occasional drone services, others are doing a mix of implementing their own drone programs and hiring consultants.
"Some companies are interested in buying the hardware, buying the software, and building things out internally," says Jeffrey Freund, Vice President at Firmatek, a data analytics firm using drones to service the construction and mining industries. "Other companies aren't interested in taking that route and want to outsource everything or rent/lease the products. Companies can and should make whatever choice is best suited to them, but many are still trying to figure out the true value of having drones onsite. So a lot of companies are dabbling with the technology that way and having their own engineers and construction mangers become Part 107 certified internally."
Creating a drone program can mean engineers and managers are subtracting energy from their day-to-day jobs though, which represents work billed at a much higher rate than operating a drone. For many, it's better to sub out the work.
"These resources are usually better suited to help with the actual construction projects themselves rather than flying drones," Freund told Commercial UAV News. "That's where the benefit of a platform like PrecisionHawk's pilot network comes in. Construction companies can scale across all their projects using the network and won't have to be dependent on a few internal Part 107 certified pilots."
Regardless of whether a company is building a drone program or outsourcing the work, the value drones are creating is real and definable. Through the use of sensors including telematics, drones can identify when a worker may be in trouble, on a blisteringly hot day, for example. Stakeholders who aren't able to visit the worksite can inspect through drone-provided photos, and a drone inspection can find damage to a structure that was caused by weather, theft or vandalism. These differences factor into the "build or outsource" question for construction companies, but the answer ultimately depends on a myriad of factors.
"We're finally getting to where we can fly and monitor projects on a weekly and monthly basis. Stakeholders are seeing how the technology can help when it comes to comparing the as-designed with the as-built, and how things are moving around on a site. These are things where you're not going to know about the true benefit until some of these projects are completed," says Freund.
Time is money in construction, which makes many firms risk-averse and not wanting to invest in new technology or consultants. Consultants can refute such stinginess with a quick sales primer on the benefits of drones, but all of it needs to be positioned in a way that underscores where and how the technology is creating value.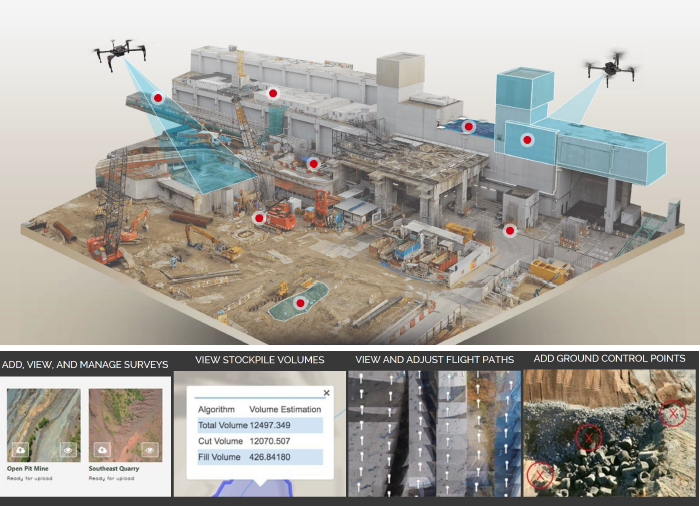 Serving AEC
Timesaving is just one aspect of the value created by drones. If a drone is in some way taking an employee out of a risky situation, it's creating value with regard to safety. Making a hazardous workplace like a construction site safer, with better surveillance through a drone, positively affects a firm's bottom line.
"Many of these larger construction sites have heavy machinery moving all over the place," Freund continued. "There are slip and fall hazards all the time, and some companies have moved forward with using drone technology based on the safety value alone. The value of increasing safety, just from a time delay perspective, can be incredible. If someone can get a drone in the air and see what they needed to see or even more than they can by walking around a site, I think that's a huge safety benefit."
The benefits of the technology can extend across many stages of the project as well. After construction, drones support the insurance claim cycle. By easily slipping into spaces that are not simply or safely accessed by humans, drones are perfect for bridge and other high elevation inspections. On a construction site, a drone report can gauge the volume of an aggregates pile or check structure locations to determine if they are accurately placed.
They also can be used in pre-construction for terrain modeling; drone software can determine if terrain is buildable. When it is, drones can lay out roads and corners of buildings within centimeters of perfect accuracy, with the help of imagery captured by drone and converted into a 3D model.
Drone consultants hoping to most effectively serve the construction industry should understand the challenges of those in the industry. They should learn about issues like inventory management, maintenance costs and safety violations, which can oftentimes be spotted by a drone long before an inspector.
"There's been a lot of skepticism of what 3D modeling can do in photogrammetry, and there really isn't a perfect solution out there," Freund concluded. "A lot of people expect a perfect 3D model that's going to be like a building information model, and that's really not the case. Users need to figure out how the data is going to give them an answer. A big misconception is that the answer is going to come out of the drone in a ready-made manner, but it requires a trained drone service provider to analyze the information and deliver true business intelligence."
Consultants should also be ready and willing to interpret the data for clients. It's one thing to get the raw data to the client, however a good consultant should go beyond offering just images and videos. Effectively leveraging drone technology depends on not just capturing data, but on what sort of data is being captured, and how that information is turned into actionable insights.
Flying Smart
While many drone operators provide video, photography or one type of sensing equipment on the drone they fly, there are a variety of other sensors available. Using them can enhance the services operators provide for construction clients.
LiDAR sensors augment pre-construction surveying and mapping with a 50 percent-time savings on data capture, compared to traditional techniques. Multispectral sensors can offer vegetation mapping on proposed sites, and volumetric calculations on aggregate material (which helps with materials planning and staging). Thermal sensors can detect hidden anomalies beneath surfaces and check for proper sealing of roofs and windows. And visual sensors can be used to measure the elevation and shape of terrain, calculate cut-fill volume, create models, and monitor job progress.
Pilots licensed under Part 107 have shown their ability to operate professionally, but there are safety considerations, too. Drone consultants must carry hull and liability insurance, for the equipment and for bodily injury. They should know which types of flights are permitted and which aren't. Most construction sites require authorization be given to on-site personnel. Waivers allowing operations beyond the visual line of sight (BVLOS) allows pilots to capture more area in a single deployment, compared to flying a drone within line of sight; this option may be a smart move for the consultant, depending upon the project.
To enable AEC firms to avail themselves of a drone service, consultants should price simply. Make it easy for clients to engage your services at a scale and frequency they prefer. Give them value for the price they pay.
While one of the biggest misconceptions about drones in construction focuses on a drone replacing workers or equipment, it's an illogical worry. Drones are merely an additional tool construction companies can use to gain actionable insights and make more informed decisions for their clients.