As the coronavirus (COVID-19) pandemic changes the world around us, many professionals are working to define a "new normal" for their organizations. Those conversations are taking place across the drone industry, but they're especially important to companies and communities that have come to understand how UAV technology can remain operational during such times of uncertainty, enabling Drone Service Providers (DSPs) to become Essential Service Personnel (ESP) that are helping to do everything from keeping the lights on to locating missing persons.
The mission of SkySkopes lines up exactly with such endeavors, as the company is committed to increasing the reliability and efficiency of the national energy grid by employing unmanned aircraft, but their use of drones to help locate a missing child highlight the value of the technology in a totally different way. Their efforts are making a difference to organizations and entire communities in the midst of the pandemic, but what's especially telling will be how such differences impact and define future drone applications and even the perception of drone technology itself.
Preventing the Worst from Happening
For the most part, "essential services personnel" are businesses and operations that are required to report to work in the midst of orders that have forced others to shut down. However, different states have different requirements around this status, which is what makes the ESP designation that SkySkopes pilots are working under so essential. Drone Service Providers are providing essential services that are literally helping ensure the lights stay on during this pandemic.
"The energy grid must not be disrupted," said Matt Dunlevy, CEO and President of SkySkopes. "Drones help the sustainability and reliability of the grids so you can avoid blackouts. Additionally, they're being used to prevent wildfires and one of the worst things that we could have is a simultaneous blackout and wildfire during a pandemic, so we're using this technology to prevent that perfect storm. We're able to weather the storm of the pandemic because utilities see the need to use drones to prevent the worst from happening."
As tools that literally enable social distancing, the technology has allowed many businesses to remain operational. They've also been a factor in how things are changing as the requirements to keep people separate have impacted how data delivery, CONOPS, and communications are all being redefined. Conversations in substance and in method about how countless tasks and operations can be performed have changed due to the pandemic, but they're changes that are impacting companies and organizations of all types.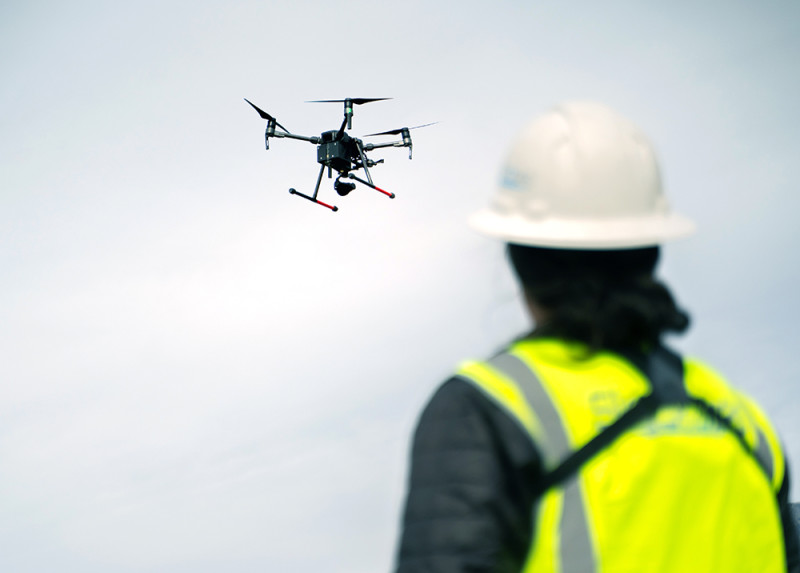 The Enterprise and Humanitarian Uses of Drones

DSPs are providing a service that allows them to be in business, but many of these same DSPs understand how drones can be utilized for humanitarian purposes. The balance between how DSPs can use this technology to help organizations keep the lights on while also helping to perform search and rescue missions is one that many have top of mind.
"One of the ways in which we balance all of that is in terms of how we transfer aviation assets and which of our offices are dedicated to missions in the energy sector versus other missions such as search and rescue," Dunlevy told Commercial UAV News. "That balance was demonstrated in our recent successful search and rescue mission in partnership with the Minot City police department. The two-year-old boy was found safe and as of right now we don't believe that the mission exacerbated community spread of coronavirus, which is important to highlight because that effort brought many different entities together."
We've seen drones used for such humanitarian purposes in the pre-COVID-19 world, but their ability to still be utilized for these purposes while keeping everyone safe is a difference that needs more attention. Such applications are important on multiple levels, as not only do they showcase how the technology can literally be used to save lives, but are also helping to change the perception of how this technology will make a difference in the present and future.

The Future of Drones Is Now
As we've talked about, company leaders who embrace drones in the near term, rather than delaying implementation of drone technology until after "things return to normal", are more likely to rise above the economic devastation caused by the COVID-19 pandemic. However, public perception issues have previously caused many organizations to delay their adoption of the technology, while headlines associated with "pandemic drones" have created new public perception problems.
Thankfully, DSPs like SkySkopes being certified as essential are creating much more positive headlines for the technology. Additionally, the technology is not only being used to enable social distancing but also for spraying and disinfecting purposes. Whether or not drones are ready for this moment is a matter of perspective, but the situation is allowing advocates to position the technology in a whole new light.
"It's not that something bad had to happen for something good to happen with this technology," Dunlevy continued. "However, after having been in the drone industry for almost a decade, I can tell you that's it been a grind. Drone companies have been slugging it out in the trenches, waiting for regulations, proving out the ROI and working through adoption challenges with end users who are only interested in the tried and true traditional methods. All of that is understandable because there's always hesitation to embrace and adopt something new, but the pandemic situation we're in has caused many of those companies and organizations to rethink the way they're doing things. They understand that this technology can make sense today."
That understanding is defining a "new normal" which should see expanded UAS acceptance in general operations. It's crystalizing an industry and technology in a way that would have been impossible otherwise. Establishing and maintaining operations in the midst of COVID-19 has meant a new way of thinking about technology for many organizations, all of which are changing the way the public and company stakeholders think about the people and technology that are being defined as "essential."