We all know what kind of a difference drones have been able to make when it comes to making a variety of tasks and processes faster, cheaper or safer. As drone technology continues to evolve though, some of these tasks and processes will change to the point that they might soon become unrecognizable. The World Economic Forum estimates that 65% of schoolchildren will enter jobs that do not exist yet, which is why classes and programs centered on Science Technology Engineering and Mathematics (STEM) topics are so critical. These will be the environments where students can gather the tools and insight they need to ensure drones and other new pieces of technology are being utilized efficiently and effectively.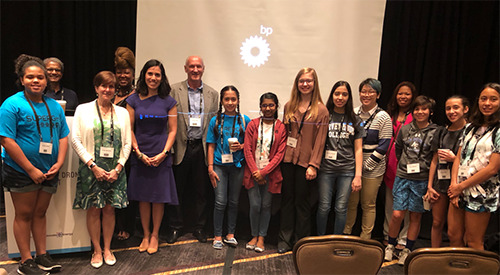 The stakes associated with doing so is one of the reasons that Dyan Gibbens is so passionate about STEM. As the CEO of Trumbull Unmanned, she's seen to it that
her company has supported STEM initiatives
since it was founded. With BP and Microsoft, they helped sponsor scholarships to Drone Camps and events for children of military families. Additionally, this past year, Trumbull started
autonome.org
, which is a 501c3 STEM nonprofit focused on human-centered AI, digital ethics, and STEM empowerment. Dyan is dedicated to empowering underserved youth, young girls, and children of military families, but recent news about a drone scholarship program takes this commitment to a whole new level.At this year's
Commercial UAV Expo
, Dyan took to the stage to announce scholarships for students pursuing degrees towards careers in unmanned systems. The scholarships will benefit students pursuing undergraduate or graduate degrees towards careers in unmanned systems, and the
initial partner list
for the project consists of 3DR, Intel and Parrot. The scholarships are just the beginning though, as partners like 3DR are going a step beyond by offering internships. It's something that Chris Anderson,
CEO of 3DR
, recognizes as a critical way to ensure the industry grows and matures."The modern drone industry started with hackers, dreamers and hobbyists who dared to do things that only big aerospace companies had done before," Anderson told Dyan for a post
focused on the partnerships
. "Let's keep that going. 3DR is proud to offer internships to students who want to spend a summer making something that can actually ship, keeping the hacker spirit alive even as the industry has matured."
Trumbull Unmanned
has built an incredible reputation based on being able to effectively utilize drone technology to support environmental responsibility, but they want to ensure their efforts are taken to the next level by empowering the next generation of STEM. It's not just about drones though, as Dyan's family understands the impacts of scholarship, and she wants to ensure others will be able to benefit from such programs in the same way she did. Dyan has seen and experienced the positive impact such programs can enable for society, and those benefits are the ultimate reason she's focused on paying it forward.Organizations like the
Commercial Drone Alliance
and Commercial UAV Expo have thrown their full support behind the initiative, and Dyan has invited anyone to invest in this scholarship to be part of this generational impact. She hopes to bring on new like-minded partners who want to enable this kind of change by investing in the future. Anyone interested can
get in touch to learn more
.Trumbull is working to maintain momentum with UAS operations in the present, but their continued support of STEM initiatives will open up incredible opportunities for individuals and the industry as a whole in the future. Drones are becoming a fixture in the
classroom at a college level
, but the speed and power of technology means that students can and should be focused on it much earlier. STEM initiatives like the Drone Scholarship are as exciting as they are important, since they'll not only create jobs, but will also help solve the world's most challenging issues and be part of the next industrial revolution.More information on the scholarship will be released in the coming weeks. If you'd like to get involved or figure out the best way you can support such efforts, send an email to:
[email protected]
.