Not long ago, one of the nation's largest drone operators utilized the motto "safe, legal and insured", to showcase what made their approach and dedication to drone technology distinct and different. However, this motto isn't one that Measure utilizes all that often anymore, as the aerial intelligence company has helped to change expectations for enterprises that are looking to take advantage of the transformative benefits of drone technology. Being "safe, legal and insured" is now a baseline for any commercial operator, and that change in expectation showcases not only how long Measure has been involved in the space, but also how they've helped change it for the better.
The safer, faster and more cost-effective inspections that Measure provides are making a real difference, but Measure is not just a service company. They have also launched a comprehensive software platform, Ground Control, that enterprises use to manage their own drone programs and the valuable data they produce. This combination has allowed companies that range from AES to Westar Energy to Nationwide to quantify the value that Measure has been able to create, all of which was part of the reason that the company received Frost & Sullivan's Best Practices Award for Growth Excellence.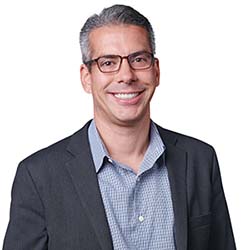 Measure continues to innovate and push the boundaries around their software and services, and how they've done so to create positive changes in the industry will be highlighted during the Drone Industry Visionaries track at Commercial UAV Expo Americas. In preparation of that discussion, we caught up the Measure CEO Brandon Torres Declet to find out not only what else he plans to highlight during that session, but to also talk through how he's seen discussions about the technology change, where the most opportunities with the technology reside, what has him especially excited about the future of the technology and much more.
Jeremiah Karpowicz: Given Measure's history in the space that stretches back to 2014, what can you say about how you've seen conversations about drone technology change and evolve?
Brandon Torres Declet: We've gotten past the "drones are cool" era of the technology to an understanding that drones need to be thought of as high-quality data capture tools that can effectuate a process. I think the fact that the "cool" factor around drones has begun to dissipate is a positive thing, for multiple reasons.
Back in 2015 and 2016, we were getting inquiries from companies that wanted to arrange a demo for their CEO but ultimately weren't interested in anything else because they really didn't have a sense of what the technology could do at scale. Thankfully though, that proof of concept era is over, and we're now at a point where there's an understanding of what the technology is capable of and what sort of ROI is possible. Instead of asking about demos or questioning the value, enterprises are asking questions about budgets and integration to determine what the value of the technology can look like for them, and that's been an important development.
That focus on the value the technology can create today is a concept that's come up in a big way of late. However, some people are still more focused on the eventual opportunities that will be opened up with new FAA regulations related to BVLOS operations and flights over people. Have you seen a similar shift around a focus on opportunities in the present when compared to the potential of the future?
This is something that everyone has really woken up to in the past 12 months or so. As an industry, we need to be talking about what we can do today. How do we work with our customers today to get as much value as we can out of the technology and the data that is being collected? That's a much harder thing to do than promise them the moon.
We're in a correction period following the tremendous amount of hype and promise and that's why we've had to come back to the basics: here's what we can provide, here's what we can do, here's what machine learning and AI can do right now. Forget what you see in press releases and online: here's how that can work to your benefit right now.
If you have a business model or raised a lot of money that was based on collecting data or operating exclusively in BVLOS environments or ones where Remote ID is a prerequisite, then you're in a bit of a bind. But that's on the opposite end of our focus on the practical adoption of the technology which has produced real-world results. AES is one of our biggest energy customers, and we saved them $10 million dollars over two years in revenue enhancements and labor cost savings. Those are real numbers that frankly, no one in the industry had really done before.
I also think it's important to recognize that the FAA has a process that it's going to go through to integrate drones into the national airspace system to more easily enable these kinds of BVLOS operations. That's going to take some time though, and it shouldn't get in the way of a pragmatic approach to how we can create value with the technology right now.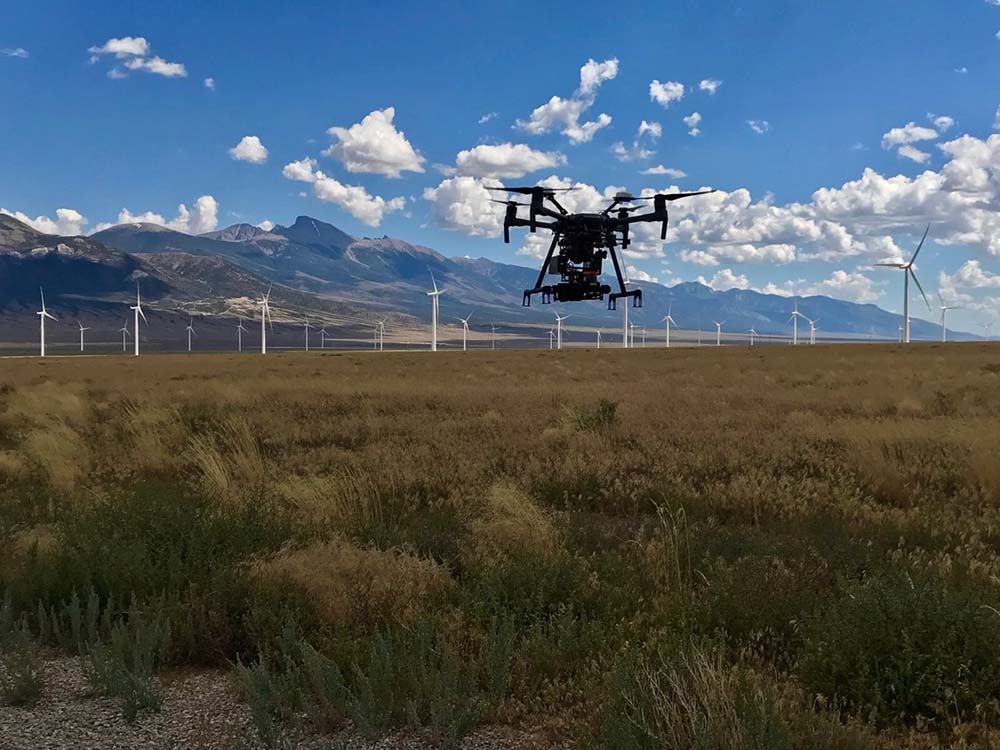 But you do believe there are opportunities that countless organizations will be able to take advantage of with changes to regulation related to BVLOS operations, flights over people, nighttime operations, etc., don't you?
Certainly, but if the FAA issued regulations tomorrow that more easily enabled these operations, we'd still need to go through an adoption process around what it would mean for an organization to actually take advantage of these opportunities.
Regardless of when regulation changes, there will be a process to work through the technological logistics behind a real-deal BVLOS solution before a customer is comfortable doing something like that at scale. It's a process Measure went through with Section 333 Exemptions and Part 107. Just because regulation allows us to do something doesn't mean enterprise users are going to immediately adopt or utilize that tool or process.
FAA restrictions will eventually be eased, but even when they are, we'll still have to go through a whole proof-of-concept process to get a couple first movers to do it. That's actually part of the reason we're so excited to have partnered with AiRXOS, part of GE Aviation, to provide a holistic inspection solution. We're working with them get past the complexities of BVLOS operations and multiple unmanned aircraft operations (Multi-UA) so that we'll be ready to offer solutions that can be adopted in this new regulatory environment.
It's going to take some time to sort out these regulatory and logistical issues though, all of which underscores why we're so focused on how the technology can make sense for users today.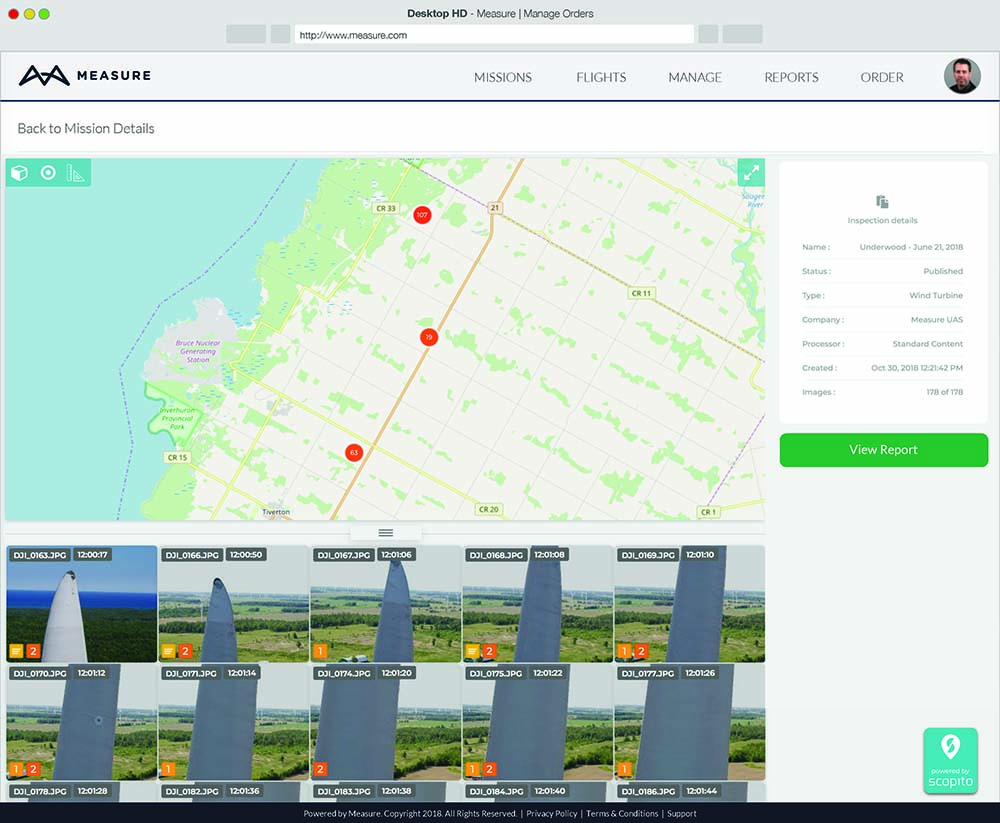 How did that pragmatic approach factor into the creation of Ground Control?
The story behind Ground Control is tied into our identity as a software and services company. Those services allowed us to take all the operational experiences that we gained in the field for the past five years and make them available to our enterprise customers as a software platform that spans an entire enterprise workflow.
I think what is sometimes lost is that you can build a great piece of software, but if you don't understand how it works in the field, you're going to be missing things. We saw first-hand how important the integration process was when it came to putting the information gathered by a drone into an existing asset management system. It's why we have integrations with things like Scopito and Pix4D that allow our customers to capture data in the field and seamlessly, through a single sign-on, run and process and analyze that data. This need to properly integrate data is also why we're going to be announcing an integration with SAP-asset management systems that allows customers to work from data capture in the field all the way through to ordering a repair on a piece of infrastructure or asset.
The era of stove-pipe drone programs where everyone is looking at nice pictures but it's not leading to any action in the field is rapidly coming to an end. Unless you're thinking about how something impacted a change in the real-world, you're really missing the point, and you're never going to get your customers to a place where they feel comfortable spending a lot of money on drone tech.
What do some of these real-world integrations and workflows look like?
These integrations all depend on the client. Pattern Energy told us that they wanted us to go inspect their wind turbine portfolio once a year. They wanted us to do everything and then tell them what the issues were so they could take the appropriate action. Other customers, like AES, say that they want Measure to handle advanced drone applications, but for things that are more routine, they want to empower their employees to do that data collection as part of their existing job function. We support that kind of process through our Ground Control platform that allows them to go out into the field, do the data capture and then build out the entire workflow for themselves.
Regardless of whether a company wants to insource everything 100%, outsource or use a hybrid approach, Ground Control can manage that program as well as the resulting data, and, if the companies chooses, it can send analyzed data into other asset management systems like SAP. Some clients, such as in the wind industry, are now also benefitting from advancements in AI for data capture and analysis, which is reducing the amount of human intervention in the process. The point is that companies invariably have different processes and workflows that they each prefer, and it is quite likely that these processes and workflows will change over time as the company becomes more familiar with drones and technology advances. These days, it's important to offer a flexible solution that can meet customer needs both today and tomorrow.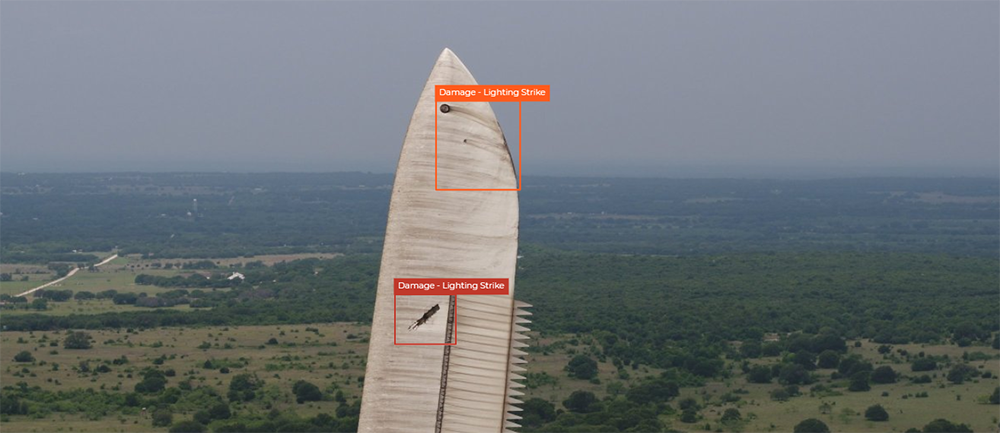 Speaking of the energy sector, given that Measure has already sold more wind turbine inspections in the first half of 2019 year than you did in all of 2018, would you say that the energy industry as a whole is where the most opportunity with the technology resides?
The answer to that is yes, but let me unpack that a bit.
Over the past five years, we've tried just about every application that you can think of with drone technology. Some of these things are incredibly niche. There's still a lot of excitement with drone delivery, but we found the challenges to scale there were very difficult. We've done construction, telecom, media and more, but all of it was really about testing the market to find the best fit. Where is the traction that will result in recurring revenue? If you can't get to the point where you have recurring revenue, you're going to struggle.
Three years ago, we decided to work with and partner with AES, which is a huge global energy company. With our help, they saw an opportunity to grow a drone program internally but also develop applications that Measure would ultimately be able to sell into the market. We found that once we developed some of these solutions, whether it's for inspections of wind turbines, solar farms, transmission or distribution lines, the value we were able to attribute to the data that was something we could quantify. Being able to calculate the number of hazardous man-hours saved or avoided is a really big deal for energy companies. Avoiding climbs or going out and into the field reduces the risk associated with accidents. That's why we're seeing such a big uptick in the energy vertical, and it's one that will continue.
Will advancements related to the automatic detection of defects on wind turbines mean that inspections become a more proactive process rather than a reactive one? What will that mean for the industry as a whole?
It will create new expectations around how and when maintenance needs to be performed. These benefits are all tied into automation and AI, and it's impossible to do the volume we're doing without it. We've been able to reduce the time it takes to do the inspection in the field while increasing the amount of data that is captured. With that much more information, how can we identify these issues that much faster? It's why we've developed our own IP and ML algorithms that efficiently sort large data sets and then identify and classify any defects. So instead of having one of our data engineers look at 10,000 images, they can look at 100.
Being able to provide temporal analysis will also change expectations in a positive way. Over the past few years, how is that asset actually operating in the field? The only real way to do that is to collect data in the field at regular intervals with drones so that you can establish a baseline and see over time how that asset is doing. I think we're in the very early stages of that, as Measure probably has the largest wind turbine imagery database in the world, but even we only have 1-2 cycles on any individual piece of infrastructure. So when we get to 10-15 cycles, users will be able to look back across 15-20 years to see how that asset has performed to introduce a whole new paradigm on potential repairs or updates.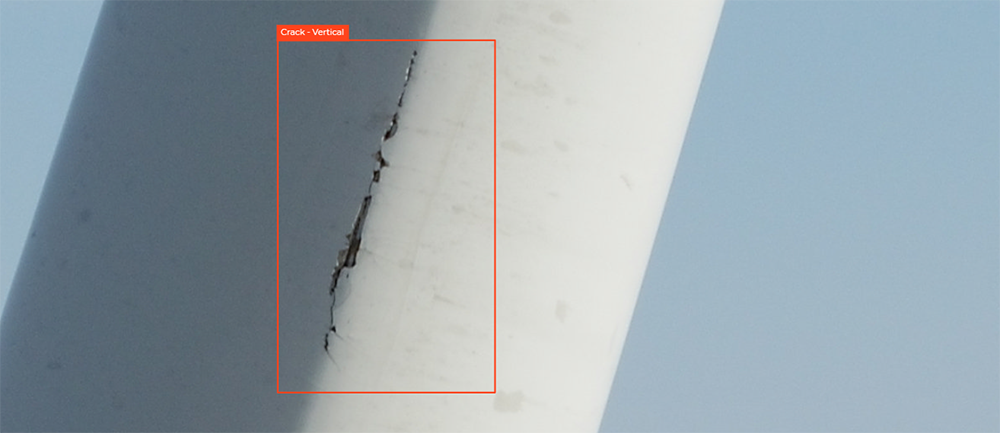 What has you excited about the future of this technology? Any potential developments with it you're especially looking forward to happening or being part of?
The biggest thing we're working on right now is AI and machine learning. The drones themselves will get better in doing autonomous operations and making it easier for the pilot in the field to collect high-quality data, I think you're going to see improvements in data processing and analysis, but the real future is centered on that concept of having a data engineer actually look at 100 images versus glancing at 10,000.
The work we're doing today with Google and AES is all about building machine learning models that can utilize all of the data that we've already collected in the field to automate the process of identifying defects in the imagery. Further automating that process, and expanding it into more and more asset types, is the next real growth area for our industry and something we should all be excited about.
If there's one thing you want people to know about the work Measure is doing in 2019 and beyond, what would it be?
I'd want them to really understand that Ground Control is a complete solution that prevents someone from having to use three, four or five different software subscriptions in order to manage their drone program. Ground Control can handle and control the entire workflow. That's really the vision and goal in 2019. We want people to understand that we have a solution that's going to make a difference with this technology, and it's available right now. Companies are operating with that solution and getting tremendous value from it.
To see what else Brandon has to say about the future of drone technology along with insights around what needs to happen in the present to see these visions realized, see him take part in the CEO panel discussion or attend his "Drone Industry Visionaries" session at the Commercial UAV Expo, taking place October 28-30 in Las Vegas.