There are many areas of expertise, or industries, in which drones will have a great impact, for example infrastructure inspections and public safety, but in our opinion the largest number of unmanned vehicles will be used in the delivery of cargo, large and small, more specifically package delivery of online shopping.
Many startups are entering this market niche with different approaches but one company in particular caught our eye, Zing Drone Deliveries of Tampa Bay, FL, which decided not to embark on the development of their own drone, but instead focused on the delivery portion of the business and adapted it to existing, easily available aircraft.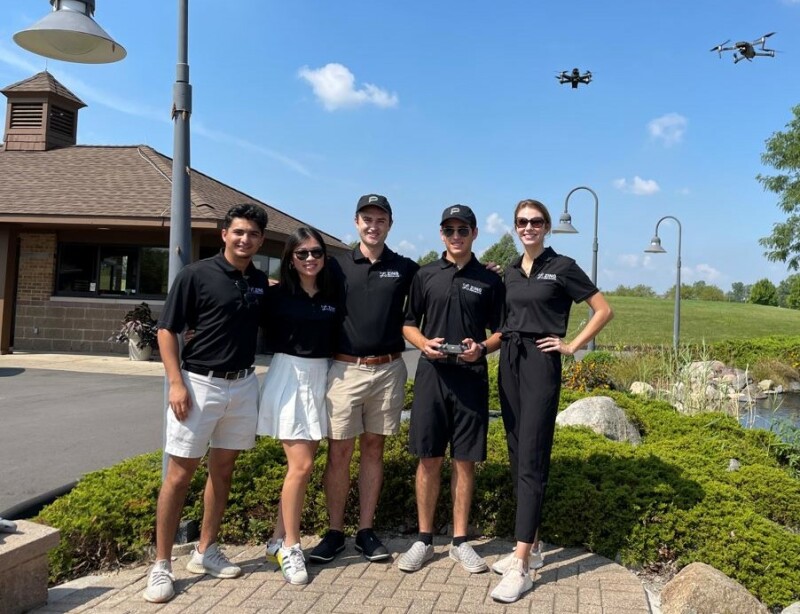 We reached out to Ian Annase, Founder and CEO of Zing Drone Delivery, for an exclusive interview on his company and the decision to adopt an unorthodox business model.
"When we looked at what our objectives were and analyzed our potential competitors, we decided that it was better to stay away from building our own drones and instead focused our developing efforts and dollars in the delivering mechanism," Ian explained. "With so many thousands of DJI drones already on the market, our driver became the development of the best delivery winch possible."
A definitive delivery method has not been adopted widely by the market, but it is presumed that most small packages will be delivered by avoiding potential contact between the end recipient and the drone by using winches that lower the package to its destination. But truth being said, it is too early to tell.
"If we wait until the FAA (Federal Aviation Administration) approves BVLOS (beyond visual line of sight) flights for drone deliveries, it will be too late, so we looked at potential routes that could be serviced right now and the answer came to us in our own backyard," Ian said. "Flights across the water offer a unique opportunity to start generating revenue right away, so we focused on servicing customers who had this particular need and, in the process, would accumulate flight time and experience that would be invaluable moving forward."
New players in the drone delivery business need to decide if they are offering a service or if they are developing a product for those other companies who make the delivery. Zing Drone Deliveries made the decision early on to be a supplier of hardware and software technology to service companies that would make the actual deliveries in a particular partnership.
"We want to offer a turn-key solution that involves the plug-and-play winch and the app that would allow our customers to deploy their drone delivery service in record time." Ian said, "Our engineering and software developing teams are working in tandem to provide a seamless experience that would make it easy for an end-user to buy a DJI drone, equip it with our hardware and then deploy it with our software, allowing these companies to start making deliveries in record time."
When we turned the conversation to their business model and the future of drone deliveries in an ever-changing regulating environment, Ian detailed their long-term plan.
"At this time, we have two streams of revenue while operating under Part 107," began Ian. "The first stream of revenue comes from the sales of our hardware winch device that transforms standard DJI drones into delivery drones, and the second stream of revenue comes from deliveries, including delivery partnerships and special events. Within the next few months, we will secure our Category 3 certification that will allow us to fly over people and begin expanding our delivery operations even further. Finally, within the next few years we will secure our Part 135 for BVLOS operations, and this will allow us to fully scale Zing. The final stage of our business operations involves certified pilots monitoring fleets of drones on screens from a remote location and the drones operating autonomously through our platform."
Normally new businesses focus on either developing platforms or offering services, because doing both at the same time always carry the risk of competing with your own customers, so we raised the concern, and Ian was adamant that this was not the case with Zing. He explained to us the way they structured their revenue model.
"When we sell these kits to pilots, it is with the intention that they will be operating using our software and platform as well, as compared to starting their own rival drone delivery business using our products. We don't intend to sell our hardware to any direct competitors of our final stage business plan," Ian concluded. "A good example could be our partnership with Te Whaanga Resort in which they will be purchasing hardware and then paying a recurring fee for the integration of our services within their resort. They do not directly profit from the drone delivery services, but instead use our entire platform to facilitate these services."
Even though this is an unorthodox approach to long-term viability, Zing's control of both the developing and service side of the business seems poised to create a steady revenue stream that would make them a viable enterprise moving forward. Kudos for the out-of-the-box thinking.