For a few years now we have been waiting anxiously for the day that online retailers can send us our orders the same day using an unmanned aerial vehicle (UAV). Unfortunately, the years keep coming and going, and even though we are making progress, and the Federal Aviation Administration (FAA) seems willing to allow it, we are not there yet.
At the same time, great progress is being made in the beyond visual line of sight (BVLOS) arena, which many consider the holy grail of full deployment for drones and air taxis. So, it is safe to say that we are closer to receiving a pack of pencils that we ordered in the morning and that everyone working to make it happen is really busy trying.
But how about a pint of blood that is needed to save a life but is six miles away in a city with hours of delays on the ground because of traffic jams and incomprehensible road rules? The perspective changes when lives are at stake and the deployment of unmanned platforms can be the difference between life and death.
A few companies around the world are having great success with medical deliveries in developing countries and areas with uncrowded skies, such as Zipline in Africa. With almost 2.5 million deliveries of critical medical supplies to remote locations and over 19 million miles flown, Zipline's business model seems scalable and is creating a rich database of pain points that need to be addressed before we move the processes and procedures to urban national airspaces with heavy concentration of commercial and general aviation flights.
Another company working to create a scalable, replicable business model in the medical delivery service is ORKID, which is beginning to take the first steps towards regular deliveries of medical supplies between corporate entities, such as wholesale and online pharmacies, urban hospitals, and regional health centers. We reached out to Santiago Pinzon, CEO and Co-founder of ORKID to discuss the generalities of the drone delivery industry and the particulars of his company and his chosen path to success.
"We looked at a large plethora of possibilities for our initial business model and selected medical supplies and the business to business (B2B) modality," Santiago said with conviction. "In a country with a complicated topography, low rural road density, and high urban traffic, the ingredients were there to have a viable way of delivering life-saving supplies in short distances but over insurmountable obstacles if you are trying to deliver by conventional ground transportation."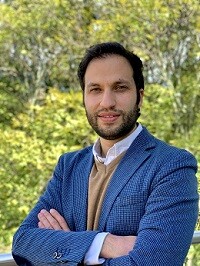 ORKID is based in Bogota, Colombia, one of the most congested cities in the world, given its mountainous terrain, antiquated road infrastructure, and beautiful, but complicated, street colonial setting.
Santiago, who has a BS and a Master of Science in aerospace engineering from Embry-Riddle Aeronautical University, has assembled a team worthy of a large aviation enterprise and has embarked on a crusade to use out-of-the-box drone shells, heavily modified to suit exactly the needs of their delivery process.
"We refused to believe in the binary choice of creating your own drone or use one manufactured by somebody else," Santiago said with enthusiasm. "We decided to buy simple shells with engines and a functioning fuselage and then, using our aerospace know-how, modified them it to create a unique flying machine capable of complicated deliveries over difficult terrain."
The different attempts by large corporations to create their own UAVs are now stalled, and efforts to use out-of-the-box drones to make a scalable business model have also failed due to many different factors. But suffice to say, an alternative was sorely needed, and ORKID seems to have found one.
"Our team analyzed the efforts by Amazon and other large companies to develop their own platforms and also the anecdotal data of small entities trying to use DJI quadcopters to create a delivery service and instead opted for an alternative solution," Santiago said. "By carefully analyzing the material to be delivered, the routings, the regulations of the civil aviation authority, we were able to design a platform that would do the job efficiently and safely."
When the matter of the civil aviation authority came up, it was inevitable that the conversation would turn to the issue of regulations and the willingness of the authorities to allow for unmanned flights over people and property.
"Colombia is highly advanced in terms of the regulation, and the civil aviation authority is aware of the need for these medical supplies to arrive on time to save lives, so we have had great success in working with them designing routes and procedures that comply with the law and at the same time accomplish the mission," Santiago concluded.
Even though the ORKID experience is constrained by certain local rules and the business model still needs to prove successful in the long term, we are excited to promote their crawl-walk-run approach as they add flying time and accumulate data that will allow them, eventually, to have a full-time medical delivery service in one of the most complicated topographies in South America. These experiences added to others such as Zipline are creating an abundance of useful data that one day will be used by the FAA and EASA, industry and academia to design and deploy a similar system in the complicated airspaces of the United States and Europe.
Para una version en Español de este artículo, por favor haga click aqui.