Last month, Ameriflight announced that it had signed a letter of intent to purchase 35 VTOL air cargo drones from Sabrewing Aircraft Company. Building on a long-standing relationship between Ameriflight, the largest Part 135 cargo airline in the US, and Sabrewing, a leader in uncrewed aircraft design and manufacturing, the deal will deliver Rhaegal-A drones to Ameriflight following type certification of the aircraft.
The Rhaegal-A aircraft, also known as the "Alpha," is considered by many to be the highest fuel and maintenance efficiency cargo UAV available. By acquiring these vehicles, Ameriflight will be able to carry more than 2,000 lbs. of cargo to off-airport alternative landing locations, help its customers create faster and more efficient warehouse distribution networks, and more.
To learn more about the deal and its potential impact on the uncrewed air cargo industry, Commercial UAV News spoke with Ed De Reyes, CEO of Sabrewing. We discussed the details of the agreement, how Ameriflight plans to use the aircraft, and what's next for Sabrewing.
Commercial UAV News: Discuss the significance of the Sabrewing/Ameriflight deal.
De Reyes: You'd be hard pressed to find a 135 cargo operator that's bigger than Ameriflight. They do 1,000 operations a day from about 200 locations.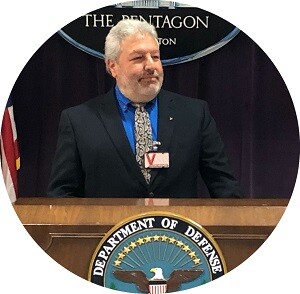 They are the number one cargo carrier, especially in the lower 48 states. No two ways about it. They're really big, and they're really good at what they do. And the main reason they are so successful is that they hire people with vision, people who are go getters, people that can really make things happen. So, for us, this is a really big deal.
Commercial UAV News: What will this deal enable Ameriflight to do that they couldn't do before?
De Reyes: Our aircraft can take off conventionally and vertically and carry that 6.7 pounds per cubic foot that the consolidators are looking for, so that will help them with many of their operations. Also, the aircraft's VTOL capability gives them the ability to go to places that they can't currently service. They can now operate at a large airport, a medium-sized airport, or even land in the middle of a parking lot, where a truck can pull up close to the nose and go off to the next delivery. So, these are things that they are envisioning happening, and it really takes their operations to another level.
Commercial UAV News: A deal like this must require close coordination between the two companies. Can you explain how Sabrewing and Ameriflight work together?
De Reyes: It's really a symbiotic relationship stemming from the fact that we are 'their first launch customer for our Alpha model in the USA. We work very, very closely to make sure that they're very happy with the purchase and everything goes smoothly. We're fully invested, and we want things to be as trouble-free as possible when they're operating. So, we're almost elbow to elbow with them in many ways to make sure that the transition to using the aircraft is struggle-free.
Commercial UAV News: What impact do think this deal will have on your company and on the uncrewed air cargo sector as a whole?
De Reyes: We've already been in contact with three other companies who saw the Ameriflight announcement to want to sign up. In the past in this industry, we've seen a kind of "domino effect," where a company will adopt an aircraft or a system and other companies will start to come on board, so we need to be prepared. And, because this is Ameriflight, lots of companies to look to see how they're operating and what kind of aircraft they're using. So, this has the potential to be very big for us and for the industry overall.