Talk about the inefficiencies in construction is as pervasive as it is worrisome for many professionals, and it's the reason many have looked to adopt technology solutions that are designed to directly address these shortcomings. Increasingly, the easiest way to solve numerous productivity issues in the construction industry is with the adoption of drone technology that is designed to perform a variety of tasks in faster, cheaper or safer ways. The benefits of doing so can be as real as they are quantifiable.
However, these benefits are often overshadowed by the excitement associated with the technology itself, which lends itself to what some experts have called "shiny object syndrome". This happens when users get caught up in the "coolness factor" of the technology at the expense of legitimate questions about whether or not drones can add real value. There are countless stories about organizations making an investment in the technology, only to quickly discard it when users are unable to do much more than take aerial photos. Avoiding this fate underscores the importance of having a cohesive plan for technology, which includes the creation of a digital vision (to guide the process) and a roadmap (prioritized tech investment plan).It's why so many have been focused on
whether or not they should be creating a drone program
, but that question needs to be considered in the context of a bigger technology adoption roadmap. Creating that kind of roadmap is something
Sappington
is focused on enabling since doing so allows construction stakeholders to
think differently about how they can and should be using technology
. However, it's also essential to consider the value propositions that can be opened up when this kind of thinking is applied to the adoption of specific pieces of technology like drones, not all of which are strictly related to the bottom line.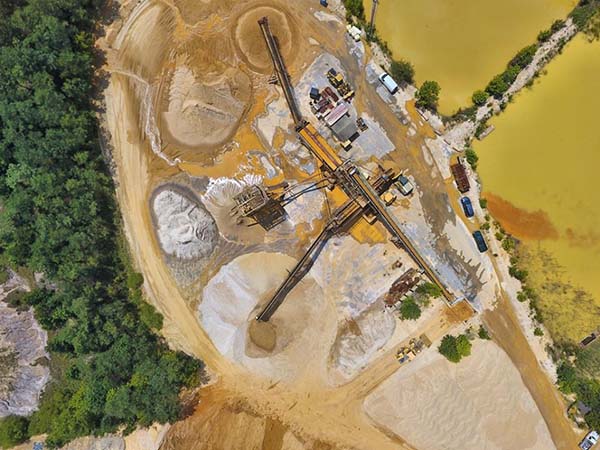 How Can Drones Add Quantifiable Value Inside a Company?
The benefits drones can open up when it comes to specific things like
improving decision-making
, or
creating operational efficiencies
through automation of manual processes, have been detailed and discussed in a variety of industries. Investments in new technology like drones are driving necessary changes to processes and procedures, and the results have made it easier for stakeholders to legitimize, approve, and adopt this kind of new technology. Providing the information users need in a quicker and more frequent manner has changed things for the better for construction organizations of all sizes.Another way drones have been able to create value is related to improving processes, so that certain steps or entire processes can be automated or simplified, which is something that can be enabled
via full-service subscriptions
using images captured from a company's own drones and smartphones. This is the kind of value that needs to be understood in the context of a roadmap, because it changes the conversation around what can and should be expected from specific pieces of technology like drones."One of the reasons I got interested in drones and the discussion that's happening with them in construction is because I saw they could provide a unique visibility that wasn't available before," said Sappington Founder and CEO Tim Goggin. "I also saw people considering them just in terms of being 'shiny objects', but that's what made it a great moment to try and help leaders within construction companies consider technology that enables things like
automated inventory across your whole company
without lifting a finger. It's helped them step back and really think about the ways tech can add value to their business." In the past, having this type of visibility was something that usually only happened on a quarterly or even annual basis, and all of that stems from a conversation around automation. It becomes less about the technology, and more about the new use cases and benefits the technology can provide. Being able to instantly analyze materials in your yard to determine things like their volume and how those piles are moving can create value in countless ways, and that's without even considering the safety opportunities to measuring them in this manner. Recognizing that goes back to a mind shift that needs to happen when it comes to getting construction professionals to realize that technology is no longer a department.That said, this kind of adoption can necessitate changes that are about more than bottom-line efficiencies. Thinking differently about technology can have major ramifications when it comes to priorities like safety and environmental concerns, both of which can be difficult to quantify, but essential to consider. 
Technology as a First Class Citizen
Safety has always been a key initiative in construction, and the same goes for environmental issues. Today though, technology also needs to be considered at this level, rather than as merely a part of or complementary to these issues. Doing so stems from the changing in thinking around technology as a department, and instead as one of these essential elements that impacts an entire ecosystem.Being able to avoid the aforementioned "shiny object syndrome" means being able to think of technology as a first-class citizen, and not as something that can or should be compartmentalized. Organizations that aren't considering drone technology at this level can end up with solutions that don't integrate or provide value to the business, at which point they're left with a lot of technical debt or tools that just get thrown away."You always want to be able to get as specific as possible when it comes to delivering value, and if we're talking about something like
Stockpile Reports
, their value is in optimizing your piles of assets in your yard, especially if you're a company that is selling those materials to customers," Goggin told Commercial UAV News. "That comes from looking at technology at a higher level and focusing on the who and the why behind what this digital vision looks like, and where it needs to go."Creating a digital vision means being able to get specific about the value technology like drones can provide when it comes to these kinds of details, and doing so has a real impact on other top-level items. The difference between sending a person and sending a drone isn't something that always shows up when trying to calculate ROI, but it's a distinction that should be an essential part of a technology adoption roadmap. It's also why these topics need to be assessed from the same position.IT teams and departments will continue to exist within construction companies, but technology needs to be a core strategy for a company. It's a distinction that matters when it comes to how drones can and should be utilized because their ability to quickly and cheaply gather information might change a company's entire methodology.
Thinking differently about technology
will enable organizations to create a clear digital vision and roadmap in order to ensure construction inefficiencies are reduced or even completely eliminated.