The use of drones in construction continues to grow, with even emergency responders finding ways to use drones in preconstruction planning. Part of the reason for the increased development of drones in the architecture, engineering and construction field is related to technological upgrades in recent years, in both drone software and drone hardware too.
With every task successfully completed through the help of constantly improving drone technology, more companies that work in construction are using it and finding value in it. Many are now using drones to map areas in the pre-construction phase. Menlo Park, CA fire officials are employing the technology to plan evacuation routes for a yet to be developed site, where earth has yet to be moved.
More firms also are marketing various drone related technologies, like sensors, as well as associated software used with drones. Indeed, the technology is opening new markets for many of these companies, such as drone software provider Kespry. Commercial UAV News recently spoke with Jason Nichols, product marketing manager for Kespry, about how the company's business has grown, why drones are increasingly being adopted in construction and more.
Jonathan Barnes: It seems self-evident to observers who are following the action in the unmanned aerial vehicle world, but in your view, are drones actually being used more in construction these days?
Jason Nichols: Adoption of drones has definitely grown in construction. In 2015, we focused on serving the mining/aggregates industry, and in the last few years we have expanded our reach. Since 2017, we have focused more on serving construction than in the past. Part of it is because the level of accuracy of data captured by drones used in construction has improved, thanks to Kespry 2S, which improves both total accuracy and Geotag images.
Other new technology also has helped expedite adoption of UAVs too, right?
It has. The November 2018 release by DJI of its Phantom 4RTK drone also helped improve drones' deliverables with a high level of accuracy.
Most know that drones are now being used often for all sorts of inspections. But what main tasks are drones being used for in construction?
A lot of the uses in construction are for surveying a site and tracking of progress on the site, from excavation all the way to As-Builts. When you have a drone that can provide accurate mapping within 10 centimeters, people start to think more about how they can use it. And a lot of the software that we have is doing all the conversion of data; we have all the automatic versions, like AutoCAD.
Are sensors changing the game and driving greater adoption of drones in construction?
The sensors itself are not driving adoption. It's just the whole package, and the level of accuracy that can be provided.
Do you see drones being used more for construction of highway projects?
I think it's more frequently being used in construction of residential and commercial buildings, and in some roads, too.
Is excavation/surveying one of the biggest areas of use for drones in construction?
It is one of the biggest uses, and that's where we've built our tools on—progress tracking of the amount of material that's been moved.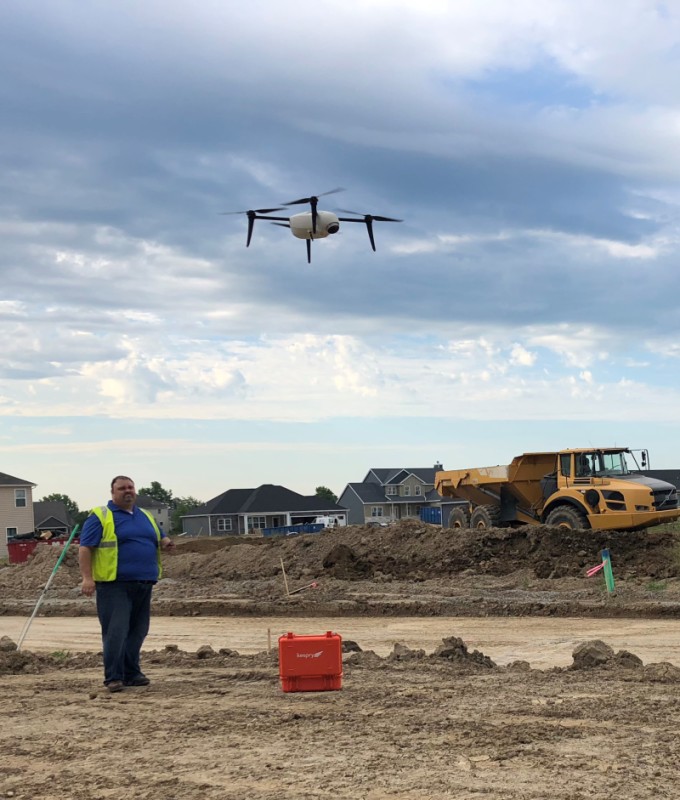 How important have drones become for documenting the ongoing progress of a construction project—do project owners now expect to have more timely, updated images of a project as it progresses?
Yeah, I think they realize that the tools are available, and that imagery of day-to-day changes on a site is powerful. When people understand the value of capturing and using volumetric data, their enhanced understanding is very important. They expect a more frequent assessment of the site because they know the technology is available to do that.
Are most folks who are using drones in construction employing drone consultants to help in the process, or are they doing it on their own?
Generally, we see a lot of in-house survey teams adopting drones. I think there also is more in-house ownership of the use of drones.
In addition to saving time with surveying tasks, where have drone users found efficiencies, through using the technology for various tasks?
We've had customers prevent re-work—and a lot of it. Many of our customers have taken their original grading plan and compared it to data gathered through drone surveys of the site and improved the process because of it.