The value and ROI that drones can enable on construction sites have been explored in great detail, and the difference they can make in a variety of construction environments is undeniable. However, these distinctions aren't really about drones themselves, but instead about the data they're gathering. There's a reason that the phrase "data is the new oil" has become popular again, as the value these tools represent is tied directly into how different pieces of software can turn data into actionable information.
Unearth Technologies
is one of the companies dedicated to doing just that for construction professionals. In an industry where delays and cost overruns have contributed to 20% waste across the market, Unearth is working to utilize data gathered by drones and other devices to fundamentally change the way teams manage their projects by making the entire jobsite digital. Their efforts to drive better decisions and simplify communication are all about ensuring the issues that lead to delays and overruns are resolved before they become a problem.It's easy enough to talk about how drones can increase productivity and boost profit margins on account of their ability to provide better information to more people in a construction environment, but what does doing so actually mean? What are the long-term benefits of using a drone, and how can they change proven workflows for the better?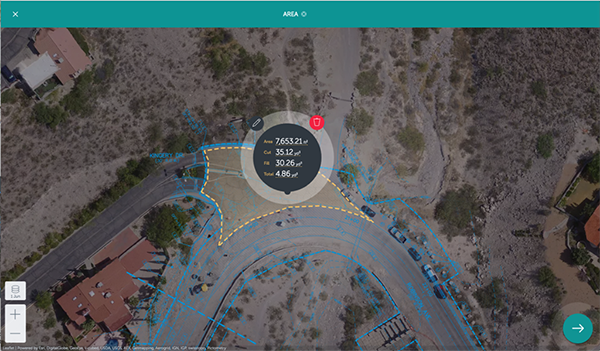 Providing Real-Time Information at the Click of a Mouse
As a general contractor focused on projects like excavating storm water dams, Jose Piñon is often forced to rely on data or information that isn't especially up-to-date because of the budget limitations his clients place on him. He might want to conduct a new survey, but doing so isn't in his client's budget, so he has to rely on info from a few years ago. It means that his estimate doesn't always line up with reality, and that's created logistical and bureaucratic issues for him.Excavating more dirt than planned means a change order needs to be filed, but the logistics associated with something like that aren't typically the problem. Instead, it's the disputes that happen when certain clients don't believe what they're being told. These are the exact kinds of disputes that drones can both solve and avoid."We've been able to overcome some of these issues with monthly drone flyovers," Piñon told Commercial UAV News. "We've allowed the client to see how we are able to time stamp and provide real-time information with a few clicks of a mouse."Regularly capturing aerial footage creates maps for measurements, and also gives users a record of site activity. Being able to do things like show photographic evidence of full trucks leaving a site, as well as accurate volumetric measurements of the area that had been excavated can end just about any argument. These kinds of disputes can be coming from a dishonest place, but more often they arise out of a client's reliance on historical data.Historical surveys always prove to be useful, especially in older parts of town where renovations or complete reconstruction of infrastructure is planned. In regards to waterline and sewer line tie-ins, historical surveys/as-builts are needed for work.However, there's a major difference between relying on this data and properly utilizing it. Relying on it means not being aware of what's changed since that last survey was taken. Properly utilizing this info can depend on what tool is being used to do so, and that's a difference users like Piñon have employed to ensure that everyone can be held accountable. Being able to do so is a consideration that directly impacts his bottom line."It all boils down to money," said Piñon. "The use of Unearth gives us, as a smaller company, the ability to manage multiple sites without the need of additional managers. Using the various tools, like the beacon and messaging tool, allow for real time communication and it cuts down on wasted or lag-time. We have taken it one step further and have allowed RPR's access to the system, so we can better identify issues and problems and time stamp issues and hold all parties accountable."Using info gathered by drones to create this accountability has unlocked long term benefits for general contractors like Piñon, but the process to integrate them into a workflow is one that needs to be examined. There's no "easy button" when it comes to the adoption of new tools, but the changes hardware like drones and software like Unearth represent can open up a variety of efficiencies.
 How New Tools and Technology Can Change a Workflow
Tiger Construction is a general contractor that handles both civil and heavy highway projects as well as commercial, industrial and institutional building projects. Over the years they've refined their approach to these very different projects and what it means to complete them in the most efficient way possible. It means that integrating a drone into these defined processes can represent a logistical challenge.As Derek LoPresti, a project manager at Tiger, found out though, changing things meant being able to think about what made sense from a higher level in literal and figurative ways. Drones allowed him to get an actual overview of a project, but also provided the details to dig down and keep track of progress and updates that he previously wasn't able to monitor to this degree. Doing so has meant that adoption challenges are of little concern when compared to the value they've opened up."We did not use drones before, and now we are using drones," LoPresti mentioned. "I'm on a monthly schedule with them, and it's a great way to view the progress. One thing I really like is that if a job is two hours away from where I'm based, I can manage it without having to drive all the way out there. As a company, it allows us to manage more work from afar and create a bigger geographical area that we can work in and manage successfully."That management is enabled not only by the Unearth software that allows him to automatically analyze, sort, and store all of his data, but also because his team can communicate in a much more effective way around how to interpret and act on that data. It's an ecosystem that has allowed contractors to work in ways that would be far less efficient or even impossible otherwise.Unearth software has been used to ensure that crews working on opposite shifts can efficiently share information, and do things like track construction progress on mobile devices. Project managers can easily get a complete summary of jobsite progress and issues to help avoid critical delays. It's the kind of communication that's made a real difference to professionals like LoPresti."The biggest thing the Unearth software allows us to do is effectively communicate with people on the job site everyday," LoPresti continued. "It allows us to extend the physical properties of the job site to someone who might not have it so they can be on the same page as to what they might be experiencing. For example, a superintendent could notify a delivery driver exactly where he wants something to go by sending them a map. They can overlay plans and figure out where conflicts are in the drawings, so there's a lot of opportunity to help better communicate as a team and to catch things you wouldn't have noticed otherwise."Those examples are a perfect illustration of what it means to transition data into actionable information, but how can you quantify the value of a tool that helps ensure delays and overruns don't occur? The difference is one that's often felt more than seen, but the impact can be even more pronounced.
 What's the Risk/Reward?
It's no secret that
change is hard
. User friendly software like Unearth can ease adoption challenges, but such logistics are sometimes secondary to bigger questions about whether or not the effort is going to be worthwhile, and why it's necessary to move away from a tool or process that's been established. Those are issues that construction professionals have asked and answered though."For the most part, there are too many old-school mentalities in charge and they rely on what they learned and what they were taught while in school," said Piñon. "Many engineers/professional engineers still rely on old-school RPLS surveys and older data collection techniques. It has proven difficult, but with some storm events we were able to explain to a city entity that locations not accessible by vehicle could be easily flown by a drone. We have been working with city entities to show them that old traditional methods and new drone technology are within 2% accuracy of one another."Many have conducted detailed comparisons which look at
how drones compared to the traditional methodologies
, and the results are favorable. As ever, it's a question of needs and requirements when it comes to whether or not a drone is going to be the best tool to employ, but when utilized properly, users of all types have seen the value.Despite the difficulties associated with quantifying the difference hardware like drones and software like Unearth can enable, it's something that companies like Tiger can measure, even if doing so is not an exact science."We've definitely quantified the value," LoPresti mentioned. "My day is basically gone if I have to travel back and forth to a job site, and the ability to visit a site virtually changes everything. Another bottom line impact is related to the tools that are built into the Unearth software that allow us to track things we wouldn't have been able to previously. We're able to gather volume-takeoffs from the drone imagery to get a much better estimate. For example, we had to export a stockpile of material and we were able to come to an agreement with the owner on what the quantity of that material was based on the information that we pulled off the drone scan of the site."That kind of request is typically interpreted as a change order, and the ability to quantify what that looks like can't be understated, because it's exact. Clients aren't as likely to question those numbers because they know it's not just someone eye-balling it. They know it's an exact measurement.Drones and pieces of software like Unearth have changed the expectations project managers have in terms of being able to provide these exact measurements. That difference is where the ultimate risk/reward for the technology lies. The reward for professionals who can offer this kind of precision today is clear. The risk those who can't offer that same kind of exactness is just as clear, because the day when it will be expected for contractors to provide that level of detail is upon us.