Kicking off the 2022 Commercial UAV Expo, eight companies put their drones on display Tuesday morning under the hot Las Vegas sun for the annual Outdoor Flying Demo, sponsored by Sundance Media Group.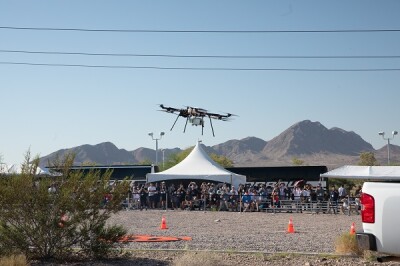 Those in the crowd got a chance to see a variety of different drones, payloads, and software solutions throughout the morning from these exciting companies. Lidar powerline scans, automated flight plans, and 3D scans of a mock crash scene were just some of the functionalities on display out at Henderson Equestrian Park.
"There's really nothing that compares to seeing these systems in action," said Lee Corkhill, Group Event Director for Diversified Communications' Technology Group. "Giving the Expo attendees the chance to see the drones and actually interact with their colleagues is invaluable."
Here's a look at the demonstrations:
Frontier Precision: Frontier Precision was the first company to show off their hardware in this event, combining their Alta X drone with YellowScan's Voyager scanner, used for lidar surveys and other scanning projects. The Alta X was originally designed for cinematic purposes, which means that in-flight vibrations are kept to a minimum. This is particularly important for lidar use cases, as are the long, 50-minute flight times for the product.
Commaris: For Commaris' demonstration, the company showed off their Seeker drone, which can be utilized by public safety officials. The Seeker is equipped with a payload that functions as a satellite signal that is able to locate cell phone numbers in the area, making it ideal for a search-and-rescue mission or a police investigation. With the Seeker, officials can scan an entire area – say an isolated mountain where you can't expect to find many cell signals – or for a specific number and locate their person of interest with their UAV.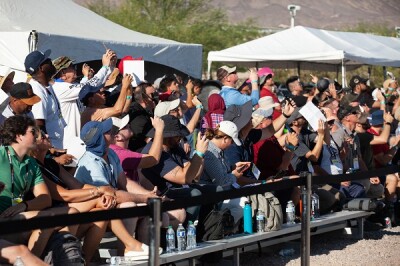 Skyfront: Most drones are powered by batteries, and that can sometimes pose logistical problems and cut down on productivity for certain projects. Also, batteries are more difficult ship as they cannot travel on an airliner, and lidar payloads also have significantly shorter flight times. During the demo, Skyfront representatives explained how they address these problems by avoiding the need for battery power all together, instead relying on gasoline, which is converted to electric power. The result is longer flight times and fewer logistical headaches, and ultimately more time spent on actual surveying projects.
Autel Robotics: The company put its Dragonfish drone through its paces during the live demo. Featuring a tilt-rotor design, the Dragonfish features AI tracking capabilities and a wide variety of modular payload options.
Volatus Aerospace: For the demonstration Volatus Aerospace showed off its remote piloting software by having a company official operate two small drones located at the Henderson Equestrian Park from the comfort of his home in Canada. Using the company's system, the remote pilot was able to control the vehicles through take off, mission, and landing. The demonstration showed how the Volatus system could help operations involving multiple drones and enable effective overwatch and data management.
Wingtra: The Swiss company demonstrated the capabilities of its Wingtra One drone at the event. With its unique design, the drone takes off like a rocket, but flies like a plane when in cruise mode. Company officials highlighted the vehicles ease of use and its value in mapping operations.
Skydio: After a traffic accident, officials at the scene often want a 3D scan – or digital twin – of the area before cleaning up the road and getting traffic back to normal. Often, this can take hours, leading to long times of congestion and logistical headaches. On Tuesday, Skydio demonstrated a way around those issues, scanning a mock accident for those in attendance. This scan took less than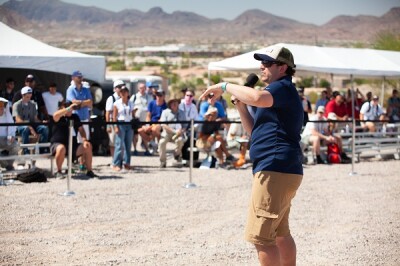 10 minutes. Skydio representatives explained that even a larger accident that would typically take upwards of four hours could be done in less than 45 minutes using Skydio's autonomous scanning flights and data processing software.
Ascent Aerosystems: Perhaps the most unique UAVs on display on Tuesday were the two vehicles from Ascent. Their NX30 was small and silent, with the ability to take off and land in one's hand rather than on the ground. Company representatives said the vehicle was ideal for public safety and inspection applications. Ascent also showed off Spirit, a 13-pound drone that comes modularly with multiple sections that can be customized with different payloads, whether it be a camera or lidar scanner, to meet the needs of the user.