Whether you believe the predictions that the drone services market size will grow to 63.6 billion by 2025 or take a more conservative view of the future (we've seen predictions like this before), almost everyone in the industry agrees that there is going to be continued growth in the industry. This means that the commercial drone industry needs to attract and properly prepare pilots to fill the needs of a growing industry. But what does the industry need to do to build a competent and prepared workforce? What happens to the industry if we don't?
To legally fly a drone, you need a Part 107 license, which is a paper test with no demonstration of flight proficiency required—that's it. For those with experience or who have done their homework, Part 107 is seen as the ground floor—a starting place—but for others, it may be the only floor they visit before applying for jobs. Even if someone gets flight training, without minimal industry-wide operational standards and expectations it is difficult for businesses to know what that training involved, how they were evaluated, and what skills they have.
Figuring out who is qualified requires businesses to either do their homework on all of the testing institutions out there, trust that the pilot they are hiring knows what they are doing, or spend time and money training them in house to ensure proficiency. This can be a barrier for businesses due to the risks, time, and cost they take on when hiring a pilot. Even when someone gets a high-quality education it is difficult to tell them apart from the rest.
For the drone industry to grow, pilots need to be able to step relatively quickly into a wide range of highly technical industries and deliver high-quality results and be prepared to support, manage, and grow that industry's drone program. Businesses need to be able to confidently know that they are hiring that caliber of professional. This is where colleges can provide industry with the skills and businesses with the confidence to build drone programs.
Colleges are subject to rigorous accreditation procedures that ensure every person who graduates with a degree or certificate is qualified to work in that field. Businesses know this, which is why most request a college education as a pre-requisite for hire. This is a promising model for the drone industry, because it creates a workforce that is recognized both within and outside the drone industry. One of the most comprehensive and promising models of this is at Warren Community College.
Warren Community College is one of the few places in the United States where college students can go to study drones. A not-for-profit accredited college, ideally located within class G airspace, Warren provides students with a state-of-the-art program, where students can obtain two 1-year certificates in piloting or drone mechanics or an applied associates degree in science (A.A.S.) in UAS. In addition to these programs, Warren is ASTM and FAA CTI certified and is now the newest program provider for the AUVSI Trusted Operator Program™ (TOP) and offers certifications from Pix4D, ESRI, and others.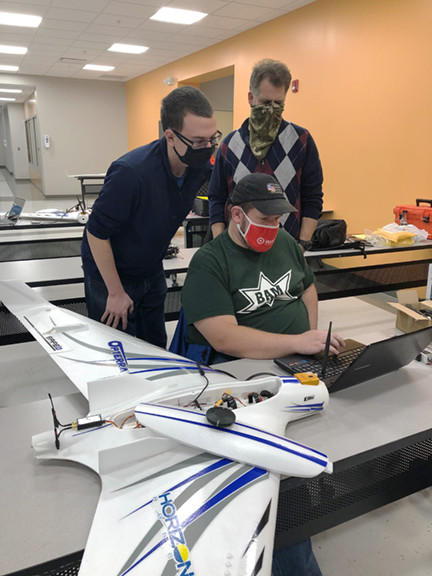 All of these efforts are focused on addressing the needs of the industry and supporting its growth.
"If you have a company that is not yet using drones, and they want to bring drones into their company—there is a steep learning curve there. Our students come out of the program knowing how to set up and manage a drone department," explained Dr. Will Austin, Warren President and the college's Chief Pilot. "They know how to set up a safety management system, the FOM (flight operations manual), and to organize it so their risk is diminished and company liabilities are understood. They can handle everything for the company to ensure it is insurable and scalable."
Warren is designed to prepare students to step into that management role in a number of ways. One of those ways was to transform part of the campus into a state-of-the-art pilot training facility. Their comprehensive campus setup includes a drone racecourse, an accident reconstruction center that doubles as a fixed wing runway, property for search and rescue training, dedicated takeoff and landing pads within a safe zone built out with rubber mulch, permanent GCPs, powered stations and WI-FI connectivity, and NIST AUVSI training apparatus. Everything was designed to be permanent and accessible to students.
They also provided students with state-of-the-art simulators, which were originally added to supplement during inclement weather or TFRs but quickly became an essential training tool.
"We've put a lot of effort into the live flight environment, but the weather isn't always good here, so we originally thought simulators could allow our students to practice during bad weather," explained Dr. Austin. "The reality, however, was that students who regularly used the simulators were exponentially better than students who only used live flights, and their skill level progressed at a faster pace. My theory with this is that students will take more risks on a simulator and really learn the risk parameters of the flight, whereas students who only fly a live drone are much more tentative. We are pushing simulation more and more because we are seeing how students benefit from it."
Simulators are also providing students with experiences that may only come up rarely in the real-world, which helps them to be ready for it if it does.
"In one of the simulations, we actually force them to crash," said Dr. Austin. "We are trying to hone their skills to avoid crashing, but everybody eventually crashes in the simulation. When they do, they learn how to control that crash to cause the least amount of damage. It gives them a sense of what they can accomplish and the limitations of the drone."
What happens when a drone does actually crash in real life? For many institutions and businesses this would be counted as a risk or liability, but because Warren is not-for-profit their attitude is markedly different. They look at crashes as an opportunity for their maintenance courses.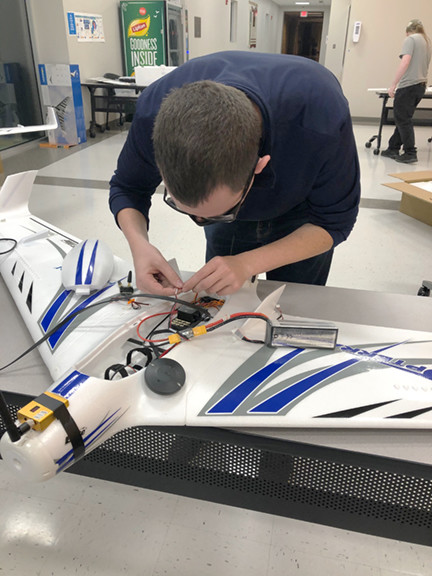 This also means that they aren't afraid of teaching students on a variety of drones, multirotor and fixed wing, with a variety of sensors. This is something that most institutions wouldn't invest in due to the cost and risk of crashing but is incredibly important for future pilots. It is one thing to fly a DJI Spark or Mavic and another to fly a custom-built $300K drone with Lidar and/or Infrared sensor.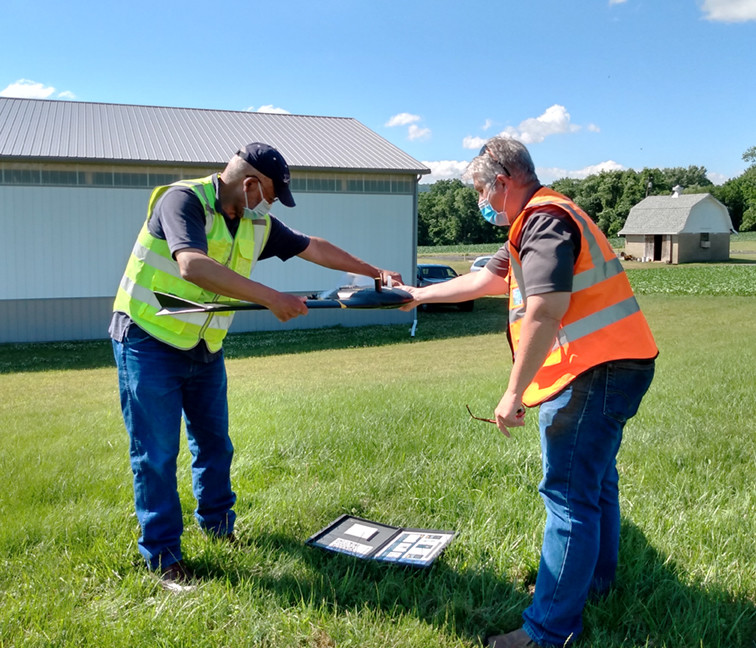 Warren also understands that being able to safely and reliably fly these expensive and complicated drones is only part of what the industry needs. It also needs pilots who understand how to fly missions, capture quality data, and manage and scale a drone program. This is why management and planning, crew resource and fleet management, photogrammetry and GIS classes are baked into the program, which also prepares them for industry recognized certifications like ESRI and Pix4D.
On top of preparing students for certifications and management in the classroom, Warren works hard to offer opportunities for their students to take what they've learned into the real world. For example, they do research on products and provide valuable feedback to manufacturers on performance, and during the summer, Warren arranges a number of field research opportunities for their students to get real-world experience in applications across the drone ecosystem such as agriculture, mapping, inspections, and more. This not only provides students with the opportunity to test what they've learned, it also ensures they will leave the program with a portfolio to share with future employers.
"When students are having a conversation with a potential employer, they're not talking about what they read in a book, they're talking about what they did," emphasized Peter Miller Unmanned Systems Specialist at Warren.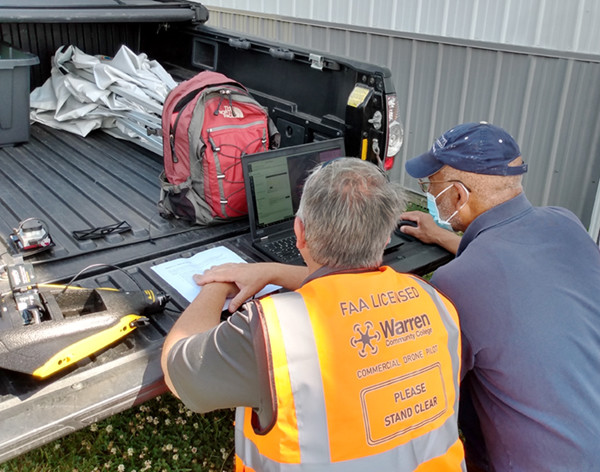 Having a portfolio that includes real-world experience, industry-recognized certifications, and a college degree or certificate at a state-of-the-art facility is a powerful combination for employers, especially if they are trusting you to lead the way in developing an in-house drone program.
These are some of the many ways that colleges like Warren are ideal pathways to properly prepare people to enter into the industry. And because Warren is a not-for-profit, publicly funded college, nothing is proprietary by law—it is owned by the public. What this means is that their program can be replicated by other colleges and institutions throughout the United States. Warren doesn't have to be unique.
For an industry working on legitimizing and setting performance standards, working with college institutions is an exciting and promising avenue for disseminating standardized information to pilots throughout the industry. Let's hope other colleges catch on that there is pent-up demand for skilled drone pilots and begin similar programs of their own.
To learn more about Warren Community College's program you can check out their website here.