On the third day of the highly successful North Carolina Drone Summit, a group of Unmanned Traffic Management (UTM) experts took the stage to discuss what the future of urban air mobility might look like. The panel took questions from an audience eager to learn more about the state of the technology and about the different alternatives available to drone operators today.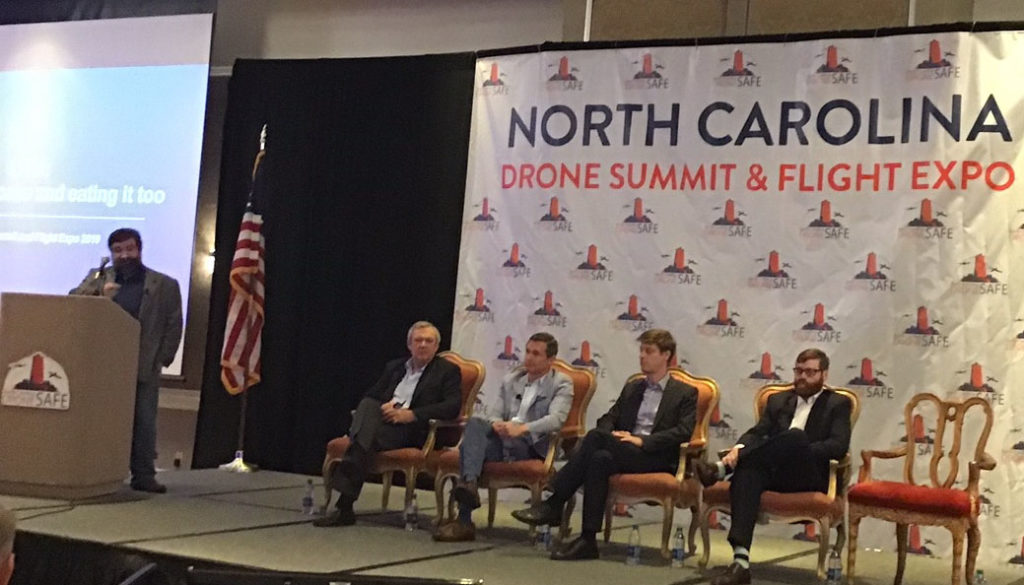 Members of the panel were:
Jonathan Daniels (Moderator), CEO Praxis Aerospace
Phillip (Phil) Hall, CEO RelmaTech Ltd. (UK)
Brent Klavon, VP Operations, ANRA Technologies
Laurent Huenaerts, General Manager UNIFLY
Matthew Satterley, Head of Federal Policy and Government Affairs, AIRMAP
The meeting began with a brief introduction of each panel member by Jonathan Daniels as he detailed how each participant is involved in the effort to shape and define a UTM ecosystem. Phil Hall then took over to specifically detail how RelmaTech is working to advance the cause of UTM."RelmaTech specializes in the development and operation of integrated technology-based solutions that provide for the safe, secure spatial management of autonomous and semi-autonomous vehicle and device operations in any environment," Hall told the audience.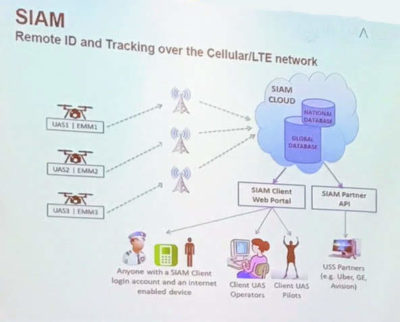 Hall then proceeded to explain with a short set of slides what RelmaTech brings to the table in terms of OEM hardware which can be used by any manufacturer to provide continuous identity and location of unmanned aircraft. Their product is
called SIAM
, and it provides this information by enabling constant communication via the cellular/LTE network. He mentioned how important it is that any UTM implementation provides reliable situational awareness, route planning, weather service and efficient management of the airspace.After Hall's presentation, Brent Klavon from ANRA Technologies took over. ANRA has been making headlines of late with the efforts to
tests a dual Broadcast and Network Remote ID solution
, and Klavon's presentation touched on the ramifications of this effort. He made a compelling case for the involvement of academia and NASA in all areas of research and development (R&D) related to the successful deployment of UTM."Remote ID is a key component of any successful integration of unmanned vehicles into the National Airspace (NAS) and we'll have a better idea of where the industry should be going as soon as we can see the ruling from the FAA, hopefully by the end of the year," he said.After that, Laurent Huenaerts from UNIFLY explained to the audience what UNIFLY does and detailed the important work they do in Europe to spearhead the effort to deploy a safe, pan-European UTM service. Their efforts to
define the future of drone traffic management for Europe
are as relevant for that continent as they are for the rest of the world."Founded by air traffic controllers and pilots, Unifly has developed an award-winning UTM software platform that addresses the needs of all stakeholders in the drone industry," Huenaerts told the audience. "The big difference between the deployment of UTM in Europe and the USA is that the Old Continent will surely implement a centralized system, while in America there will be a decentralized operation."Matthew Satterley from AIRMAP took over to explain how the AirMap UTM Platform is built on open Internet standards and secure cloud technologies to provide a real-time snapshot of the airspace, ensuring safe and scalable drone operations for all stakeholders. Their partnerships with companies like
Involi
and
Raytheon
showcase this dedication to building open standards, but that's just part of their efforts to create a UTM system that makes sense for everyone."A secure UTM deployment will use services provided by both governmental sources and private industry," Satterley said. "The
Low Altitude Authorization and Notification Capability
(LAANC) will play a key role in the safe use of any unmanned traffic system."At that point, Daniels opened the session for questions from the audience. The first one was centered on the thorny issue of cybersecurity when connected to the cellular network. Huenaerts answered on behalf of the panel, who all looked to agree with what he had to say."Every private company and national regulator engaged with UTM in the world is working hard to make sure that the information being transmitted via the cellular network while engaged in an unmanned flight is 100% secure," he said. "Apart from the mandatory issue of safety, we all agree privacy is requirement #1."The second question from the audience was very direct as it focused on the distinction between Air Traffic Control (ATC) and what UTM providers are looking to create. If we only have one ATC, why do we need many UTM providers?"UTM will come in many forms and sizes and there will never be a one-fits-all system," Satterley said. "The same as LAANC, there are many service suppliers and the industry is finding the answers as more and more people use the app and the market finds a balance."The next question was regarding standards and where and how standards that make sense for the industry will come together. Where exactly will those standards come from?"Standard organizations such as ASTM are finally making inroads into the UAV business," Klavon explained. "Their efforts will eventually give the industry a set of safe and reliable standards that could be used to unify the unmanned community the same way it does with manned aviation today, very successfully."The last question from the audience was about the public perception of this technology as well as the inevitability of an integrated NAS. Daniels closed out the panel with insight about this issue that will be as relevant today as it will be in the near future."Public perception today plays a key role in every UAV discussion," he explained. "The more services we can provide to the community with the least amount of negative headlines, the faster we will have a converging and integrated airspace in which urban air mobility taxis, unmanned distribution drones and manned aircraft will coexist safely and efficiently. UTM will be a key component of this sky of the future."