To provide the government and the commercial industry with aerial surveillance and awareness through scalable, secure, and rugged technology, Teal has recently launched Golden Eagle, a new commercial drone system.
Designed and manufactured entirely in Colorado, US, to ensure the highest level of security and performance, the Golden Eagle's primary application is short-range ISR capabilities in government operations. However, Teal is also focused on bringing it to customers in civil and defense, as well as in commercial industries, including agriculture, surveying, construction, energy, and logistics.
"Our goal was to enable unmanned systems with a few key technologies, primarily, AI and autonomy-based solutions, advanced sensors, and advanced modularity to accept different payloads and propulsion systems," George Matus, CEO at Teal, told Commercial UAV News. "With the combination of those fundamental technologies, we think that the number of use cases that a platform like Golden Eagle can perform is massive. A couple of years ago, it took several humans to fly one drone—you had a pilot, a camera operator, a spotter, [etc]. Today, you have one operator per drone, and moving forward, with some of the technologies we're building on the AI side along with other companies in the space, one operator will be able to control an entire fleet of aircraft."
Equipped with a Qualcomm Snapdragon 845 mobile computing platform, the Golden Eagle is capable of real-time edge processing to enable autonomy capabilities, computer vision, and AI detection of people and vehicles. At the front, the drone features a swappable payload that stabilizes a surveillance-grade 4K sensor and a high-sensitivity FLIR thermal sensor for operations in any conditions, including low-light and no-light scenarios. Built with a compact and ruggedized airframe, the Golden Eagle can fly faster than 50 MPH with flight times of up to 50 minutes and starting operational ranges of more than 2 miles. Its efficient, high-voltage propulsion system provides high-flight performance, even in extreme environments of 30+ MPH of wind resistance and between -32° and 110° Fahrenheit, with a low acoustic signature that makes it inaudible at minimal ranges.
Additionally, Teal developed the Teal Air Control (TAC) ground station to optimize "every aspect of unmanned system operation, enabling front-line forces to stay safe and informed while enhancing situational awareness". Powered by Teal's technology, TAC features a large and bright screen, totally ruggedized design, great controls and ergonomics, 10+ hour battery life, and enables 3km+ range operations.
"The specific use cases that we're targeting initially with Golden Eagle are intelligence, surveillance, and reconnaissance through civil and defense applications," Matus added. "For the warfighter, the goal is to increase their survivability and lethality, and to show them what's around the next corner, or over the next hill. Civil use cases include infrastructure inspections, public safety, law enforcement, fire, search and rescue - most of our existing commercial customers are focused on using Golden Eagle for infrastructure inspections."
From the beginning, Teal's mission is to build unmanned systems to be more than just flying cameras, while securing drone-captured data. Although primarily designed for consumers, the company's previous California-manufactured drones, Teal One and Teal Sport, were already built with that vision in mind through in-house developed hardware and software. About two years ago, when the US government started aggressively identifying and addressing data privacy risks, Teal saw an opportunity to take that core technology and apply it into commercial and government applications. With a mission to bring back America's drone industrial base by creating trusted, scalable solutions for commercial and government markets, Golden Eagle is the first step of that journey and "the culmination of five years of work to bring to market a combined hardware and software platform that maintains the ethos of Teal One."
"In the beginning, we wanted to [build drones in the US] because we thought it was the right thing for our company and our brand. But we always hoped the US government would recognize the risks of drones that are manufactured or use critical components from overseas, with the specific risks being dataflow dependency and dual-use concerns," Matus commented. "The timing made a lot of sense to focus more on commercial and government given the opportunities and the headwinds against DJI, which have opened up an opportunity for American companies like us. Even though these restrictions are primarily targeting government, many commercial customers have come to us asking for American alternatives."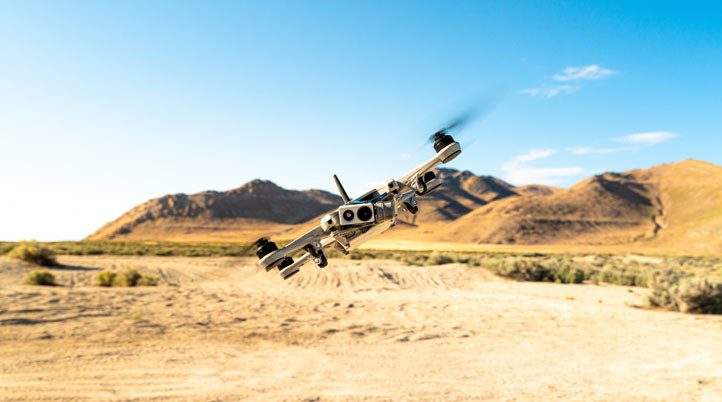 Recently, Teal received an Authorization to Operate (ATO) from the Air Force, after the Golden Eagle was put through an intense cybersecurity penetration testing to determine if it is a secure and low-risk platform. This means Teal is now one of the few DoD approved drone vendors and has been listed on the GSA Schedules.
While it depends on the configuration and use case, the first Golden Eagle bundle Teal is offering costs $11,900. It includes the drone, a FLIR Hadron payload, two integrated long-range digital data links, the TAC ground station, and a spares kit for immediate part replacements along with carrying cases, both tactical and hard cases. Currently, Teal is only shipping Golden Eagle with the Performance propulsion system, focusing on high-speed and performance, as well as portability. Early next year, the company will introduce the Endurance propulsion system, featuring a larger battery, and slightly longer arms with a more efficient motor and propeller that will enable flight times of over 50 minutes in payload capacities of 4 pounds.
"I think at this point, between Teal and a couple of others in the space, we're able to fill the gap that will be created by DJI restrictions. We're excited to deploy here domestically, and also offer international customers a compelling solution," Matus said. "We think that 2020 is going to be remembered for many things, but we hope one of them is the comeback of the American drone industrial base."