Since its founding six years ago, Professional Drone Services of Texas (PDS) has grown at an average of 15 - 18% annually. For CEO Wayne Franks, the success of PDS in the drone industry is centered on "business basics."
"I'm an ex-Fortune 500 guy," Franks stated. "I was in senior management at Nortel Networks for about six or seven years, and I ran another company before starting this one, so I've learned a lot of what about what you'd call 'business basics.'"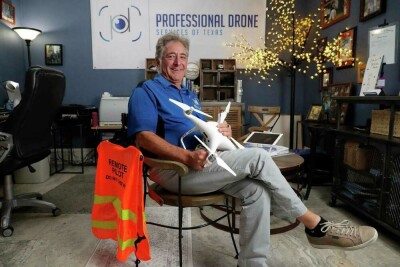 A Houston, Texas-based firm, PDS provides drone-based aerial imaging and related services to clients in construction, utilities, telecommunications, law enforcement, and other sectors. The company has experience with large building development projects, inspections of rooftops and pipelines, mapping of agricultural assets, and much more.
Although Franks acknowledged that there are unique challenges to running a business in a relatively new and changing market like commercial UAV operations, he said that focusing on day-to-day business issues, working closely with clients, and identifying efficiencies are central to the success of PDS.
"You could be in charge of an IT company or a drone company, but it comes down to the same business basics to run it successfully," he asserted.
One "business basic" Franks has brought to PDS is the importance of advertising. "We do a lot of pay-per-click advertising," he said, "and that's led to many qualified leads and a substantial amount of business."
See how PDS uses drones outfitted with HD video cameras and thermal imaging sensors to identify rooftop issues on a commercial building.
Advertising has not only promoted PDS and its services, it has helped educate the public about the overall benefits of drone technology. "A couple of years ago, consumers would see the word 'drone,' and they'd think of a drone flying outside their window, doing surveillance on them," he said. "Now, drones are a lot more acceptable to a lot of different sectors."
Two of those sectors are construction and development. "Those industries make up probably 60 to 70% of our business," Franks reported.
Working with these companies, PDS provides standard mapping and surveying of building projects, but added services, as well. "We provide aerial images and aerial video, but after we've worked with a project manager or engineer for a while, and we've gained their trust, we start to work with the company directors to show them what mapping can do for them," explained Franks. "We explain how we are quicker than using a surveyor. We're more efficient, and our costs are less. This helps us grow revenue per client."
From his long experience in the business world, Franks has learned where efficiencies can be realized and value can be added. For example, Franks has explained to clients that technologies like lidar may not always be the best approach for a given operation.
See how PDS combines drone-captured imaging and GPS software to bring greater accuracy and efficiency to pipeline inspections.
From time to time, people call me for lidar but half the time, after an in-depth analysis, they agree that mapping with ground control points will give them the results they are looking for at a more affordable price point," he reported. "If you start spending $25,000 or $35,000 on a drone with lidar, that's a big capital purchase, and it isn't going to be paid off for at least a year. I explain that the price has got to come down on that for it to make sense."
This focus on value and efficiency—"business basics"—has earned PDS the trust of its clients and helped the firm move ahead in the drone industry.
"I own a drone company," Franks said, "but I'm a seasoned business guy, too, that understands client satisfaction is number #1"