Many mapping solutions out there today involve a complicated procedure requiring training and experience to create a high-quality data product. Lining up the data points alone can be extremely difficult, and any mistake can skew the data set. Despite it being a highly valuable skillset to have, it can be a challenge for the average commercial drone pilot to develop the credentials to provide this for their clients. Understanding the value this capability adds to pilots and the industry as a whole, companies like MEASURE are developing user-friendly mapping options to include within their software platforms.
With MEASURE's service sector now merged with Aerodyne, MEASURE has refocused its efforts on delivering new and powerful tools to its software platform, MEASURE Ground Control. This includes integrating Pix4D mapping into its user-friendly interface to provide pilots and the enterprise with a powerful mapping tool. With the heavy lifting happening in the background of the platform, users will have a full end-to-end management platform with a reliable, high-quality mapping option and easy to use interface.
We spoke with Brandon Torres Declet, CEO of MEASURE, to get an in-depth look into the new direction MEASURE is going, how it is making mapping user-friendly, and more.
Danielle Gagne: MEASURE has been making some significant changes over the past months, and with its refocus on its software offerings, where do you see the company heading in the coming year(s)? How do you think this will or has changed how your company operates within the commercial UAV industry?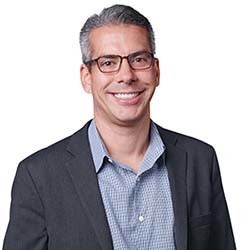 Brandon Torres Declet: With our move fully into software, MEASURE will be able to support a much larger portion of the drone ecosystem and help accelerate the adoption of drone technology overall. MEASURE's software platform Ground Control (MGC) will give thousands of drone service providers and in-house corporate drone programs, across multiple industries, the tools they need to manage their operations and create quality data products. If we can simplify the end-to-end drone workflow and improve data quality while reducing overall costs, more businesses will be successful with drones and adoption will grow.
With the launch of MEASURE Ground Control 3.0 you are introducing a Pix4D mapping feature into your platform. What led you to decide to work with Pix4D to add this feature, and what are the benefits for the end-user to have this integrated feature rather than two separate software platforms? What types of missions will operators be able to fly with Pix4D that they weren't able to before?
We believe that the best strategy is to bring the best solutions together into a single, end-to-end platform. For example, we started by integrating AIRMAP into our flight application for airspace checks and LAANC authorization. Integrating Pix4D software for data processing and mapping made perfect sense. Pix4D is the leader in photogrammetry, and their software reliably turns drone imagery into high-quality data products. Pilots can capture data with the MGC flight app, and then create orthomosaics, digital surface models, and contour maps right within the MGC web portal. With a single platform that includes everything users need for their end-to-end drone workflow, we can streamline operations and save costs.
Although MEASURE has worked in several sectors of the industry, its primary focus has historically been in energy. By adding a mapping functionality to Ground Control, do you see your focus either shifting or expanding to other verticals? How do you envision other verticals utilizing the software?
MEASURE Ground Control will be used in a wide variety of industries. Construction is a natural fit, but many industries have projects that require mapping for land assessments, inspections, and other use cases. We already have software customers across a variety of industries including energy, construction, property management, insurance, and agriculture.
Pix4D is a high-powered, professional high-quality mapping software. This can be complicated to use initially for operators with no background in mapping or surveying, such as individual drone operators. MEASURE's new platform is focused on being user-friendly. How does Ground Control make this mapping software accessible to the average drone operator?
With Ground Control, the complex part of data processing and mapping is done behind the scenes. We've applied our years of experience in creating quality data products to make it easy for anyone to get a good result. All the user needs to do is select the images they'd like included in their map, and we take care of the rest. And the only thing they need to know about Pix4D software is that it makes great data products.
Continuing with that idea of user-friendly software. MEASURE has been known for its enterprise solutions, but by merging its services sector with Aerodyne and refocusing efforts on ensuring Ground Control is user-friendly, the company seems to be focusing more on the experience of the individual operator. What level of operation is going to benefit most from your platform smaller independent drone operators, enterprise-level customers, or both?
MEASURE will continue to serve enterprise clients with a customized software platform that works with their unique business processes. However, we expect that small and medium businesses will make up the majority of our Ground Control users. There are not a lot of off-the-shelf solutions that include both mapping and program management for drone businesses. With MEASURE Ground Control, customers get a simple yet fully featured solution for end-to-end drone operations at a more reasonable price compared to piecemeal products and other drone mapping software on the market.
Apart from the added Pix4D functionality, what other features are you most excited about in the newest version of Ground Control?
One really cool feature that we've rolled out in conjunction with mapping is our interactive, account-wide map viewer. Yes, this is where users will view their completed data products, but it goes beyond that. For example, users can now view their flight plans and flight logs on one global base map. They can pan through their activity geographically, which provides a comprehensive and easy-to-use view of all their operations. They can also add their own KML files as layers on the map.
We've also made a lot of great additions to our flight app. For example, waypoints flights can now include a 360-degree Pano action, and we've added a record option for turning a manually flown flight into a repeatable Waypoint flight. For grid flights, advanced settings let pilots add crosshatch, switch the starting waypoint, change gimbal direction, and fly portions of the grid for recapture. We also enabled Livestreaming to any RTMP service like YouTube or Microsoft Streams.
If I were considering adopting MEASURE Ground Control to run my drone operations, what are some key things you would want me to know?
MEASURE Ground Control is the most cost-effective way for independent drone service providers and corporate drone programs alike to manage their operations and create high-quality data products.
We've aligned our subscription plans with business needs. For example, by choosing an annual payment option, users get their entire annual allocation of data processing upfront, not month-by-month, which is great for seasonal businesses who process a lot of data in some months and very little in others. With our Teams subscription for multiple users, data processing is shared across the account rather than being limited to one specific user, so that the heaviest users can use the bulk of the processing.
Anyone who is interested in testing out Ground Control can get a free trial at www.measure.com/freetrial. The trial comes with processing for 750 images, so users can make their first maps for free. We're looking forward to working with new customers, listening to their feedback, and continuing to develop new features that meet their needs.