As data capturing technologies continue to evolve, including drones and the sensors they use, collected data sizes continue to get bigger and bigger. While many companies have turned their attention to cloud storage to store "unlimited data", GNARBOX wants to solve collection and storage speed issues with a new product ecosystem, which should work as an intelligent buffer to the cloud by acting as intermediary storage.
With a vision to expand to new applications since the launch of the GNARBOX 2.0 SSD in October 2019, GNARBOX understands that one of nowadays' struggles is data collection and storage processes. Built as a data backup solution for the Photo and Video industries, various freelance photographers, small production teams, and broadcast organizations use the GNARBOX 2.0 SSD to protect valuable digital assets and speed up client delivery processes.
Based on the 2.0 SSD and built for applications in the Edge Computing market, GNARBOX's new product ecosystem should solve some issues between the pace of data collection and network bandwidth (even within 5G networks). By providing users with an intermediary storage, processing, and syncing solution, the new ecosystem can ease problematic data bottlenecks and ultimately provide real-time improvement and optimization for any company. What really makes their solution distinct from the others that are available in the market though?
"A few years ago, everyone was trying to push their backup solutions in the drone market but they weren't purpose-built for it," said Will Africano, CMO at GNARBOX. "That kind of purpose-built product is what you need for the scalable operations that ultimately make drones make sense. These were solutions that were built in enclosed boxes that had aluminum casing on the entire thing that could never be optimized for cloud delivery. Our product facilitates workflows by automatically delivering files to a server once its plugged into the network. It can queue and restart check files in a way that requires a lot less human interaction."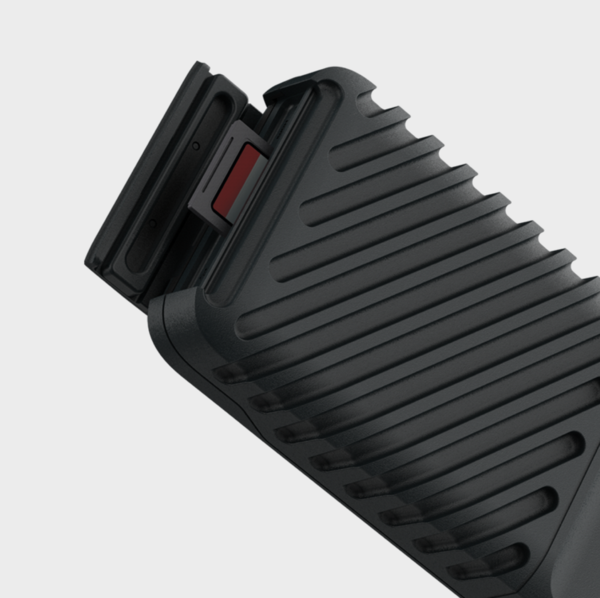 The GNABOX solution was built on a containerized architecture with future markets in mind. Regardless of where or how the data is being captured, the information is all stored, processed and uploaded from the edge.
With an initial focus on the enterprise drone sector, GNARBOX's research on the industry heavily focused on the data chain for drone programs, the tools being used or not being used, and the pain points program managers face in their workflow. As a result, the company, together with GUINN Partners, released an eBook, Digital Asset Management for UAV Programs, which describes their findings, including how to set up and scale a digital asset management program, efficient data management structure, and recommendations for hardware, software, and cloud services.
The company's first ecosystem product, GNARBOX 2.0 Drone Edition, "will help customers modernize and streamline their data management workflow, bringing the gold standards trusted by the film and photography industries to drone operators everywhere". Designed for a variety of sectors, including Law Enforcement, Transportation, Agriculture, and Insurance where UAVs are now common and collect significant volumes of data daily, the Drone edition's rugged device, according to the company, works better than a laptop to backup microSD cards, check for data corruption, organize, and review files or upload to the cloud.
Users will be able to see the difference that the product represents in numerous ways, but the value proposition can be understood on multiple levels.
"First and foremost, our products provides a layer of security," Africano told Commercial UAV News. "Data loss slows down operations, so we designed our product to stay in front of those types of challenges. Additionally, we have intelligent features that allow users to start organizing files automatically into folders. When you can automatically extract GPS data and then organize that info by city and zip code, you start to get a sense of the kind of time you can save. If you're running a program of 10 pilots, they're typically not data specialists, which means they aren't always going to do something the right way. Simple automation of mundane tasks that people don't want to do can make a big difference."
Featuring consistent high-speed transfers with an NVMe SSD up to 1TB, 3-6 hours battery life, an onboard checksum for data verification, and a MIL-SPEC design that's both water-, dust-, and shock-resistant, as well as pocket-sized, GNARBOX's product connects to the Internet via both cellular and wifi and integrates with industry-standard software. Through a subscription-based "as-a-service" business model, users can take advantage of other features, such as configurable settings to automatically organize by Location & Flight, to speed up laborious data classification and organization steps that are essential for maintaining a proven and reliable data archive, and Pix4D cloud integration, so users can speed up the processing of 2D & 3D datasets from the field.
The product represents just the beginning of what we're going to see from GNAXBOX though.
"The drone edition isn't just a one and done product," Africano continued. "In this market, we're trying to deliver more solutions, which included the edge as a service solution (EaaS) that's creating data to be able to start processing at the edge. We're building new hardware to help facilitate more learning at the edge, because we're not talking not about just backing up data, but are instead trying to enable intelligent processing that gets insights sooner rather than waiting for all of that to get into the cloud. We're trying to teach best practices for what data management means and how all of that can actually help you scale an operation. Creating a sustainable data chain is going to be essential, not just for one year, but for the next ten, and GNARBOX products can help define that in a big way."
Set to release in July 2021, the GNARBOX 2.0 Drone edition will cost $899 and require a $200 per year subscription to maintain access to exclusive drone-based features.