Drones are a great platform, or tool, for collecting large amounts of high-quality data. But there are many ways drone data collection services can collect and package that data from video, photographs, thermography, multispectral maps, and photogrammetry to 3D reality models and point clouds. All of these data sets provide additional information about an asset that can prove valuable insights for a company. However, if a company can take that collected data set, layer it with other data sets, and enrich it with additional information on their asset, with things such as serial numbers, maintenance records, and so on, it becomes something more: a single source of truth about an asset. This kind of single source is called a digital twin.
A digital twin is more than just a three-dimensional representation of a building. According to Jake Lydick, Founder and President of Eye-Bot Aerial Solutions, to really earn the name, a digital twin must not only be an accurate representation but must also contain data enriched with relevant information about the asset captured.
"If I were to capture a 3D model of the interior and exterior of my home, what I would have is a representation of my house, but I wouldn't define that as a digital twin," explained Lydick. "I wouldn't define it as a digital twin until that representation has been enriched with data that is relevant to the people who take care of that asset. For example, if I were to hover over my heating and air conditioning unit and it told me when it was last updated and by whom, that would be a digital twin, otherwise it is just a reality model."
Lydick then emphasized that an essential function of a digital twin is to enable fast, efficient, and easy-to-use virtual collaboration between different departments/individuals of a business or project. It is the pairing of the virtual and physical worlds that allows analysis of data and monitoring of assets to get ahead of problems, prevent downtime, and develop new opportunities.
Because many businesses in the market are still trying to wrap their heads around what a digital twin is and how, and if, they can benefit from it, educating clients on the purpose, function, and benefits of having a digital twin makes all the difference between a business or industry adopting this technology and not.
"Education is where you start," began Lydick. "You need to educate people on how they can leverage a digital twin or reality model, and why it is important to their bottom line by reducing the number of site visits, performing remote inspections, or collaborating on an issue. You show them it is accessible, safe, and secure, and then you take this information to the decision makers to reduce that reluctance to adopt."
Lydick thinks that this approach is starting to pay off, he is starting to see industries adopting the technology, especially when there are a lot of stakeholders involved in taking care of a large and/or complicated asset such as smart cities, large plants and mills, and infrastructure like bridges, in which having a single source of truth is vital for efficient, safe, and fast asset management.
"You are seeing adoption with large assets first, because the benefits are so tremendous," stated Lydick. "But we're already seeing that trickle down into individual assets, anything that needs to be tracked and monitored by many people that need to collaborate. With a need to collaborate, you'll see faster adoptions in those industries."
Part of Eye-Bot's success has been to focus on collecting high-quality, rich, secure data sets that can grow with the needs of the company. You can always weed data out, but you can't make data out of thin air. At the start of adoption, he recommends figuring out what each company is looking for, what benefit they think a digital twin can provide them, and then recommend a user-friendly digital interface that makes it easy to access that data.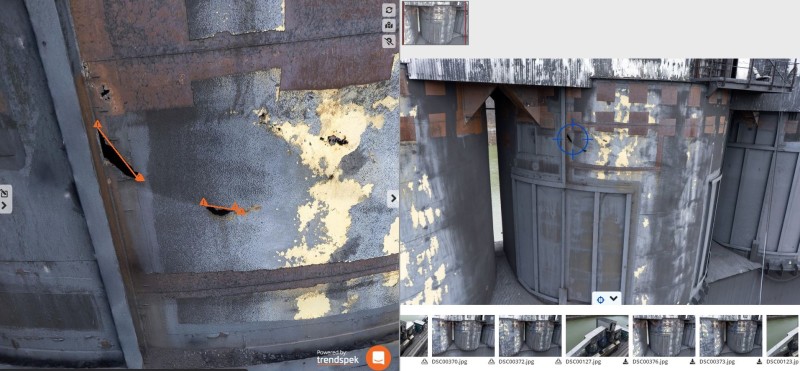 "It's our responsibility to give companies a good starting point, and if we do that, then the adoption with that product will be organic," explained Lydick. "We create the updated visual 2D and 3D datasets used in the digital interface, and then hand it over to a client with just the most basic, fundamental tools attached to it. We let the organization figure out the rest of the value, people know their businesses a million times better than I do. We are outsiders. We focus on giving people rich, detailed data sets and make sure they are secure, accessible, and intuitive to use, and then watch it grow from there. There is nothing more exciting than giving a company a good, accurate digital product and then seeing all the different ways that they decide to use it. It is important for us to enable that."
When asked how he defines the term, intuitive—a frequently used term in marketing these days—he explained that it uses the same visual language (such as icons, industry specific terms, familiar layouts) that each business is used to so there is no new terminology, it is easy to navigate and doesn't require a lot of steps to get to the data companies need to run their business. If it takes longer or it is more frustrating to pull the data from the digital twin then it would be to walk over and examine it in person, then it isn't going to be able to provide any value.
For Lydick, providing an easy to use, intuitive interface doesn't mean skimping on gathering and developing a complex deliverable and staying on the leading edge of technology. As data collection becomes more sophisticated, data collection services also need to be nimble in order to deliver the best possible data product. New, better, and different technologies, like sensors, automation, and drone platforms, are helping to make data collection more robust and powerful, while drone software is becoming more refined and faster at processing, analyzing and delivering actionable data results, especially as machine learning becomes more viable. According to Lydick, all these technologies should be leveraged to create a robust interface that can provide layers of useability that can grow with a company's needs.
"A true digital twin is inherently complex," concluded Lydick. "But it can still offer very simple, easy to use, instantaneous benefits."