The reasons for using a drone can vary wildly by company and even on a project-by-project basis, but the one trend that software providers like SimActive are witnessing across the board is an increased demand for processing larger drone data sets. As the drone industry matures and companies learn about when and where drones can provide value for their data collection workflows, projects are getting bigger and more complex, especially as hybrid sensor packages are becoming more common. This in and of itself is a challenge, but in addition, the expectation for fast turnaround times of deliverables continues to be a pressing concern.
"What we've been seeing in the last year or two is that people are starting to fly much larger projects," pointed out Philippe Simard, President at SimActive. "What used to be several hundred images captured within a half hour of flying time has grown considerably. Some clients are capturing hundreds of thousands of images. This leaves them with a huge amount of data to crunch, but they are still looking at delivering results within a few days. So, they are looking for ways to keep up with the additional workload."
Having been in the mapping business since 2003, SimActive has a long history of working with large files and data sets. They witnessed how the surveying and mapping industry changed from the early days of traditional scan films of the early 2000s to large format digital cameras and the introduction of the drone.
"We originally developed our software from scratch to handle large format frames, where a typical project is usually something like 20,000 to 30,000 frames captured by a 350-megapixel camera," Simard explained to Commercial UAV News. "We were one of the first ones to use GPUs (graphic processing units) that were basically designed for video games, but we used that computational power to accelerate data processing. So, our software was always built to be fast."
With the release of Version 9 of their Correlator3D software, they are enabling even faster processing by leveraging the power of distributed computing.
"At some point, however good the PC is that you are using, there's a limit to what it can do," explained Simard, when asked how this process worked. "So, we've added the capability to use multiple computers to process the data. Version 9 connects to the network, determines what machines are available, and intelligently splits the project into multiple parts. It then performs the calculations on these machines in parallel. Once the processing is complete, it is all brought back together into one, seamless result."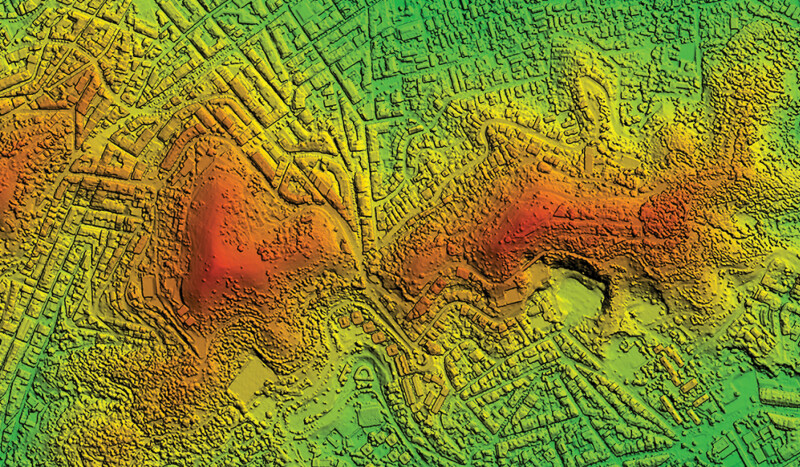 In short, by breaking the project up across multiple computers, service providers and businesses can process large chunks of data simultaneously without slowing down any part of that process. The system requirements, like previous versions of Correlator3D, is a standard PC with a gamer's graphic card and a solid network connection.
"The most important thing is a strong network," emphasized Simard. "You don't need complex or expensive hardware. What we recommend is a 10-gigabit network card on each machine, and cables that can support that data transfer speed, which is relatively inexpensive to get."
By determining how big a project is and when the deliverable is expected, SimActive can help you determine how many computers are needed to get the job done on time and can help you adjust your workflow to accommodate growth.
"When clients come to us, we make sure that they understand the scaling up process," stated Simard when asked about the ways SimActive can support projects. "A larger production will not only require the right tool, but it also means developing a processing workflow that will allow clients to scale. We offer them support and help to define the right workflow for their needs. There is a lot of teaching and training that we do with the end users to help them deliver the high-quality product they need in the time that they are expected to deliver it. Sometimes we'll even offer to crunch their first larger project so we can demonstrate how it is done and show them how to define a workflow."
By providing this level of support, SimActive is helping drone professionals figure out how to meet the growing demand for their services, which will only increase in importance as the industry matures. In addition to project support, SimActive offers flexible pricing models from permanent licenses to yearly and monthly options, so that clients can add additional computer licenses for a particularly large job without having to eat up additional costs for when it is not being used. This kind of flexibility is highly valuable in the drone industry, where drone projects can vary from one month to the next.
When asked about the future of drone data processing, Simard only sees the demand growing.
"I don't see the demand for more data, higher resolution, more images, and more frequent data collection projects going away—I think it is only going to increase," said Simard. "It's all about adjusting the production to be able to cope with the growing size of large data sets. I think drones are starting to mature and go in the right direction. People are investing in their workflows, and they want to learn how to grow."
To learn more about SimActive and their latest version you can contact SimActive at

[email protected]

or visit their website.