With the ongoing controversy over Chinese-manufactured unmanned aerial vehicles (UAVs) and the constant struggle to extend flying time and usable load, there's a permanent search for an American made UAV that can fly for extended periods of time and carry a useful load that allows it to map ever larger pieces of land. We recently came across a company in the USA that manufactures, and sells, such a platform. Event 38 Unmanned Systems, Inc., a Richfield, Ohio-based company was founded in 2011 by a group of aerospace, software and electric engineers.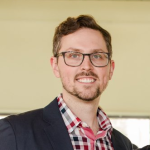 We had an opportunity to connect with Jeff Taylor, founder and President of Event 38 to find out more about his company and the mapping platform they produce. My first question was regarding the unusual name of his company. He laughed and gave me a very satisfying answer.
"When I worked at SpaceX, we needed to follow very strict NASA protocols and they were labeled 'Events' and were numbered." He said, "We struggled with one of them in particular, and it was Event 38. When I founded the company, I thought it was a great name and we adopted it."
When asked about Event 38's products and services, Jeff engaged in an animated conversation.
"We, at Event 38, design and manufacture small and medium sized unmanned aircraft for mapping, inspection and security applications," Jeff said with obvious enthusiasm. "We build several models of standardized aircraft with multiple mapping and inspection payloads available from the factory as standard, which can be shipped in just a few days. These models can be customized to suit any payload desired, and where appropriate a fully custom airframe can be built."
Event 38 has been very successful selling its E384 and E386 models and they have shipped over 600 units all over the world, which proves that there's an enormous market for longer flying time and larger payload for certain applications.
"We will be soon launching our newest model, the E400 which will have vertical takeoff and landing (VTOL) capabilities, a flying time of 80 minutes and a useful load of 2 lbs." Jeff said, "With a wingspan of 2.4 mts (8 ft) the E400 will be an amazing platform for extended mapping and agricultural missions, and the range of sensors will go from digital imagery to RGB and possibly a LiDAR in the not-too-distant future."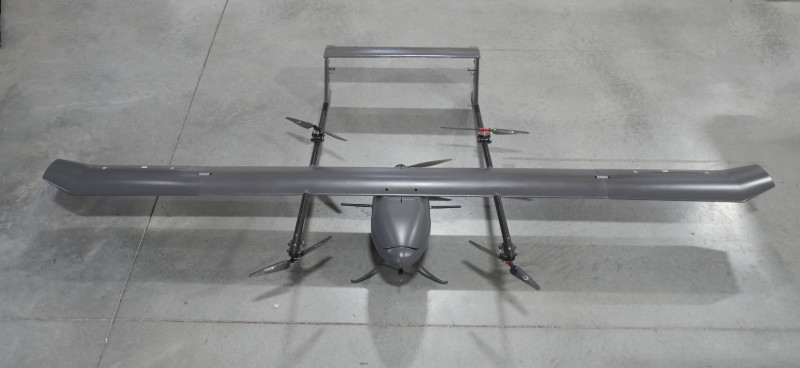 Looking at the specifications of the E400 we wondered how Event 38 managed an 80-minute flight time in an eVTOL platform. The answer was both surprising and ingenious.
"We used two set of batteries, one for the four engines of vertical flight and another set for horizontal flight," Jeff responded. "The batteries for vertical flight are high-discharging-rate LiPo and the horizontal part of the mission is supported by high energy density Li-Ion batteries."
When we asked about the flexibility of payloads, Jeff was ready with an answer.
"Yes, we are working on providing our customers with a single, plug-and-play sensor bay that can be exchanged in a matter of minutes, providing maximum flexibility, dependability and speed on the field." He said.
Regarding the future, Jeff was bullish on his company in general and the new platform in particular.
"We are making serious inroads into Search and Rescue missions, Emergency Response and medical deliveries." He concluded, "We are excited about the next couple of years in terms of new markets and increasing sales."
We welcome and salute, in-country development and manufacture of UAV platforms that allow for greater efficiency and longer flying times.