On the first day of Commercial UAV Expo 2023, Sony Electronics announced its new ILX-LR1 camera.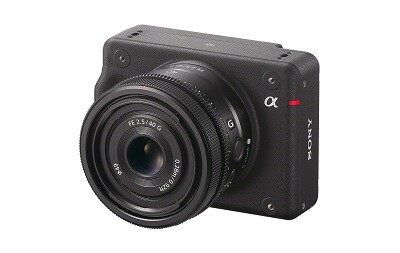 An interchangeable lens camera with a 35mm full-frame image sensor, the camera can be paired with multiple platforms, including drones, to aid in a wide range of industrial applications.
To follow up on the announcement, Commercial UAV News had the chance to speak with Masa Nagone, Business Solution Manager for Sony North America at the Sony booth at Commercial UAV Expo. He explained that the camera "is ideal for drone photography" and its lightweight, compact design makes it adaptable to operations in a wide variety of industries, including utilities, green energy, telecommunications, transportation, construction, and land management.
The ILX-LR1 weighs 0.53 lbs. and is approximately 3.94 inches wide, 2.91 inches tall, and 1.67 inches deep. The box-shaped unit can be secured with screw holes for secure mounting on any of its six sides, allowing it to be attached to drones, other robotics, and industrial machines.
According to Sony, the ILX-LR1 "captures high resolution, low noise, and wide dynamic range images that reveal fine details like small scratches and cracks during inspection and investigation. It also has a selection of a continuous shooting capability such as 3 frames per second, which is suitable for mapping shooting, allowing for the rapid completion of high-altitude shots in a short period of time."
What's more, Sony stated, the camera is "compatible with a wide range of E-mount lenses that allow for the selection of the most appropriate lens based on the project so a single picture taken from high altitude can replace several pictures from a lower-resolution camera."
Watch for an exclusive video interview with Masa Nagone, filmed at Commercial UAV Expo, to be posted on Commercial UAV News in the coming weeks.