Since its introduction this fall, Teledyne FLIR's SIRAS drone has impressed customers with its unique design, enhanced security features, and its ability to perform a variety of commercial applications. The drone comes with a gimbaled dual camera Vue® TV payload, including a high-resolution radiometric thermal (FLIR Boson®), as well as a swappable quick-connect payload system. The affordable SIRAS is well-suited to perform industrial inspections, law enforcement operations, and firefighting, search and rescue, and mapping missions.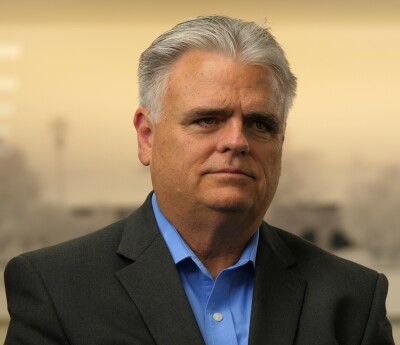 Recently, Commercial UAV News spoke with Mike Walters, Vice President of Product Management at Teledyne FLIR, to learn more about the SIRAS. We discussed the drone's key features, commercial applications, and how it is designed to address critical privacy and security issues.
Commercial UAV News: What are some of the key features of the SIRAS drone?
Walters: SIRAS is an affordable professional drone that includes a thermal and visible sensor and is built for improved data security (does not include Wi-Fi or cellular capability). The existing SIRAS dual thermal and visible payload includes a visible 16MP camera with up to 128x zoom to pinpoint details. The companion 640x512 pixel high resolution FLIR Boson® infrared thermal camera provides clear imagery, 5x digital zoom, and temperature-measuring capabilities. It is the only drone that offers the patented FLIR MSX® technology, adding visible edges and outlines to thermal imagery and providing critical information in real time.
Commercial UAV News: What kinds of industries or organizations could benefit from the SIRAS?
Walters: The primary customer represents professional drone pilots in industrial inspection and public safety roles who must respond quickly and fly when and where they need to without risk to their data. The SIRAS is also a platform that, through its quick-connect swappable payload, can grow along with the pilot and their organization.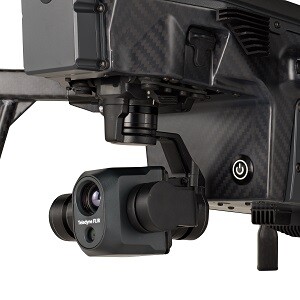 This makes SIRAS a perfect solution for the newly trained, as well as the most demanding, experienced pilots. The airframe provides best-in-class imagery, mission flexibility, secure data, and compatibility with FLIR Thermal Studio™ and the leading photogrammetry software, such as Pix4D, enabling the pros to get the job done.
The onboard processing capabilities of SIRAS enable pilots to use multispectral dynamic imaging, known as MSX. This feature adds visible light details to thermal images in real time for greater clarity, embedding edge and outline detail from the visible camera onto thermal readings. Unlike image fusing (merging of a visible light and thermal image), MSX does not dilute the thermal image or decrease thermal transparency. In search and rescue and fire scenarios, being able to read signs and labels within full thermal imaging provides greater clarity and context for the pilot to complete the mission.
The SIRAS controller includes the Go Fly application that allows pilots to manually fly, plan missions, map missions, and control the aircraft payload. The imagery is compatible with FLIR Thermal Studio and is or will be compatible with industry-leading photogrammetry software such as Pix4D.
Commercial UAV News: Discuss the ways SIRAS can be used in commercial operations.
Walters: Drones, particularly those equipped with thermal-visible sensors, are useful for firefighting and search and rescue missions in that they provide operational flexibility, whether at night or in challenging lighting conditions, so operators can keep a safe standoff distance when surveilling an area, looking for missing people, or identifying hot spots in structure or wildfires. Thermal cameras can see through smoke and when equipped on a drone, they provide increases visual awareness and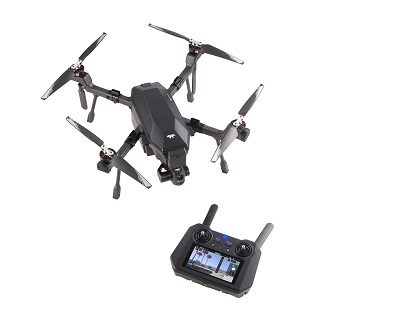 operator safety which helps to decrease flight and mission time.
SIRAS is a powerful tool for firefighting and search and rescue personnel because it provides an aerial perspective unique to drones, supplementing the use of handheld thermal imagers on the ground. Furthermore, with no geofencing capabilities, public safety professionals can have peace-of-mind knowing they can fly the airframe to where it needs to be to complete the mission.
SIRAS is also useful in energy/utility, roofing, solar farms, and other industrial inspection types, given there are no geo fencing restrictions. This means inspectors can fly and survey the critical airspace they need to without being blocked by restriction. The SIRAS features help industrial professionals inspect and report quickly while maintaining a safe standoff. Distance.
Commercial UAV News: Given the privacy and security issues that everyone in the drone industry is facing, explain how SIRAS could be a better choice for consumers and companies.
Walters: SIRAS was primarily designed for ease of use, to quickly get up in the air, and for improved security. It does not connect to the internet, local Wi-Fi networks, or cellular networks. This is to prevent pathways that may enable third parties to view or upload one's data and images. All data is stored in high resolution on the aircraft SD card where low resolution data can be stored on the controller SD card. Therefore, SIRAS capabilities make it a difficult airframe to hack remotely while protecting the drone data.
Also, SIRAS is not subject to geo-fencing, so control remains in the hands of the pilot. Public safety personnel especially need to launch quickly and get the mission completed wherever they are, as lives and property are often on the line. They can't wait precious seconds get permission from an entity in a foreign country to fly where and when they need to.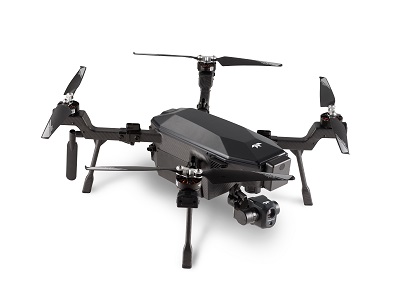 SIRAS enables pilots to launch within a minute of power up, no questions asked, but it is the responsibility of the pilot to know where and when it is safe to fly. SIRAS complies with future RemoteID regulations through a non-imaging data transmitting Bluetooth connection.
Commercial UAV News: How has the market responded to SIRAS?
Walters: Responses both from early testing of SIRAS to current early use cases have been highly positive, demonstrating that a wide range of users and applications welcome the unique security, design, and accompanying management features. Overall, SIRAS brings to market a combination of features and FLIR quality that truly delivers a better alternative with pro-grade, material improvements to the current the roster of professional drones. And amazingly, SIRAS achieves this at a breakthrough price.