Suddenly, delivery drones feel like a need, instead of a "nice-to-have". The COVID-19 global pandemic has painfully demonstrated that delivering goods with automated systems is one more way to keep safe social distance while maintaining the flow of vital supplies to a population in an extended lockdown. Unfortunately, we will not have mainstream delivery drones until we can solve the issue of their safe operation in a crowded National Airspace (NAS). In other words, they will not be a reality until we can safely merge current air traffic control (ATC) with unmanned traffic management (UTM).
Thankfully, while most of us are working from home, a dedicated group of people are working here and across the Atlantic advancing the cause of integration of manned and unmanned aerial vehicles over controlled airspace.
Yesterday the Federal Aviation Administration (FAA) announced two new participants in the UAS Traffic Management Pilot Program (UPP), a program that was established in April 2017 to identify an initial set of industry and FAA capabilities required to support low-altitude drone operations. The entities selected were Virginia Tech Mid-Atlantic Aviation Partnership in Blacksburg, Va., and Griffiss International Airport in Rome, New York. These test site participants will take part in Phase 2 of the pilot program. The UPP will help identify services, roles and responsibilities, information architecture, data exchange protocols, software functions, and performance requirements for managing low-altitude drone operations without intervention by air traffic control facilities.
As the demand for unmanned aerial systems increases, the FAA, along with NASA and other industry partners, is developing a UAS traffic management (UTM) infrastructure to accommodate these operations safely and efficiently with programs like the UPP.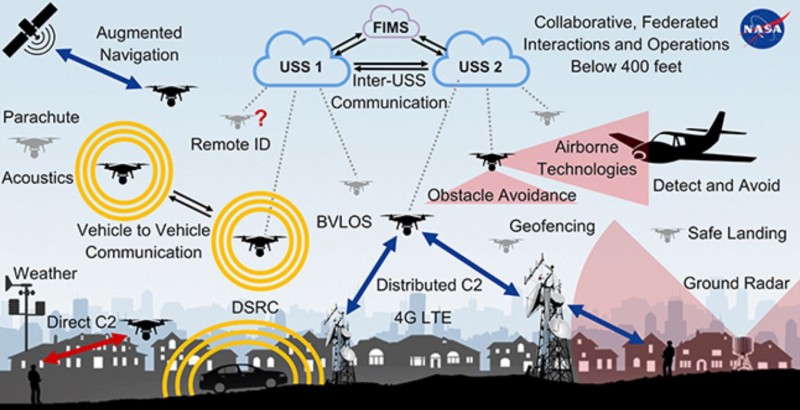 Simultaneously across the Atlantic, EASA, the European Aviation Safety Agency, published an opinion outlining the guidelines on the use and control of drones in an urban environment. The document is aimed at balancing the desire to maximize commercial and convenience benefits of drones against the need to ensure the safety and privacy of citizens and the potential environmental impact on cities across Europe.
The objective of the EASA opinion is to create and harmonize the necessary conditions for manned and unmanned aircraft to operate safely in the U-space airspace, to prevent collisions between aircraft and to mitigate the air and ground risks. Therefore, the U-space regulatory framework, supported by clear and simple rules, should permit safe aircraft operations in all areas and for all types of unmanned operations.
The term "U-space" has been adopted to describe the management of unmanned aircraft traffic to ensure the safe interaction with other entities using the same space in any location, not just urban areas.
"We are already starting to see an increasing number of complex flights undertaken by drones in various experiments across the globe," said Patrick Ky, Executive Director of EASA. "Also, as everyone is aware, many companies have commercial ambitions to use drones for deliveries or, looking further ahead, to offer services such as air taxis. This opinion proposes a regulatory framework that will allow such services to co-exist with all the other activities in our urban environments. The aim is to ensure safe operations, while also creating the basis for a competitive U-space services market, and establishing a level of environmental protection, security and privacy that is acceptable to the public."
These guidelines, presented to the European Commission as a basis for future legislation, lay down the first building block for the establishment of the U-space in Europe. The initial scope is low level airspace, densely populated urban airspace and locations close to an airport, with no attempt made to cover the airspace in other areas. EASA expects to expand the scope as the market develops and experience is gained.
While the world anxiously awaits for the day in which Amazon, UPS, FEDEX, DHL, and others will be able to ship products the same day via drone to avoid the spread of infectious diseases, it's good to know that entities around the world are actively working to make sure that day is sooner rather than later.