Dual-use technologies have both federal and non-federal applications. A wide array of federal programs exist that create public-private partnerships to advance the technologies which benefit both the warfighter and the commercial sector. The Defense Innovation Unit's (DIU) Blue UAS program remains notable among these for the uncrewed aircraft system (UAS) industry. It enables the rapid prototyping and scaling of capable and secure commercial UAS hardware and related tech for the Department of Defense (DoD). Its subset Blue Framework effort, now in its 2.0 iteration, specifically focuses on interoperable UAS components and software.
Only one radio meets Blue Framework 2.0 requirements in a single unit: Doodle Labs' Helix Smart Radio. Now, the Los Angeles-based company is leveraging its radio's best-in-class military-grade features—low size, weight and power (SWaP), long range, interoperability, encryption and multi-band capability—to benefit a wide range of commercial drone use cases.
From Commercial to Blue
Before their entry into the Blue Framework, Doodle Labs focused on designing a variety of use-case optimized form factors to support the unique requirements of almost every kind of commercial UAS application from mining, precision agriculture, construction, and indoor inspections to mapping and surveying and more.
The company's original Embedded Smart Radio, created for these purposes, provides a range of over 100 km and notable ease of integration with multiple connector options. It incorporates Mesh Rider®, a proprietary operating system and the technical brains behind the company's Smart Radio platform. This patented smart, mobile mesh wireless broadband technology enables resilient and intelligent private mesh networks that maintain reliable connectivity at long distances, which are critical to industrial drone operation; the intelligent data links are optimized for concurrent streaming of command and control (C2) and high bandwidth data traffic, like HD video. Mesh Rider's built-in spectrum scanner monitors in-band interference, provides dynamic filtration, and switches channels to ensure persistent coverage, even in challenging radio frequency (RF) environments. This, in combination with Mesh Rider's scalable self-forming and self-healing mesh networks, provides support for hundreds of nodes (like in drone swarming) and multi-hop relays, relevant to extending operational range and supporting one-to-many drone operations.
When DIU put out the call for secure and reliable UAS radios, Doodle Labs answered. Building on the solid technological foundation of the Embedded Smart Radio, Doodle Labs developed the Helix Smart Radio.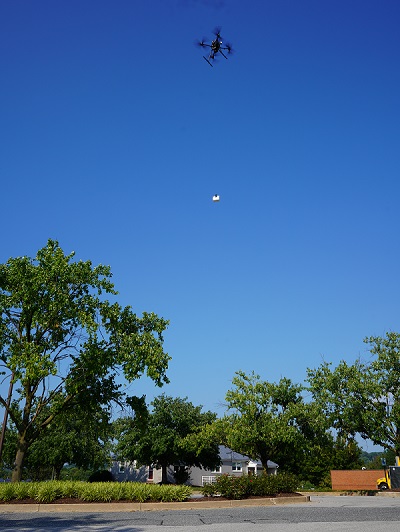 According to Ashish Parikh, VP Business Development and head of government programs at Doodle Labs, the team had to make several significant modifications to meet the military's requirements.
"First, we had to make our radio even more SWaP-friendly because the DoD had interest in using smaller drones," Parikh explained. For the mini-OEM version of the Helix Smart Radio, Doodle Labs reduced its size and weight by over 55% as compared to the Embedded. Then, the Doodle Labs team had to create a solution to comply with spectrum band demands on a worldwide scale. The Embedded model is available within numerous bands, including the 2.4Ghz commercial band, Federal L, S and C bands and other non-U.S. spectrum bands, but like other radios available on the market, each radio can only operate within one specified band. While the Embedded radios maintain the same physical footprint, to sell into a different market or operate a single drone on different frequency bands requires one radio to be physically swapped out for another.
According to Parikh, "To comply with global RF requirements, we squeezed six bands onto the Helix. This allows operators to easily select their chosen frequency from the GUI, all from one radio, whether in the U.S., Europe or Asia. This 6-on-1 feature is what makes our Helix so unique." The Helix Smart Radio covers 6 bands, M1-M6 (1625-2500 MHz).
As a building block of the Blue UAS framework, the radio was designed to be easy to integrate with other Blue-compliant vendors, such as ModalAI's VOXL products, which have been the core autopilot for both generations of DIU's Blue UAS Framework program. (Learn more https://www.auvsi.org/innervating-smaller-smarter-saferand-bluer-robots-and-drones).
Parikh points to the Helix Smart Radio integration with Auterion's Q Ground Control as another example of interoperability. Auterion's Q Ground Control is a widely used C2 application. "Our radio has a whole lot of data that the user can utilize on the back end, such as the strength of the signal, the location of the radios, the topology and strength of the mesh network," he said. "Now, end users can see all of this in QGroundControl, which they were not able to see before."
"Auterion is really pleased to be working with Doodle Labs on programs related to the Blue UAS initiative," said Bobby Struck, Program/Integration Manager at Auterion. "For example, on DIU's Soldier Robotic Controller (SRoC) program, we are making Swappable Radio Modules (SRMs) built around the Helix. These Helix SRMs provide a high-performance, mesh-IP datalink that will ensure reliable communication with robotic systems like the Short Range Reconnaissance Tranche 2 vehicles. The ability to operate with a single radio across six bands, from 1625 through 2500 MHz, in different areas of operation, is really compelling from both an end-user and a program/logistics perspective."
As commercial drones take flight, secure communications are required, and even more so for military purposes. For the Helix, Doodle Labs upgraded their standard 256 bit AES encryption to the FIPS 140-3 standard.
Finally, DIU demanded reliable performance at long ranges. "Our original radio already provided solid connectivity between 5 and 10 km plus HD data resolution. So, high throughput and long range was already covered, and was one of the primary reasons Doodle Labs was tapped to develop Helix in the first place," Parikh noted.
These modifications resulted in two new military-grade configurations:
The mini-OEM, a high-performance mesh radio with a small footprint and incredibly long range, can routinely transmit full high definition (HD) video over 20 km.

The nano-OEM, the smallest form factor of the company's series, has low SWaP, enabling small and micro-drones to perform in challenging environments.
And they have since been battle-proven. Teal, a Blue-UAS drone OEM that's active in both the commercial and defense-related markets, recently reported the transmission of video and command and control more than six miles.
From Blue to You
Doodle Lab's Smart Radio Series is now available in both mini-OEM and nano-OEM forms, on both unlicensed bands and in the Helix configuration on Federal frequency bands. Doodle Labs is set to release commercial multi-band versions with multiple unlicensed bands in a single radio early in 2023. What this means for the commercial drone industry is that users can now benefit from the significant improvements to the company's radios that resulted directly from its Blue Framework upgrades.
"Our radios are now smaller, multi-band capable and interoperable with world-class tech such as Auterion's commercial Q Ground Control and ModalAI's VOXL 2," said Parikh. "Even with the commercial variant, a user can toggle FIPS 140-3 encryption without having to do a redesign. This translates to more secure and reliable commercial UAS flights, even for advanced operations such as beyond visual line of sight."
"Taking the multi-band concept to our commercial radios is super unique," added Parikh. "No one else has done this. We've unlocked seamless commercial UAS operations worldwide."
In the US, DroneUp and Watts Innovations use Doodle Labs radios to support their drone deliveries for Walmart. To best respond to the rapidly evolving regulatory requirements for drones operating in urban spaces, DroneUp has partnered with various drone manufacturers, including Watts Innovations. Doodle Labs partnered with Watts Innovations early on to enable the long range, reliable communications for C2, telemetry, and HD video streaming required by their drone systems. A robust, high bandwidth data link ensures connectivity to the drone at all times.
Importantly, all of these commercial use cases and more remain possible, even with the enhanced military-inspired features, because Doodle Labs dropped its price point more than three-fold for the radios' commercial versions. The commercial-grade Smart Radio still makes use of Mesh Rider® for long-range, high bandwidth mesh networks at just $500 to $1000 per radio, depending upon order volume.
"Unlike some other vendors that are focused solely on the government and defense space, we deliberately price our products so industrial and commercial customers can scale their offerings and have an impact in their own target markets," Parikh said. "We're amazed at the new use-cases our commercial customers dream up, and we're thrilled to support their efforts."
To learn more about Doodle Labs and their commercial Smart Radios, visit https://doodlelabs.com/aerial-systems/