Drone security, systems integrity, and compliance with government regulations are essential to every operation that relies on uncrewed technology. However, it can be difficult to put effective risk management, cybersecurity, and regulatory programs in place.
Because of the many challenges, the industrial drone manufacturer Vision Aerial has committed to improving its security and compliance efforts. Specifically, the Montana-based company has focused on the Green UAS program. Administered by the Association for Unmanned Vehicle Systems (AUVSI) , the program "assesses and verifies commercial drones meet the highest levels of cybersecurity and NDAA supply chain requirements through a security controls assessment and vulnerability and penetration test."
To learn more, Commercial UAV News spoke with Andrew Schroeder, Head of Marketing for Vision Aerial. We discussed the current risks facing the commercial drone sector, the advantages of Green UAS compliance, and how enhanced security will contribute to the health of the industry.
Commercial UAV News: What are the major cybersecurity and risk management threats facing the commercial drone industry?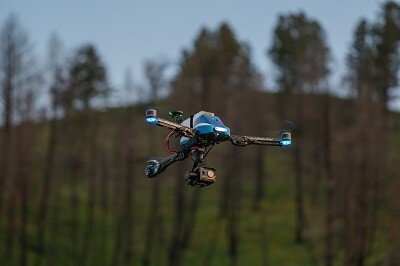 Schroeder: In the commercial drone space, the current state of cybersecurity and risk management is a complex landscape, with major risks and threats revolving around data security, national security, and economic competitiveness. Data security is crucial as drones capture and transmit substantial data, necessitating robust encryption and secure transmission protocols. National security risks arise from potential supply chain disruptions and intelligence gathering by foreign entities. Economic competitiveness is challenged by global markets, potentially impacting the US's standing in autonomous aviation.
Commercial UAV News: Are most drone companies prepared to address these issues?
Schroeder: The industry's preparedness varies, and a continued emphasis on cybersecurity and risk management is essential for the secure and sustainable growth of the commercial drone space. At Vision Aerial, we are acutely aware of these risks and are proactively addressing them. We invest in advanced encryption technologies, ensure supply chain integrity, and focus on domestic production and innovation. This approach not only enhances our competitiveness but also strengthens the US's position in the global drone technology landscape.
Commercial UAV News: I understand that a big part of the effort at Vision Aerial involves the Green UAS program. What is the Green UAS program and how is it different than the Blue UAS program?
Schroeder: The Green UAS and Blue UAS are programs designed to ensure drone security, integrity, and compliance with The National Defense Authorization Act (NDAA). The Blue UAS program, initiated by the Defense Innovation Unit (DIU), aimed to qualify US drone manufacturers for Department of Defense contracts by meeting cybersecurity and supply chain security requirements. However, it faced challenges including changing requirements, inadequate funding, and limited resources from the Navy's Authority To Operate (ATO) requirement, which was not relevant for many industrial applications. This ultimately resulted in a failure of the core mission to create a standardized onboarding procedure, meaning it is practically impossible today for a commercial manufacturer to become Blue certified. In response to this problem, AUVSI developed the Green UAS program, which, like Blue UAS, requires system penetration testing and supply chain security reviews but removes the military specific ATO requirement and adds a corporate hygiene requirement for practical security protection. The Green UAS program is designed to be more applicable to industrial uses with a streamlined approval process.
Commercial UAV News: How is Vision Aerial is working with the Green UAS program? What steps are you taking?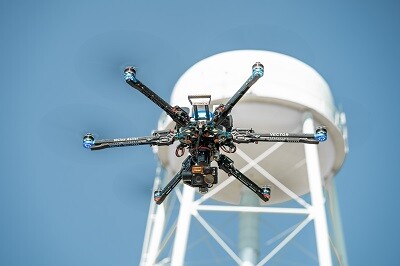 Schroeder: We're proud to be at the forefront of the Green UAS program, and we're actively working to meet the stringent standards set by the program, which include comprehensive system penetration testing, thorough supply chain security reviews, and robust corporate hygiene requirements. Right now, our team is diligently conducting internal audits and making necessary adjustments to ensure our drones are secure, reliable, and meet the program's standards. We're enhancing our cybersecurity measures, verifying the integrity of our supply chain, and implementing corporate policies that prioritize security. Our goal is to be one of the first companies to successfully be listed with the program, demonstrating our commitment to providing secure, trustworthy drones for industrial applications. We believe this effort not only strengthens our product offering but also contributes to the broader goal of enhancing security and trust in the US drone industry.
Commercial UAV News: Why is it important to get Green UAS certification?
Schroeder: There are many advantages to being Green UAS compliant. Firstly, it helps communicate our genuine credibility in the market, demonstrating to our clients and potential customers that our drones meet stringent security standards. This can be a key differentiator in a market where data security and trustworthiness are paramount. Furthermore, our compliance with the NDAA not only offers peace of mind but also future-proofs your operations. Our drones are designed to adapt to shifts in government policy, ensuring that they remain a valuable asset as regulations evolve. Being listed on the Green UAS program will be a significant milestone for Vision Aerial as it validates our commitment to providing secure, reliable, and trustworthy drone solutions. It's a testament to our rigorous cybersecurity measures, robust supply chain security, and corporate hygiene practices.
Commercial UAV News: How will Green UAS approval help your clients?
Schroeder: For our clients, this means they can use our drones with confidence, knowing that they meet high security standards. They can trust that the data collected by our drones is secure and that our supply chain is robust and reliable. This can be particularly important for clients in sensitive industries or those using drones for critical operations. Moreover, our commitment to the Green UAS program reflects our broader commitment to advancing the drone industry in a responsible and secure manner. We believe this will contribute to the overall growth and maturity of the commercial UAV sector, benefiting all stakeholders.