Although the show originally ran for only one season starting in September of 1962, the animated Space Age sitcom "The Jetsons" had a huge impact on a generation of young people like myself who were dreaming of what the future would look like. Although born in 1964 with my childhood primarily in the 70's, the children of my pre-Star Wars, pre-internet, pre-mobile phone generation were completely hooked on the Saturday morning re-runs—utterly amazed by the flying cars jetting the family around Orbit City and a drone pod delivering the Jetson's son to school as a normal part of life.
While we are only 60 years into the future envisioned by the Jetsons (set 100 years out in 2062), some of the technology like video calls, smartwatches, and robot house help are already in place. With the recent push for Advance Air Mobility (AAM), the United States is now paving the way for the reality of Uncrewed Aircraft Systems (UAS) as a regular part of our everyday transportation and delivery systems.
White House Summit on AAM
On August 3, 2022, the White House Office of Science and Technology Policy hosted a Summit on Advanced Air Mobility bringing together stakeholders to discuss the emergence of eVTOL (electric Vertical Takeoff and Landing) and UAS technologies. The White House Press Release on this gathering declared that "[t]hese aircraft aim to merge into the National Airspace System (NAS) which includes traditional passenger and transport aircraft, creating a new transportation ecosystem." They went on to state:
"The White House is committed to ensuring the United States remains the global leader in aviation and other emerging transportation technologies that have the potential to bring tremendous benefits to all American people."
In his keynote address, acting FAA Administrator Billy Nolen declared that "more than 860,000 drones are registered in the United States. To put that into context, that's more than three times as many crewed aircraft." According to FAA forecasts there could be "more than 2.6 million commercial and recreational drones flying in our airspace" by 2025
NASA is also playing an integral role in the development of AAM through its AAM National Campaign partnering with over 30 vehicle developers, infrastructure providers, and airspace managers to establish flight test infrastructure, explore flight path designs, and move emerging technologies in this area forward toward the future.
NASA Administrator Bill Nelson declared his vision to support the safe development of new air transport systems and posed the questions, "How do we move people and cargo between places previously not served, or underserved? How do we utilize revolutionary new aircraft?" The answer is with industry and government working together to come up with and effectively outline a safe pathway to the future of aviation that the public can embrace with confidence.
AAM Certifications Moving Forward
As evidence of AAM advancement Nolen further announced that two companies (Joby Aviation and Archer Aviation, both based in Northern California) are developing eVTOL aircraft that are expected to earn FAA certification as early as 2024. The FAA is also "encouraged to see that several American and British Manufacturers of AAM vehicles are moving through their home country's certification process and now asking their American or U.K. counterpart for validation."
This follows the movement in recent years in the certification of delivery drones. The FAA issued the first Part 135 Single Air Carrier Operator Certificate for drone operation to Wing Aviation as part of the Integration Pilot Program (IPP) in April 2019 followed by certification to operate a drone aircraft in October of that year. UPS Flight Forward (another IPP participant) was the first company to receive a Standard Part 135 Certificate which made its first package deliver in September of 2019. Amazon, which participated in the Partnership for Safety Plan (PSP) was the first company to operate a drone larger than 55lbs under a Standard Part 135 Certificate beginning commercial operations in August of 2020.
On June 17, 2022, Zipline became the fourth drone operator to operate as an air carrier and conduct common carriage*. Other applications are now pending from other IPP operators and PSP participants with more to come. Drone delivery is happening, and a number of passenger drones are well into development at Ehang in China, Volocopter in Germany, and various US companies including Joby and Archer and even the aviation behemoth Boeing, among numerous other players. If you follow the money, it points toward the future of a thriving world of AAM.
Drone Sports Cars?
One of the more sexy developers in the new era of aircraft is a Swedish Company aptly named Jetson Aero founded in 2017 by high performance car entrepreneur Peter Ternstrom and drone specialist and inventor Tomasz Patan. Their fully electric eVTOL Jetson ONE is highly automated with a lidar** sensor system that allows terrain tracking and obstacle avoidance, an auto-landing system, and a rapid-deploying ballistic parachute on board in case all else fails. Ternstrom says they can put "anyone in the seat and that person will be able to fly in a matter of minutes." While it admittedly is not necessarily illegal or legal to fly, the 2022 production for the $92,000 Jetson One is sold out with the company already accepting orders for 2023.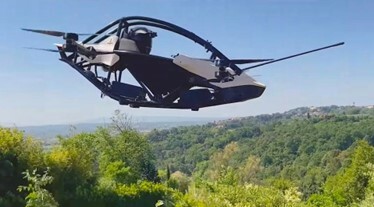 The Jetson One is just an example of the potential for the future of both uncrewed and minimally crewed aircraft to begin to take over our airspace as AAM moves toward reality.
The Question of Risk
While flying remains the safest mode of transportation in history, the reality of a world of AAM with drones remains a risk challenge which necessitates comprehensive and innovative integration strategy, as well as creative public awareness and education campaigning. A standard set of rules for operations (among other things) Beyond Visual Line of Sight (BVLOS) as well as Remote Identification are critical to drone use in the AAM world.
As evidenced by questions from stakeholders at the White House Summit there are serious concerns about "bad actors" utilizing drones and the need for an increase in the development of Counter Uncrewed Aircraft System (C-UAS) technology which is currently somewhat hindered by US law. A first step is the plan by the US Department of Justice to reauthorize and expand the Preventing Emerging Threats Act of 2018, which is set to expire on October 5. This Act grants the US Department of Homeland Security statutory authority to act to counter credible threats from UAS.
Beyond the threat of the misuse of drones, which is always an issue with emerging technologies, the bigger issue is the risk potential of the airspace over and within cities full of delivery drones and flying cars together with conventional aircraft right above. The fact that it has proven difficult if not impossible to reach a consensus on what tort law should apply to drones, together with the general public's distrust in drone traffic even as it exists today, is evidence that we are ill prepared for handling the potential for risk that lies before us with AAM.
As with all the technological advances in our history, the emergence of AAM, while full of risk, is not only capable of alleviating congested ground traffic in cities and creating an economic boon, it is also full of the youthful dreams of living the Star Wars/Jetson's life—flying around town in our drone sports car and having our Amazon packages and Uber Eats dinners dropped into our back yard or built-in roof delivery areas.
It is up to the FAA, NASA, and other international aviation/aerospace agencies to regulate this new world properly and be able to pivot quickly as this world becomes reality. Then, we aviation lawyers and underwriters can figure out how to insure it and determine who pays and how much when things go wrong, which they inevitably will. This is just another opportunity for risk management in an exciting new world that we want to come!
*A common carrier is one "holding out a willingness to transport people or property from place to place for compensation or hire" – a classification that is very familiar to aviation lawyers and holds legal liability significance for AAM aircraft operators as we move into the future.
**Light Detection and Radar. Lidar is a detection system which works on the principle of radar but uses light from a laser.