Understanding the ever-changing regulatory landscape is essential to the success of any drone-related enterprise. That's why so many companies and organizations pay close attention to state, local, and federal policies around uncrewed systems—and why they are committed to working with government officials to craft rules and regulations.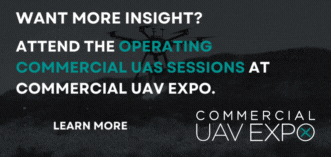 In the past few weeks alone, the US House of Representatives passed a comprehensive FAA reauthorization bill that has wide ranging implications for UAS companies, AAM advocates and commercial drone pilots. Around the same time, the FAA put forth a plan that would integrate air taxis and AAM into the National Airspace by 2028. And, looking ahead, the FAA's Remote ID mandate goes into effect in September.
Given how much and how quickly policies change, it is imperative that UAV and AAM industry leaders work with policy makers to ensure that our industry will continue to evolve and expand. These public-private collaborations will ease the integration of uncrewed systems into our everyday lives in ways that are safe and widely accepted by the public.
At the upcoming Commercial UAV Expo, attendees will learn how to run their operations in accordance with pertinent regulations. Sessions will also explore FAA frameworks and discuss how they will allow AAM and UAS projects to move ahead.
One of those sessions, "Regulation Nation – Working Within Current FAA Regulatory Frameworks to Advanced UAM & UAS Operations," will provide practical advice on ways stakeholders can work with the current regulatory environment to achieve success. Part of the Expo's larger Advanced Airspace Summit, this panel discussion will explore Part 107 and Part 108 rules, navigating changes in technology and standards, waivers and COAs, which FAA rules will most impact your operations, and much more.
One of the panelists is Don Berchoff, CEO of TruWeather Solutions, who will bring his expertise on weather, aviation, and logistics systems. "This session will discuss a transformational ASTM F38 Weather Standard that will enable use of cost-effective weather sensors—the choice is no longer having to use an unrepresentative METAR many miles away, procuring an expensive certified airport weather station or having to settle for a windsock," he said. "I will discuss how operators can leverage the standard, before an advisory circular is published, through an FAA program."
In addition to Don Berchoff, the panel will feature Charlton Evans from End State Solutions LLC, Eileen Lockhart from Spright, and DroneUp's Kristen Costello. "Regulation Nation" will be moderated by Titan Aviation's Toni Drummond.
Interested in learning more about using the regulations and the future of uncrewed systems? Join the global drone community at Commercial UAV Expo.
Commercial UAV Expo is the definitive global event for professionals integrating or operating commercial UAS. Sessions focused on policies and regulations include FAA Insights, Standards Supporting UAS Rulemaking Around the Globe, Security and Counter Drone – Government Insights, and Your Drone Questions Answered: 135 Certification, BVLOS operations, what's next in 2024 and beyond.
More than 200 exhibitors will participate, providing products and services including hardware and software, flight operations management, and more. Commercial UAV Expo is a key event to evaluate and identify potential use-cases for commercial drones. Registration is now open – click here to register today.