The final day of Commercial UAV Expo 2023 began with a keynote that explored the many ways drone technology, human expertise, and government polices interact and how improving those interactions is essential to the future of our industry.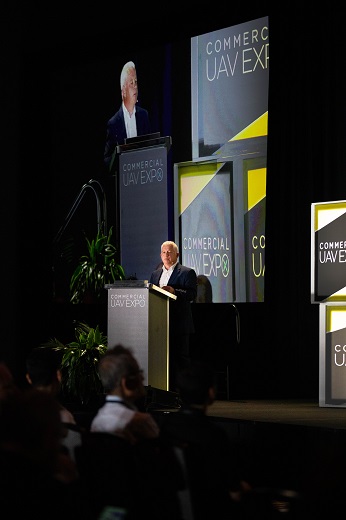 Titled "People, Processes and Policies that Define and Enable Commercial Drone Programs," the keynote began with remarks by Martin Cookson, Director of Digital Service Innovation for Cambridge Consultants. Noting the "incredible variety of people skills we have in the room," Cookson stated that it will take contributions by many individuals with different talents and backgrounds to realize the potential of what is projected to be "a $30 billion industry by 2030."
Drawing on his experience at Cambridge Consultants, Cookson explored technological issues like autonomy and the human factors, such as the evolving roles of pilots and operators, that will shape the future of the drone space. He also discussed "end users," the everyday people who will be impacted by the rising use of drone technology. "This is perhaps the most critical thing," he said, explaining that the general public continues to have concerns about safety, privacy, and transparency.
Finally, Cookson looked at the importance of regulations to bridge gaps between people and technology. Citing the advent of Remote ID and other policy changes, he discussed the need for data integrity and validity.
To further explore the intersections between people, UAV technology, and regulations, Dr. Joseph J. Cione, Lead Meteorologist for Emerging Technologies at NOAA's Atlantic Oceanographic and Meteorological Laboratory, followed Cookson's presentation to talk about his work using drones for hurricane detection and monitoring.
Cione described NOAA's history of using drones for its work, which started in 2005. He traced the agency's experience using uncrewed systems to monitor hurricanes and provide support through Hurricane Sandy in 2012 and through last year's Hurricane Ian.
His years of working with various government agencies and organizations has given him a positive view of how drone technology can be integrated into different operations. "We can have a successful private-public partnership," Cione asserted, "but it will not happen unless you work at it." He advised drone industry professionals looking to build these collaborations to "define your requirements really, really clearly" and "establish realistic performance goals that can be met."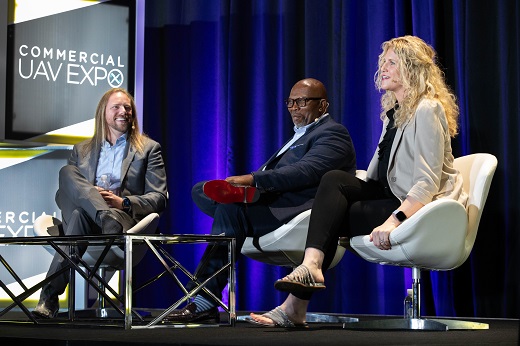 Building the topic of public and private interactions in the drone space, the keynote concluding with an open discussion featuring Lisa Ellman of the Commercial Drone Alliance, Jeffrey Vincent, the FAA's Executive Director for the Unmanned Aircraft Systems Integration Office in Aviation Safety, and Brandon Roberts, the FAA's Executive Director of the Office of Rulemaking.
Before kicking off the discussion, Ellman reported that the White House today announced its intention to nominate Michael G. Whitaker to serve as Administrator of the FAA. Stating "we strongly support Mike Whitaker for this role," Ellman expressed her wishes to see him quickly confirmed by the Senate.
Regarding Whitaker's nomination, Roberts said, "You know having permanent leadership as the head of the FAA position will be another big assist in making sure that we can move forward together."
From there, the panelists engaged in a wide ranging discussion about the state of UAV-related regulations, efforts to streamline and improve processes for approvals and exemptions, and the advent of Remote ID.
Vincent said that the FAA acknowledges the challenges the drone industry has faced in dealing with federal regulators, but that the agency is working to make improvements. "We can't undo what happened 10 years ago," he said, "but we can do something about what we do today." Ultimately, he said that the FAA was committed to "getting to 'yes' safely."
The panel also discussed recent 333 exemptions and the importance of grant summaries to aid commercial drone operators. They also looked at how the upcoming Remote ID mandate would impact the industry.
Roberts stated that "there was some confusion about the implementation" of Remote ID and that "supply chain issues" are making it hard for some companies to comply. However, he stated, that operators could expect the FAA to take action to implement the new rule while balancing various public and private interests.