Over the past two weeks, we have been bombarded with news about considerable investments into advanced air mobility (AAM) companies. Electra, Wisk Aero and Elroy Air have all made major announcements, cementing their roles as major players in the aerospace industry and the future of the airspace that is seeing a merging of drone technology.
On January 18th, Electra.aero announced that it received an important injection of cash from Lockheed Martin Ventures (LMV) as part of its Series A funding round. As one of the pioneer developers of hybrid-electric ultra-short takeoff and landing (electric short takeoff and landing (eSTOL) aircraft, this funding speaks to the commitment that stakeholders are making to Electra's plans to begin flight testing full-scale hybrid eSTOL technology aircraft that they believe will influence every aspect of aviation.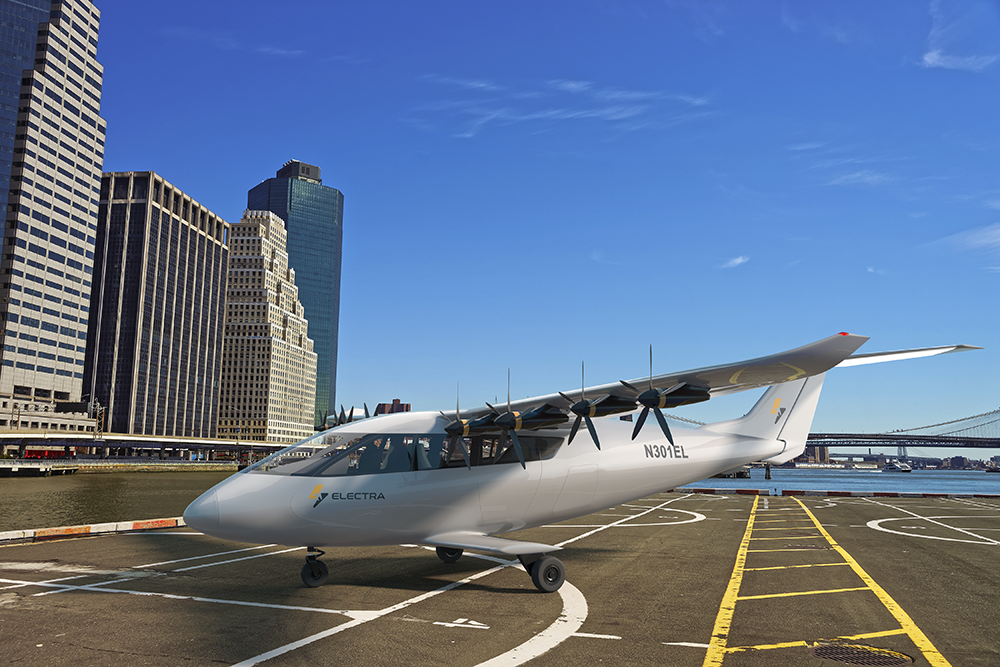 A few days later, Wisk Aero (Wisk) announced that it has raised $450 million from Boeing in a new funding round that will make it one of the most well-funded AAM companies in the world. Founded in 2019 as a joint venture between Boeing and Kitty Hawk, the flying taxi company is controlled by Larry Page, co-founder of Google. Wisk is very proud of the fact that the still private company has successfully resisted the "trend" of becoming a public enterprise. There are no indications that this money will be used for anything specific, just adding new much-needed engineers and the tweaking of the manufacturing process needed to be a scalable concern.
Almost simultaneously with Electra's and Wisk's announcement came the news that Mesa Airlines, an important regional air carrier, had signed a letter of intent (LOI) to buy 150 aircraft from Elroy Air in an effort to expand its reach into the parcel and health care sectors. And of course, Elroy has also fully debuted the Chaparral, their autonomous VTOL cargo aircraft.
All three important announcements came within days of each other and marked an important milestone in an industry that sometimes suffers from the skepticism of the general public and the doubts of the established aerospace community. John Langford, CEO of Electra, provided some exclusive insight around why these developments were so notable for the industry as a whole as well as for Electra specifically.
"I believe established aerospace companies have realized for some time now, that aviation is changing, and they need to be involved in this exciting development," Langford told Commercial UAV News. "Initially, some of these companies launched internal initiatives to explore alternatives to conventional or traditional aircraft but then the reality of the time involved to realize tangible ROI set in and they divested to startups that didn't have to report profits every quarter."
Commitments from airspace behemoths like Boeing, Airbus, Lockheed Martin and even Embraer created a huge momentum with smaller companies trying to develop aircraft with innovative solutions to the specific aviation segment of short routes. Recent headlines showcase how this commitment is evolving right in front of us.
"We have many examples in aviation history of seemingly great ideas proving to be a market disaster," Langford continued. "That's partly why I believe these companies decided to be on the cautious side and instead of promoting internal solutions, decided to invest in startups with leaner operations and faster engineering teams. At Electra, we believe that AAM is a feasible answer to the issue of transporting goods and passengers in longer routes using hybrid technology."
A lot of different companies are making similar claims, so we asked Langford about what makes Electra different. What is the real differentiator between their aircraft and its competitors?
"Basically, we reached the conclusion that purely electric is not the answer and it will not be for a while," Langford explained. "That's why we went the route of a hybrid power system in which a small turbine-powered generator recharges the batteries mid-flight, eliminating the need for new ground charging infrastructure. But that's just part of what makes us different, as we also use blown lift technology. This allows our aircraft to be more efficient on takeoff, saving precious space on the ground and also allowing for more efficient flight."
When the conversation turned to the importance of ground infrastructure and the role it will play in the feasibility of the AAM industry, Langford used his may years in the industry to elaborate a business case for Electra's choice of technology. Connections are set to be enabled across the land and sky in ways few are talking about.
"Electra is a company devoted to sustainable urban and regional mobility and therefore we need to be realistic about the footprint that this new transportation method will have on the ground," Langford continued. "We're building hybrid-electric, ultra-short takeoff and landing airplanes that fly more people and stuff quieter, further, and more affordably and that means that we will be using new infrastructure on the ground to support these operations. If these structures are to be treated as airports, the numbers don't add up and the costs will be unaffordable. So our challenge is to develop technology that can operate in the national airspace (NAS) but also, once on the ground, operate on simple parameters similar to cars."
And this is where eSTOL takeoffs and landings come in since Electra aircraft can operate from spaces as small as 300x100 feet. That might be the difference between using available flat roof tops in existing infrastructure or building expensive vertiports as other companies are proposing. The other great difference in Electra's approach is that by using hybrid power, they avoid the thorny issue of battery swapping, which will require one or more FAA-licensed mechanic in every stop, making the entire business case unrealistic.
Today most AAM companies are trying to sell the idea that purely electric is a reality today. The more we dig into this and other assertions by industry leaders, the more we question the willingness of the battery industry to be ready for the aviation industry. They will be ready for the car industry, of that we are sure, but will they have the bandwidth to accommodate the modest numbers of aviation purchase orders?
"Electra's technology delivers more than twice the payload and an order of magnitude longer ranges with substantially lower operating costs than vertical takeoff alternatives," Langford said. "Our eSTOL aircraft combined with our patent-pending distributed electric propulsion and blown lift technology is quieter and more environmentally friendly than any aircraft currently being designed to transport up to 1,800 pounds of cargo or move 7 to 9 passengers up to 500 miles. That's why we believe that the future resides in an evolution from purely gas-powered to hybrid technology and eventually purely electric, once the current battery chemistry has progressed into something more readily available," John said in conclusion.
Looking at Electra literature and their various whitepapers on blown lift technology, the conclusion is that purely electric might work in short distances with modest payloads, but if we want to go farther and heavier, we need to adopt some sort of hybrid technology. Something that reduces the use of fossil fuel dramatically while allowing for safer and heavier flights over long distances.
The realization of full integration of manned and unmanned aircraft in controlled airspace gets closer only if we get realistic regarding our power sources, safety technology and our ability to deliver on the promise of cleaner transportation.