It's all about the data. Data drives decision-making on both the front and back end of any operation. Decisions are only as good as the data upon which they are based. The more complete any given data set, the better.
These truisms inspired John Eberhardt III, Chief Technology Officer of ATA LLC, a data scientist with over 20 years' experience in improving healthcare, commercial aviation, defense aviation, intelligence, and logistics, to imagine data solutions for the uncrewed aircraft system (UAS) industry. Through observation and industry discussion, he discovered data seams that needed to be bridged to enable safety of flight and began fixing them—literally and figuratively.
Eberhardt led ATA's efforts to create the Flight Information Exchange, or FIX, a Supplemental Data Service Provider (SDSP) for drone operations. He also spearheaded the development of AirDEX™, the company's SDSP platform, which aggregates relevant publicly available state and local data and publishes it to industry and the public end users.
In just under two years, ATA has made its mark. It has empowered state and regional governments, first in Virginia, and now across the country, to make UAS advisory and configuration data easily available to UAS Service Suppliers (USS) and UAS operators. In this interview, Eberhardt provides updates on how ATA has been helping to expand Virginia's FIX program nationwide.
Dawn Zoldi: ATA helped create the VA-FIX, or Virginia Flight Information Exchange, in partnership with the Virginia Department of Aviation, Virginia Innovation Partnership Corporation, and Virginia Department of Transportation. Explain what it is.
John Eberhardt: The VA-FIX is the Commonwealth's authoritative Supplemental Data Service Provider (SDSP). It aggregates all relevant publicly available state and local data and publishes it to industry and the public, as public data. This is our concept of a "Public Digital Service," a common baseline of services that industry can rely on and build on.
Dawn Zoldi: SDSPs are a key aspect of UAS Traffic Management, or UTM. Let's walk it back a bit and explain how important SDSPs are to UTM.
John Eberhardt: The Federal Aviation Administration (FAA) and National Aeronautics and Space Administration (NASA) envision a community-based and cooperative system that will leverage industry to provide a federated set of low altitude traffic management services that will support UAS operators. Third-party providers, called UAS Service Suppliers (USS), provide these services to UAS pilots through networked information exchanges without FAA involvement or direct connectivity to traditional air traffic control.
In this system, the FAA/NASA UTM Concept of Operations (ConOps) 2.0 says SDSPs will provide essential or enhanced services "including terrain and obstacle data, specialized weather data, surveillance, and constraint information." SDSPs will provide a lot of contextual data.
Here's how it works. SDSPs deliver critical data through a distributed network of highly automated systems by way of application programming interfaces (APIs) to connect critical data to those who need it in two ways. First, SDSPs provide data to area USS' as the communications bridges between the various UTM stakeholders that will provide real-time volumetric airspace awareness data. This will allow the USS to act as airspace management and operations management providers. Second, SDSPs can provide data directly to drone operators through public or private internet sites or other means, as well as to the relevant public and governmental agencies.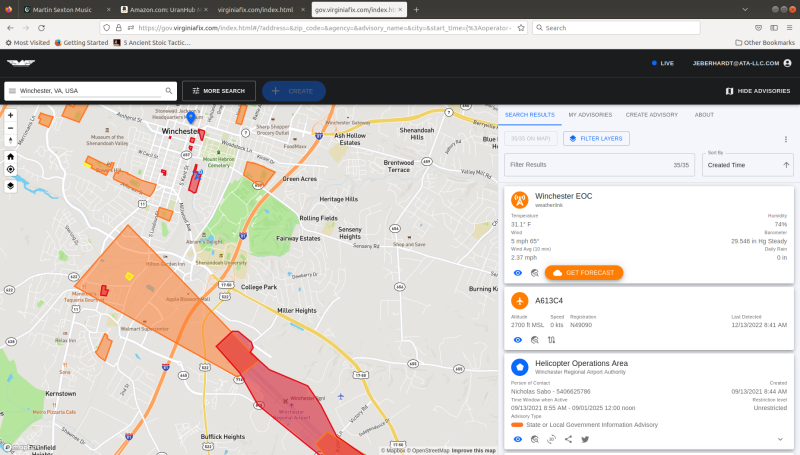 Dawn Zoldi: How does ATA plug into this UTM framework?
John Eberhardt: ATA plugs into UTM in a few different ways. The FAA approved ATA as a Low Altitude Authorization and Notification Capability (LAANC) provider (which is essentially a USS) as part of its larger UAS Data Exchange program. LAANC providers directly support UAS integration into the national airspace by giving drone pilots access to controlled airspace at or below 400 feet, providing awareness of where pilots can and cannot fly and providing Air Traffic Professionals with visibility into where and when drones will operate. LAANC is an operator-facing USS product.
Separately, ATA also provides the key component of Virginia's FIX SDSP, through AirDEX™, as the Commonwealth's drone supplemental data API interface tech. In this capacity, we act as the "plumber" of data services that support UTM. This includes syndicating locally owned weather or surveillance sensors and connecting local government into the UTM system to publish advisory and constraint data. The difference between this and LAANC is that in this capacity, we directly support the USS community, instead of supporting operators as our own USS product.
Dawn Zoldi: Can you explain in more detail what AirDEX™ is and how it works?
John Eberhardt: Sure. ATA's AirDEX™ technology serves as an "information hub" that provides supplemental data for UAS operations and fosters collaboration with an emphasis on public safety and transparency. AirDEX™ technology allows state and local governments to function as an SDSP as outlined in the FAA's UTM ConOps.
The AirDEX™ open API provides the ability to pass advisory information to any USS to improve a pilot's flight planning and safety analysis. AirDEX™ features a web-based graphical user interface (GUI) that allows representatives of state and local government to interact directly with the system to publish, review, and analyze information. At the same time, the APIs also allow state, regional, and local governments to push data automatically.
This past year, we have focused on identifying new types of public data feeds that can be integrated and syndicated through the platform. This includes environmental and weather sensors, public safety dispatch systems and surveillance feeds.
One thing I want to footstomp about our approach to AirDEX™ is that all data we use is public data. This is important. The value of having authoritative government data is that it provides a common operating picture. Using this public data allows us to make it available to all operators and industry as a substrate for other products and services. We do not want to own the data. We think of ourselves as plumbers, opening up pipes of information to allow it to flow to end users. Our model actually allows state and local governments to lower operating costs for operators and industry, which the industry really needs right now.
Dawn Zoldi: How, as a practical matter, do you find the information to plug into AirDEX™?
John Eberhardt: It's a painstaking process because every state and locality collects different data and stores it in different places. Add to these challenges the fact that in every location, different organizations control or store that data and different rules may apply to access it.
We started in my local area in Virginia. I literally walked around talking to people. I got folks to get into the same room to hash out what their particular system should look like. I'm doing this all over the country now. What I am most proud of is my ability to help bring stakeholders together to work through issues.
Dawn Zoldi: The VA-FIX has been Virginia's step toward the future of UTM. It launched in August 2020 with nine agencies and two advisories and in its first year grew to offer 40 agencies who posted over 1,000 advisories. How has that grown even more this past year?
John Eberhardt: In Virginia, FIX now has over 50 agencies and 150 users, with six onboarded USS' (note: we had more, but a few companies left the industry). It has generated over 20,000 advisories. On any given day, there are about 800 active advisories in Virginia.
What's even more interesting is how VA-FIX has given rise to other collaborations. For example, take the Hampton Roads region in York County. Multiple different organizations have come together to provide advisories that range from hazards such as fuel storage, supplemental State Parks rules, notices of closed ground areas to alerts about public safety incidents.
Dawn Zoldi: I understand that you expanded beyond Virginia. Tell us about that.
John Eberhardt: We are proud to announce that the Central Coast FIX in California is live! Other states and regions have expressed a lot of interest in partnering with Virginia. Alaska and Virginia signed a memorandum of agreement for collaboration. We're also working to establish an Alaska FIX plus regional FIXes in Pennsylvania, Ohio, and New Jersey.
Dawn Zoldi: To what do you attribute this spreading desire for other states and regions to create their own FIXes?
John Eberhardt: We can show a path to a successful program with the VA-FIX. Plus, we have worked really hard to stay within the scope of what FIX was meant to do: put authoritative public data in the hands of industry in a one-stop-shop way. For these reasons, we have a model that allows State, Regional, Local, Tribal, and Territorial (SLTT) governments to provide services that are useful across the whole spectrum of advanced air mobility, at a very modest cost. This is a key takeaway, because the industry can't grow otherwise, given its current cost profile.
Dawn Zoldi: I understand this year you have rapidly grown, not only in terms of the states who are adopting your tech, but also in terms of partners. Who are they?
John Eberhardt: This year, we gathered a number of industry partners. As mentioned, we are up to six USS partners. We work especially closely with Aloft, OneSky, and Airmap DroneUp to demonstrate the benefit of closer, real time data sharing in some of the communities we've discussed.
We also started collaborating with companies that provide live ADS-B and weather data, to achieve what we call "Minimum Viable Infrastructure." The idea here is that we can leverage what SLTT governments already have available to move toward an initial implementation of UTM that is affordable and sustainable.
We have a number of collaborations to integrate additional sensors into the public feed: Intellisense, IRIS, Pierce, Echodyne, Fortem, Breeze, N5, Airport Monitoring Systems, MotionInfo, to name a few.
We also have active ongoing R&D projects with The Alaska Center for UAS Integration (ACUASI), the Mid-Atlantic Aviation Partnership (MAAP), DroneUp, and Xwing, and other Part 107 operators, as well as TruWeather Solutions.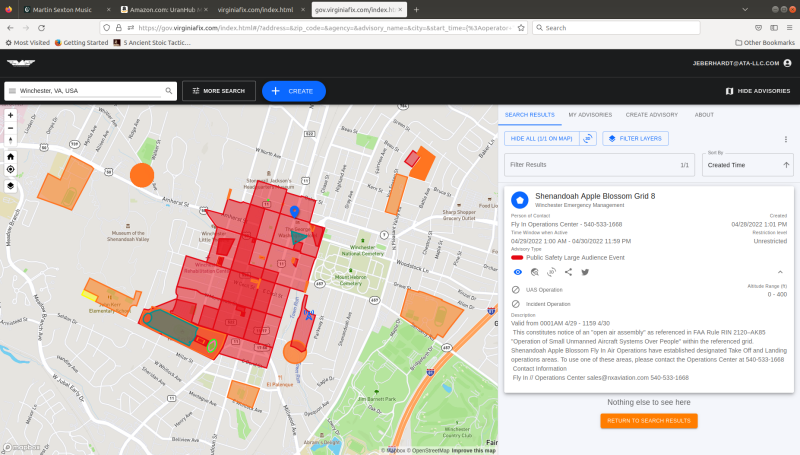 Dawn Zoldi: What other achievements have you been involved in this year?
John Eberhardt: We actively collaborated and successfully enabled UTM through a Public Digital Services model. During the Shenandoah Apple Blossom Fly-In, we demonstrated that we could execute both a basic public option to support industry, configuring operational areas on the ground in coordination of multiple concurrent flights, as well as integrate external data from partners such as TruWeather, Airport Monitoring Services (AMS ADS-B) and Echodyne radar.
This also proved our risk/performance-based implementation. It provides value-added services across the advanced air mobility (AAM) spectrum while minimizing cost outlay. As mentioned, we call this "Minimum Viable Infrastructure." It relies on a risk-based approach that we call "Performance Based Information." All of this keeps costs low by adding publicly available information to enhance operational services, instead of piling on "shiny" technology.
Dawn Zoldi: As 2022 comes to a close, what can we expect from you over the next year?
John Eberhardt: We will be going live with the Northeast Ohio FIX and Alaska FIX early next year. We should also see PA (Keystone), NJ (Garden State), and Oklahoma going live in the first half of next year. We're also planning to support the deployment and live syndication of a multitude of locally owned sensors, and then will make sure to get the data from them to operators through USS'. We have some other big things coming in the first quarter of next year, but you'll have to wait and see about those. So, stay tuned for more!
To learn more about ATA visit: https://www.ata-llc.com/
You can also watch John Eberhardt on the Dawn of Drones 2021 (https://www.youtube.com/watch?v=kPD-RBVUdWs) and 2022 (https://youtu.be/2mgQPahb2l8)