Your background is in strategy and economics; what motivated you to work in the drone industry, and how did you come across SkyGrid?
I started working in the tech space early in my consulting career with Deloitte and Accenture. I used my strategy and economics background to work on various projects, ranging from large technical transformations to working with the Governor's office to establish its 4-year tech policy. During my years as a management consultant, I gravitated towards innovative projects, so when it was time to move into the industry, I chose to move to SparkCognition, a start-up back then (now a unicorn) with a fast-moving, innovation-driven culture. At Spark, I was first introduced to drones, and it quickly became apparent that the potential of unmanned aerial technology is immense. And with that, the gap for a system like SkyGrid, which provides essential ground-based services and functions such as situational awareness, regulatory approval, flight execution, and fleet management, is inevitable.
I was part of a team of four at SparkCognition who envisioned SkyGrid. We pitched the idea to the Boeing Company, and that's how SkyGrid was born. I drafted the first business plan and led the team to set up the joint venture. Since then, I have moved into SkyGrid to make our vision a reality, and it's been an exciting journey!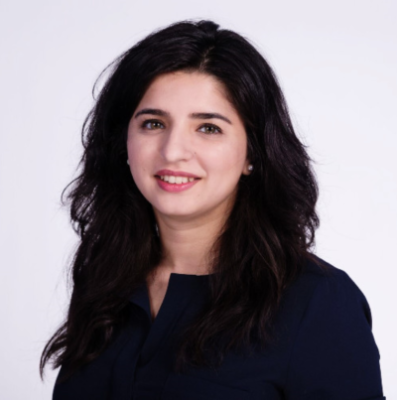 What are the main challenges you faced during your product development, and which future challenges do you expect to encounter in the short and long term?
The drone market is in its nascent phase, and when SkyGrid started, it was an even younger industry. Before we began developing our product, we needed to design a solution allowing SkyGrid to adapt to changing regulators and market signals while ensuring safety was our top priority. Hence, we started building a system with that approach in mind, and that allowed us to avoid the challenges our competitors faced.
The market has seen immense growth in the last few years, but we still have a long way to go. UAM work and operations are currently tailored to a proof of work approach or those with temporary COAS. Moving towards a larger scale deployment of UAM systems would be an exciting challenge SkyGrid would like to address.
Which gaps still present in UTM solutions do you manage to fill with your system?
Systems today are largely disconnected and still rely on humans to manually plan their flights, comply with regulations, and adapt to changing conditions. Advanced technologies can help. Based on AI and blockchain, SkyGrid offers a smarter airspace management system to fill the unaccounted gaps in traditional UTM solutions. Our AerialOSTM monitors, predicts, and adapts to changing conditions to intelligently route, synchronise, and maintain unmanned aircraft. Here are a few examples:
Automated flights: AI algorithms can be trained to calculate the optimal route for one or more drones based on the mission parameters, such as the start and end point, desired cruise altitude, timeframe, and payload details. The AI models will monitor, predict, and adapt to changing conditions during the flight. This approach removes the burden on commercial operators by enabling autonomous workflows that are safe and scalable as a fleet grows.
Mandated compliance: When it comes to regulatory compliance, blockchain augmented with smart contracts can encode the airspace rules, such as flying below 400 feet during daylight hours, as mandatory parameters in a flight planning system. Organisations can also use this technology to set additional company-wide safety standards for their commercial drone operations. This approach helps automate compliance with the rules before flight authorization and during flight as airspace conditions change.
Predictive maintenance: Predictive AI technology can remove the burden on operators by analyzing sensor data across your fleet and flagging suboptimal operations. This approach can more accurately monitor performance to forecast vehicle health and identify impending failures before they occur. Blockchain technology, augmented with smart contracts, can also ensure the maintenance request is resolved and signed off by a technician's private key before the drone can operate again.
While we still rely on human input, we can achieve more scalability by automatically planning, executing, and adapting flights as conditions change. It also enables enterprises to scale their drone operations by ensuring all pilots associated with their organisation remain compliant with the regulations, business rules, and safety standards.
What kind of data do you use, and how do you combine the different sources to get a better result than other systems available? How does this contribute to making the airspace safer?
We incorporate and display data layers from sources ranging from population density, weather, traffic patterns, flight tracking, and many others. This allows an operator to select a combination of data sources to create a custom situational awareness picture that suits their needs to operate most effectively and safely in the national airspace.
Our AerialOS helps maintain the safety and security of airspace. AI algorithms can analyze crucial data required to make a safe flight, such as airspace traffic, weather forecasts, roadway traffic, and vehicle performance, among many others, to generate optimal flight plans autonomously, and also route and re-route flight paths as conditions change. The system mandates airspace compliance by monitoring, predicting, and adapting to changes in airspace traffic, environmental conditions, and vehicle performance. SkyGrid's automated workflows make it easy for businesses and users to carry out multiple remote missions, including surveys, waypoints, and multi-drone operations, without prior training.
At the core of SkyGrid lies digital ledger technology (DLT) that ensures the immutability and audit ability of the system. Blockchain technologies allow the platform to have an immutable log of all operations. We have built a private blockchain system to protect the integrity of any information stored within our application, such as pilot, flight, and drone data. This approach enables a secure, tamper-proof record of all unmanned flights for both drone operators and aviation authorities.
Smart contracts are used to ensure that only mission-safe drones take flight. User-specific private keys ensure that the system is guarded against the unauthorised use of drones. Concisely, DLT provides regulators and organisations with the level of trust, safeguard, and traceability that aerial operations
What are the most significant advantages provided by your system, and who would benefit most from them?
Our AerialOS is an airspace management system for drones, air taxis, and other unmanned aircraft. Our system combines airspace awareness, flight planning, and fleet management in one integrated solution to execute large-scale autonomous operations.
Airspace Awareness enables aviation authorities and enterprises to gain visibility into the past, present and predicted state of the airspace and all vehicles within it. Our AI-powered map provides 2D and 3D visualizations of rich data layers, including airspace traffic, flight restrictions, weather forecasts, obstacle data, and much more.
Flight Operations enable commercial operators to automatically generate and execute optimal flight paths based on the mission criteria, environmental conditions, and vehicle performance. Our AI-powered routing and deconfliction technology autonomously adapts unmanned flights to avoid hazardous situations and other aircraft.
Fleet Management enables commercial drone operators and managers to intelligently assess, diagnose, and optimize vehicle performance across their entire fleet.
What are the next milestones on your path toward safely and intelligently powering the next generation of autonomous aviation?
We're working towards enabling our long-term mission to enable passenger-carrying flights and better enhance our current small UAS operations. I can't spill all the beans on our next milestone, but we're working on something exciting and, more importantly, something crucial that the industry requires to move forward.
More about Skygrid: www.skygrid.com
More about DroneTalks: www.dronetalks.online