For years we've writing about the need for extended flight times for quadcopters, especially in missions that involve law enforcement, disaster relief and wildfire fighting which normally last for days and even weeks.
The idea of drones actually fighting the fire by spreading flame retardant substances for brush fires is still in the realm of the improbable due to the size of the vehicles today and their capacity to carry and deliver quantities that would make a difference.
But what about assisting and supporting the fire fighters on the ground?
That question inspired Joshua Resnick, David Adams and Bobby Hulter to create Parallel Flight Technologies (https://parallel.aero/) in 2018 with the idea to create a multi-copter capable of lifting its own weight in useful cargo and fly for extended periods of time. Joshua left Tesla, where he was engineering lead on the Tesla Semi Truck program, to found Parallel.
What they had in mind from the beginning was a hybrid power module that would combine a conventional internal combustion engine with an electric motor connected and acting in parallel. Other gas/electric hybrid drones have a serial powertrain, which amounts to attaching a generator to an otherwise normal electric drone. This conventional solution is great for extending flight time but lacks the payload capability of the Parallel system.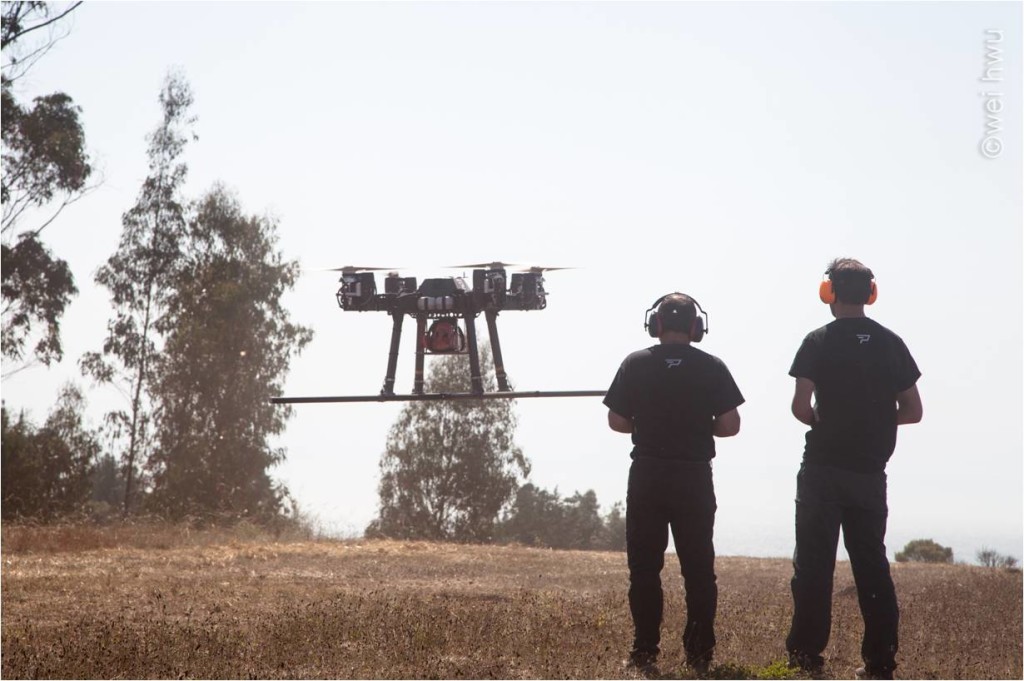 Today Parallel Flight Technologies announced that they have successfully flown their novel parallel hybrid multirotor for the first time. The patent-pending technology will allow multi-rotor drones such as quad-copters to fly for hours while carrying their own mass in payload. Parallel anticipates a 10X improvement over all-electric systems in terms of flight-time while carrying a heavy payload. The company is planning on deploying the technology for firefighter support, rural unmanned logistics, and agricultural applications.
In its maiden flight, Parallel's UAV lifted a couple of heavy-duty chainsaws, which will not be an uncommon delivery while fighting a fire in the middle of a remote forest.
As proof that their technology has merit Parallel applied, and in June 2019 was selected, as one of the 2019 recipients of NASA Small Business Innovation Research grants when they demonstrated the possibility of real flight-time improvements.
"We're very excited that our prototype is finally off the ground and proving to be every bit as effective for payload and duration as we imagined it in our drawing board. We are also excited to be kicking off joint demonstration missions with our early partners in 2020. We, as a company, are ready to move to the next phase." Said Joshua Resnick, CEO of Parallel Flight Technologies.
Over the past 12 months, Parallel's team has been adding efficiencies and fine-tuning their unique approach to hybrid power technology. The recent flight is the culmination of thousands of hours of R&D and countless trials. Current funding comes from private investment and NASA.
Parallel Flight Technologies anticipate their first commercially available aircraft to be in beta programs with customers in late 2020.
Parallel is also kicking off an equity crowdfunding campaign. "We are very excited about the opportunity for the public to invest in a solution that will save lives, property, and the environment." Joshua said.
The campaign can be accessed at https://www.startengine.com/parallel and includes a video of the team and the aircraft in action.