Working in a public safety agency is inherently dangerous.
All first responders, whether they work as police officers, firefighters, paramedics, or in search and rescue, know that part of their job is to be running toward danger while everyone else is running away.
But drones are mitigating this danger, helping make work safer for those at public safety agencies in several ways.
According to a 2020 report compiled by Bard's Center for the Study of the Drone, out of 1,578 public safety drone programs in the U.S. 70% were in Law Enforcement, 20% were in Fire and Rescue, and 10% were in Emergency Management. While the number of drone programs at public safety agencies has probably grown since 2020, we expect that the breakdown of types of agencies using drones has probably remained about the same.

Below we'll look at these three public safety categories and cover the specific ways that drones are providing safety benefits for the work each one does on a daily basis.
How Drones Improve Safety for Police Officers
Drones are being quickly adopted by police departments throughout the US.
Drones are making work for police officers safer by providing them with aerial data in real time to guide their decision making in dangerous situations, such as when pursuing a fleeing suspect. They're also making their work safer by helping them process accident scenes more quickly, and by creating orthomosaics of local buildings and other sites where an active shooter may someday crop up.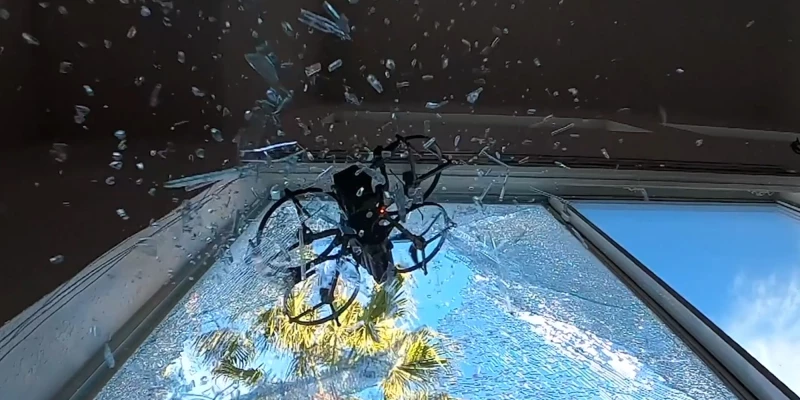 Here are some of the ways that drones are making work safer for police officers:
911 calls. When police respond to a call, they often don't know what they'll find on arriving. In Chula Vista, CA, the police deploy a drone ahead to the location of 911 calls, providing officers with a live feed of the scene to inform their decision-making on arrival. This "drone as first responder" approach can help police officers avoid an ambush, track down a fleeing suspect, and respond more quickly to the needs of those at the scene.
Crash reconstructions. Every second it takes to clear the road after an accident prolongs the dangerous window in which secondary collisions can occur. Drones help law enforcement collect all the data they need to conduct crash investigations so they can clear the road as quickly as possible. Drones are by far the quickest way to do this work, and this increase in speed can literally save lives over the course of a year.
Mapping popular locations. When an active shooter scenario crops up, it's vital that law enforcement understand the physical location where the situation is unfolding. A drone's visual data can be processed into detailed orthomosaic maps that allow police to know all the entry and exit points for a mall, school, or other highly trafficked area in a city.
Entering dangerous areas. Indoor drones like Flyability's Elios 3 can help keep law enforcement safe by letting them see what's happening inside an area that is too dangerous for them to enter. This could be the inside of a building after an explosion or an area in which an active shooter may still be present.
Disaster response. When a flood, earthquake, or hurricane hits an area, it can be hard to know what the conditions are—where the roads are clear, or where the power lines may be down. Police use drones to determine the conditions after a disaster, helping them navigate their response to the emergency and find victims who may be in need of rescue.
How Drones Improve Safety for Firefighters
Though we don't hear about it quite as much as we hear about police applications, drones are being used in firefighting all the time.
Firefighting presents an obvious use case for drones because firefighters have a strong need to collect data remotely on the state of an active fire so they can understand how it's burning, whether anyone is remaining inside that needs to be rescued, and other key details to guide their efforts.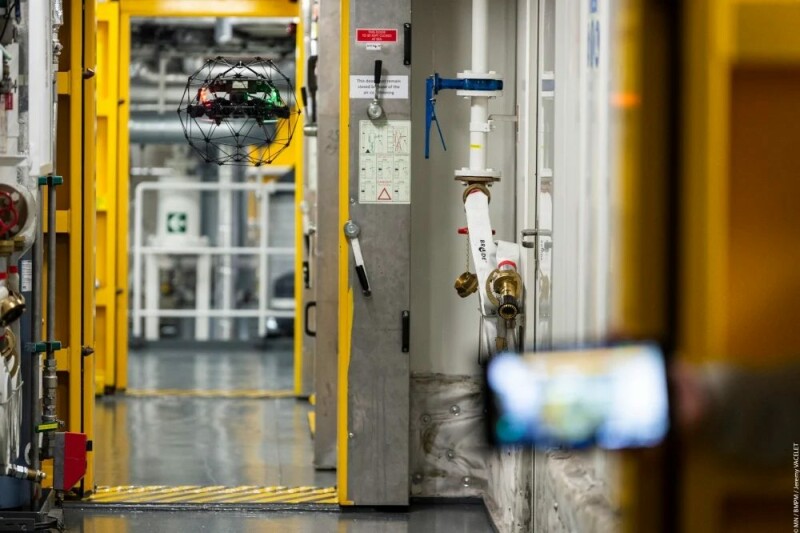 Here are some of the ways that drones are making work safe for firefighters:
Finding victims. Looking for people in need of help in a structure fire can be very dangerous. By flying into a building, or even a boat (as shown above) a caged indoor drone can help locate victims who may be in need of rescue, as well as identify smoldering areas via aerial thermography that may not be visible to the naked eye.
Guiding firefighting efforts. Drones can fly over ongoing fires and provide crucial visual data to guide firefighting efforts, including where the fire is moving as well as thermal data to show them where it's burning the hottest. This data can keep firefighters safe by helping them avoid the more dangerous hot spots in an active fire.
Assessing risk. It can be difficult to determine whether a building on fire, or that was recently on fire, is safe to enter. Firefighters are using indoor drones to assess risk from building collapse before entry, as well as looking for dangerous hot spots using aerial thermography which might otherwise be invisible to the naked eye.
Pre-fire planning. Similar to how police officers are using orthomosaics to plan for active shooter scenarios, fire departments are using orthomosaics and other types of aerial data for pre-fire planning, allowing them to map out possible evacuation routes and ways to fight a fire in large buildings found within a city.
3D Models. Being able to orient yourself in space can be crucial for responding to an ongoing fire. Drones like the Elios 3 can create 3D maps in real time as they fly through a burning building, giving fire fighters high quality intelligence on the environment to inform their response to the fire.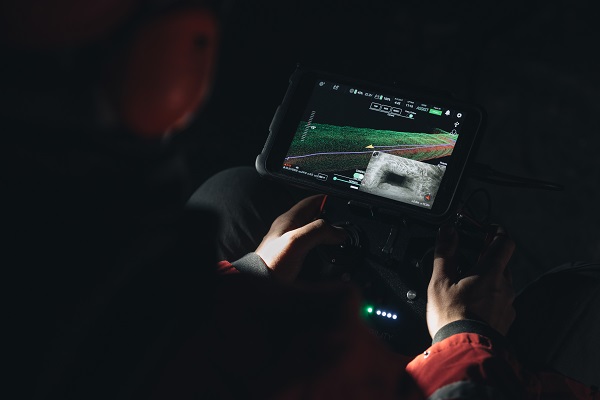 How Drones Improve Safety for Emergency Management Workers
EMTs, paramedics, and search and rescue teams are also seeing real safety benefits from drones, though they may not use them as often as police and firefighters.
The list of use cases isn't quite as long for this segment of public safety workers—but the safety benefits are significant.
Here are some of the ways that drones are making work safer for emergency management workers:
Deliveries. Delivering medical supplies or other crucial materials during an emergency can help EMTs avoid exposing themselves to potentially dangerous situations. One clear example is the use of drones to make food and medical deliveries during the height of the COVID-19 pandemic. Standing at a safe distance, medical personnel could use a drone to deliver important supplies without having to put themselves in harm's way.
Finding missing people. Looking for a person who was thrown from a car at night, a person suffering from dementia who has wandered off at night, or a hiker who hasn't returned—these can all be dangerous situations for the people tasked with finding them, not to mention the missing person themselves. A thermal drone removes the need for first responders to bushwack through unknown territory in the dark, allowing them to quickly find missing people, increasing safety for them and for those doing the work.
Who Does the Work?
As public safety drone programs become more commonplace most of them are using in-house pilots, but there are still some public safety agencies that rely on freelance pilots to collect aerial data for them.
Public safety agencies are in the unique position of getting to choose whether they want to operate their drone programs under the FAA's Part 107 rules or obtain a COA (Certificate of Authorization). Both options have their benefits—the Part 107 can be quicker to get, but the COA may allow for more types of operations, including flying at night or even BVLOS in certain circumstances.
Many public safety agencies choose to do both, having their pilots obtain Part 107s while they work toward getting a COA.
Did you know? In emergencies, public safety agencies can get an emergency waiver to fly BVLOS for a temporary period of time, called a TBVLOS. The T stands for Tactical—learn more about TBVLOS waivers here.
Learn more about using drones for public safety and emergency operations at Commercial UAV Expo. Special sessions focus on fire rescue, law enforcement, security and counter drone, and more.