They say niches make riches. But when I first heard about tethered drones, I thought to myself, "this may be too niche." Then I dove into the existing customer base.
While tethered drones may be niche, that niche is huge. Take, for example, the ever-increasing need to keep facilities, people, and assets safe from real-world threats. Global Market Insights reported that, just two years ago, the physical security market was worth over $70 billion. It projected growth at an overall 11% compound annual growth rate (CAGR) from 2021 through 2027, with a 10% growth rate for the US video surveillance market alone.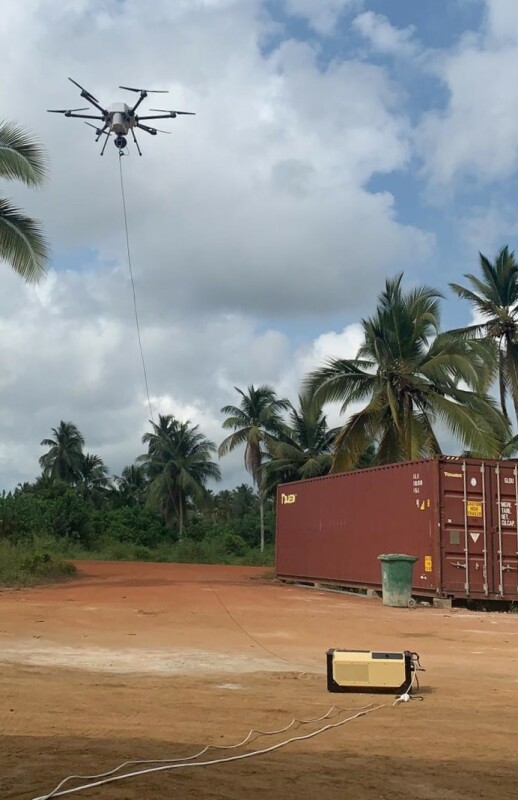 No one-size-fits-all solution exists for physical security. But tethered drone solutions can provide a unique stand-alone or complementary tech (in the case of layered defense) persistent security architecture for both military and commercial end-users. The use cases for these customers range from forward operating base (FOB) protection, border patrol, event security, traffic monitoring, and more.
Elistair's Managing Director for North America, Troy Hittle, a former US Air Force Tactical Air Control - Party Specialist with first-hand knowledge of the high stakes involved in protecting people and critical assets, takes security very seriously. He's seen how drones used for overwatch can save lives on the battlefield. But what is the specific value proposition of tethered drone solutions? What sets tethered drones apart from free-flying drones for security operations? How easy are they to use? Who is using them? Hittle answered these questions and many more.
Dawn Zoldi: For years, both military and commercial end-users have deployed free-flying drones for either intelligence, surveillance and reconnaissance (ISR), or situational awareness. Can you tell us why Elistair focused on tethered drone solutions?
Troy Hittle: In 2014, Guilhem de Marliave and Timothée Penet founded the company with the mission of helping those who serve and protect make faster and better decisions in critical situations. They wanted to allow users to have access to the best advancements in technology (e.g., the power of sensor capabilities, artificial intelligence, and internet of things tech) to provide persistent overwatch, without having to focus on flying around an area of interest, unless they want to fly. They realized that the best way to do this was to create cutting-edge tethered drone technology, with dual capabilities where the user can detach the drone and use it as a rover.
One of the most compelling aspects of the tethered drone system is that it can provide up to 24 hours of uninterrupted flight time using automated flight profiles, with a hierarchy of multilevel failsafes, while collecting top-tier data. As Elistair's sensor tech allows users to take advantage of zoom, high resolution, and infrared to gain situational awareness over an extended amount of time, the tether allows them to experience lower stress while piloting. This liberates people to focus on more critical aspects in the decision-making process, without having to focus solely on telemetry.
Dawn Zoldi: Elistair's tethering solution has two separate components—the tethering station and the Orion series of drones. Tell us about the tethering stations first.
Troy Hittle: The tether has four functionalities: it powers the drone, enables data transfer (video), controls the drone, and, of course, maintains the drone's position in a certain area.
We make two different smart tether stations that provide different levels of power and tether length. The Ligh-T provides 230 ft of tether with continuous power of around 900W. The Safe-T station provides 330 ft of tether with continuous power of around 2200W. A generator powers both, but users can also tap into different power sources as long as they have a minimum 3kw capacity.
The tethering station integrates with more than 40 different drones, and we can add more. Each station is meant for different levels of power requirements, depending on the platform its powering. For instance, the Ligh-T can power platforms as large as the M300 and similar. For anything bigger, the Safe-T can provide up to 2200 watts of continuous power.
As for the tether itself, our tech has a unique auto-torque feature that allows users to maintain a safe level of tension on the drone. It reacts to the feedback of the slack and keeps a taut line to avoid "lasso" effects. It also keeps the tether from pulling too tight, which can cause the drone to enter an uncomfortable looking angle and potentially reach a point of no return. This ability is key to the low anxiety flight experience I discussed earlier because it allows operators to focus on the main objective: security.
Both tether stations also have WiFi capability that connect them to a T-monitor app. The app allows users to monitor important information, such as the power consumption, cable length, and station temperature. We also installed a USB plug to upgrade the software, if needed.
Another key component of our most advanced smart station, the Safe-T, includes our T-Planner software, which provides command and control. Even though the drone is tethered and the flight operation is much easier, operators still need to monitor important telemetry. They can observe and manipulate the drone through an external ground control station (GCS) integrated with T-Planner, an easy-to-use interface. From T-Planner, the user has access to the video feed, telemetry, a map of the observation area, altitude, and all other pertinent data.
In summary, a generator powers the tether, which transfers power and data to the drone and back down to a GCS for the user to disseminate or observe locally.
Dawn Zoldi: Why did Elistair design the Orion series of drones to be part of a holistic tethering solution?
Troy Hittle: As I mentioned, our tether stations can integrate with 40+ drones. That doesn't mean those drones were made for that function. Not every drone that can be tethered to our stations has the same performance as our own drone, from an endurance and sensor capability standpoint. We first created the Orion 1 in 2017 and, more recently, the Orion 2, specifically to be tethered.
We designed Orion 2 to meet the needs of the Department of Defense, Ministry of Defense, Very-Important-Person (VIP) operations, and border watch mission sets. With intentionality, we built it to carry more payload, fly longer, and see further.
To put this in perspective, some commercially available platforms can fly up to 8 hours before an operator has to bring it down for system checks, etc. Elistair built the Orion 2 to provide up to 24 hours of flight. We've flown longer than that but guarantee up to 24 hours. But weather always gets a vote when it comes to flight time. Orion 2 can withstand 22mph and gusts up to 31mph. We are IP54 rated, which means we can handle dusty conditions and maintain flight in a light rain.
Orion 2's longer range optics, perfect for FOB security, can detect an object around 6.5 miles (10km), recognize more around 3 miles (7km) and identify critical details at just under a mile (1.5km). That said, we also have the ability to integrate with other sensors.
From a cargo standpoint, Orion 2 has 4.4 lb.of lift capability. We have had users add on small radars, radios, signal antennas, and, of course, EO/IR sensors.
Our goal, at the end of the day, is to provide what our users need to execute the mission.
Dawn Zoldi: You mentioned safety failsafes earlier. Please explain what those are for the Orion.
Troy Hittle: Like most any platform being used in a commercial or mission critical capacity, users can always execute emergency procedures, including simply unplugging the ethernet cable. If this occurs, the Orion 2 will descend at a safe rate and auto land. Our other safety features include:
Smart battery: Orion 2 charges while flying, in the case a user loses power from the generator or other source.

Flight companion processor: This provides redundancy with failsafes so there's no single point of failure.

Smart parachute: Deploys in case of a critical failure.

RC controller: Provided as a last resort if the system needs to be taken over manually.

Buzzer: The tether station will alert the user to possible problems (power consumption, temperature, power ON, power standby etc.)

Hexacopter: The design itself provides for redundancy and safety in a long flight.
Dawn Zoldi: How easily and quickly can an operator deploy your system?
Troy Hittle: Folks in the field have told us they can get the system up and running in 5 minutes if it is already assembled, 10 minutes if not.
Dawn Zoldi: So, who is actually using your tethered drone system and for what purposes?
Troy Hittle: As a global company, we have offices in Africa and here in the US, with headquarters in France. This allows us to gather requirements from all over the world from different types of users.
As you know, Dawn, on the military side, the mission varies. We have a number of defense users including the MODs for the United Kingdom and Norway.
We also have public safety, homeland security, and private security clients, including the US Department of Homeland Security. Orion 2 is ideal for large events that require centralized command. Our systems have been used to protect the Super Bowl, Ryder Cup, Football World Cup, and other similar events.
Dawn Zoldi: As I mentioned in my intro, I can't overstate the ever-increasing need for physical security and how tethered drones provide those protecting people and facilities with an incredible tool to add to their tool kits. What are you excited about?
Troy Hittle: I'm excited to announce that we're preparing to relocate our US office from the Boston area down to Wilmington, NC. But I'm even more excited to continue building strong customer relationships and working with our very motivated team to create the things that matter and work. We see present dangers growing and we can help our defenders and protectors tackle them head on. Even though we're in our eighth year, we are just beginning a new chapter of mainstream adoption of tethered drones for overwatch.
To learn more about Elistair, visit: www.Elistair.com