While the positive public perception of drones has increased over the last five years, real and perceived fears about drones persist, often restricting progress for good. In the UK (which has dealt with prison drone deliveries by gangs, a number of near misses, and the December, 2018 Gatwick drone incident which led to flight cancellations and the stranding of thousands of passengers), there is a definite mistrust of drones evidenced by the April 2019 PwC research study finding less than a third of those polled in the UK feeling positive about drone technology. The same is true in the United States where a December 2019 Hawthorn Group research study found 68% "concerned" about the safety of drones, with only 7% "not concerned at all." While 51% supported drone delivery, 49% thought it was "too dangerous" with 71% having privacy concerns.
While the public benefit of drones is well documented even before the newly permitted commercial use of drones by the FAA, there is still an uphill battle to win the public over on the truth that despite the risks that come with drones, there is a huge upside. It is becoming clearer day by day that drones not only have the potential for simplifying our lives, but also in making our world safer. The use of drones by police to track criminals, by firefighters to get a better perspective on fires, and by municipalities to do safety reviews of water tanks, oil pipelines and electrical lines is evidence of the public safety impact drones can have – and we are only in the infant stages of the public use of this emerging technology.
The recent outbreak of the novel corona virus (COVID-19), requiring people to be quarantined to attempt to slow down this worldwide pandemic, opens up another potentially huge public benefit of drones. While commercial drone delivery is just beginning in the United States, imagine the potential public health benefits of drones delivering medical supplies and food to quarantined individuals, hospitals or government run facilities. Drones could potentially answer the question of how quarantined individuals could sustain themselves over an extended quarantine, thereby also hopefully reducing the hoarding we have seen across the U.S.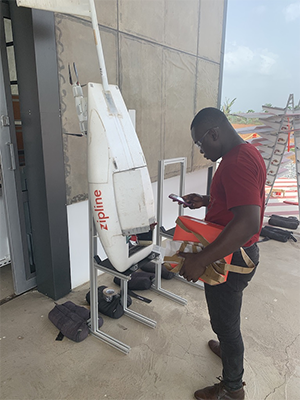 I experienced the vast potential for drones recently when I was privileged to visit a Zipline Center just north of Suhum, Ghana. Zipline is a for profit corporation established in the San Francisco area in 2014 which is already having a huge impact on public health in Africa. Their 2 meter long Styrofoam unmanned aircraft with a wingspan of 3.3 meters are saving lives in Rwanda and Ghana through contracts with those countries' health organizations to deliver blood, vaccines and other medical supplies to remote areas difficult to access by road.
I was first exposed to Zipline at the AUVSI ("Association for Unmanned Vehicles Systems International") Conference in Denver in May 2018 where the company was one of the recipients of the Inaugural AUVSI XCELLENCE Humanitarian Award for their work in medical supply delivery in Rwanda. As I am currently based in Accra, Ghana working as the Director for West Africa on a project for Pepperdine School of Law's Global Justice Institute, I became aware of Zipline's award of a four-year $12,000,000 contract with Ghana's National Health Service in December of 2018. As Zipline's first "center" in Ghana is located in Omenako, Ghana which is about an hour and a half drive north of Accra just past Suhum, I obtained permission from Daniel Marfo, the General Manager of Zipline International, to have a tour and interview some of its staff.
Omenako is one of four Zipline Centers in Ghana and covers the entire Eastern Region. It began operation on April 19, 2019, with the Mampong Center opening on October 19, 2019 and covering the majority of the Ashanti Region as well as Brong-Ahofo Region. These two facilities are currently servicing over 200 medical facilities with each doing approximately 35 deliveries per day, 7 days a week. The Wale Wale Center serving the Northern Region is set to open in March, 2020, with the Sefwi Wiawso Center serving the Western Region set to open in April. The goal is for each center to service 500 Health Facilities each within the next 4 years.
All manufacturing of this Styrofoam unmanned winged aircraft is done at Zipline's manufacturing facility in Davis, California, including its lithium-ion battery which doubles as a black box downloading data from the previous flight while being recharged. Zipline's "Robin" drone has an 80 km range while the newer "Sparrow" has a range of 120 km flying at 400-500 meters at 100 km/hr. Medical supplies are placed in a composite compartment with a capacity of up to 1.75 kg or almost 4 lbs. If blood or other temperature sensitive supplies are being delivered, ice packs are placed around the product which is then placed in a bubble lined cardboard box with a paper parachute, both of which are weather resistant.
I was able to witness a delivery firsthand when I visited the Omenako Center on February 27th. Once a health facility in Ghana requests service to begin, and Zipline is able to visit and establish coordinates for a drop zone, they get a flight plan approved by the Ghana Civil Aviation Authority and then once approved, they are ready to fly to that facility. The delivery I witnessed was medical supplies going to the Pakro Health Center which by road would take at least an hour and a half not taking into account bad traffic or an accident. If it was the rainy season, the road to Pakro could easily be flooded out making delivery difficult if not impossible. Other health facilities are across Lake Volta which means far longer transport by road as they need to cross by ferry. A Zipline drone can deliver a package to Pakro in 25 minutes, rain or shine, night or day. Imagine what that time savings could mean to a patient who needs a blood transfusion for example – literally a matter of life and death.
Once the delivery was called out on the loudspeaker, the medical supplies already packed were brought to the window of the temperature and environmentally controlled supply center and then given to the flight personnel – in this case it was John Baptist, the Flight Lead at Omenako. Once John packed the box into the frame of a Robin drone, it was brought to the catapult style launching pad that is unique to Zipline. Once placed on the track, the wing is put in place, the battery is connected, and they are ready to go within 5 minutes. Almost immediately after the aircraft was put together, its double propellers began whirring and the aircraft literally "zipped" away with vital medical supplies for Pakro.
I was then excited to hear over the loudspeaker that a drone was approaching from another mission. When a Zipline drone gets to its destination, it drops the package in the previously designated drop zone, then immediately turns around and returns to base. As it approaches the landing area, it flies between 2 steel girders and is caught by a cable and then recovered nose down once it stops swinging. Below are videos of both takeoff and landing to give the reader a sense of this amazing and efficient delivery system designed by Zipline.
What makes the Zipline operation even more impressive is the cost savings. While the $12,000,000 contract drew some criticism in Ghana when it was signed due to a gap in understanding of the program, that is diminishing due to Zipline's impressive performance over the first 11 months of operation. Truck deliveries which need refrigeration are particularly expensive in Ghana. Zipline, in compliance with the requirements of the NHS under their contract, stocks blood, vaccines (both in modern refrigerator units), and other medical items that can run out at remote health facilities. Facilities can also make special orders for items needed. The contract covers all services for NHS facilities across Ghana. The facilities do not pay Zipline for their services but do pay for supplies from the National Blood Service who they pay directly.
This is an exciting opportunity to use drones for good around the world to save lives and money in areas that are difficult to reach by road. Zipline is currently part of the UAS Integration Pilot Program (IPP) in the United States, partnering with the North Carolina Department of Transportation with operations scheduled to begin in June of this year, which will hopefully lead to Zipline service for remote parts of the US in the near future. Zipline is only one example in the potential public benefit of drones in the commercial sector.
All of this does not mean we don't deal with the real issues of terrorism, privacy and safety, but it is my strong belief that (like other technological breakthroughs, including the internet) although there are definite risks, the benefits of drones dwarf them even in this early stage of widespread use. The Hawthorn Group research cited above found that 93% of Americans studied wanted regulation of drones. I totally agree. Fully researched and tested regulation and tort law in the drone arena are the answer to fear. I therefore would call upon the FAA to keep pressing on to the goal of solid and expansive drone regulation, and the Uniform Law Commission to not give up on its efforts to encourage the Drafting Committee to work to balance the interests of property rights advocates with the commercial drone industry in finalizing a workable Tort Law Relating to Drones Act that can be approved and distributed to States as soon as possible – if not by the July Annual Meeting in Wisconsin, then by the 2021 Meeting in New York next July.