One of the great advantages drones represent relates to how they can perform certain tasks, over and over, in exactly the manner. This repeatability is set to open up tremendous opportunities, especially when it's combined with autonomous capabilities so that certain tasks that don't require much or even any human supervision can be completed.
The autonomous capabilities of drones were a big topic of discussion at the
recent Commercial UAV Expo Americas
, where
panelists debated and discussed the future of UAS
as well as the opportunities and challenges that are just around the corner. During the event, Chris Rittler, CEO of Cape, talked about what the San Diego Fire Department is doing with drones
as part of the FAA Integration Pilot Program
(IPP) to illustrate the benefits of using highly autonomous drones in disaster response situations.To learn more about how Cape is helping to bring highly autonomous drones into public safety, we sat down with Chris to ask him about his company's technology and also explore some pretty exciting announcements in regards to autonomy in public safety. 
Juan
: Chris, can you explain the concept of Telepresence?
Chris
: The Cape Aerial Telepresence platform is the world's first cloud platform for full drone telepresence and data management -- which easily integrates with existing off-the-shelf drone hardware. Onsite drone operators launch Cape-enabled drones, and once the drone is in flight, up to 50 credentialed users can log in to the platform on any Internet-connected device to simultaneously view the live stream in real time. What makes the Cape platform even more impactful is that it also allows for fast and easy remote operation -- or tele-operation -- of the drone, so the right person or expert can take control and manipulate the drone from anywhere in the world to get the exact visibility needed. For example, in the telecommunications or oil & gas sectors, the Cape platform can help companies more safely and quickly conduct tower or well inspections. Today, these highly manual tasks require major time, money and resource investments and often take team members away from much more meaningful tasks. With drones, expert technicians can efficiently perform remote inspections and access real-time data from anywhere in the world.
Juan
: In other words, there's no need for the subject-matter experts to be in the same room with the remote pilots manipulating the controls.
Chris
: Exactly; we can reach out to anyone anywhere in the world who's needed in case of an emergency to have a look at a specific situation remotely and that person can provide instructions to change the angle of view or get closer in order to provide a remote diagnostic.
Juan
: What are some of the unique features of your application?
Chris
: Apart from what we offer in the basic package, the user can define custom geofences, no-fly zones, minimum and maximum altitudes and maximum speeds, the Cape platform provides access to a safe, reliable and scalable solution that makes the drone virtually uncrashable. Cape software also allows for easy integration with both additional drone hardware and existing business applications. Layered with the aerial visibility and data, companies now have access to a more comprehensive view and understanding of their business than ever before.
Juan
: In your recent announcement, you put special emphasis on security and first responders. Is that the only area CAPE market strategy focus on?
Chris
: No, today organizations across a wide spectrum of industries benefit from Cape Aerial Telepresence, including agriculture, construction, oil and gas, and telecommunications. Our customers are using Cape-enabled drones for a wide array of use cases including asset inspection, improving security and public safety, combating environmental and humanitarian crises, and monitoring traffic and infrastructure support. We've seen first-hand that drones can make a dramatic impact on nearly any organization in any industry. Drones are unlocking areas of opportunity that were previously untapped due to budget constraints, physical constraints, people constraints, and time constraints.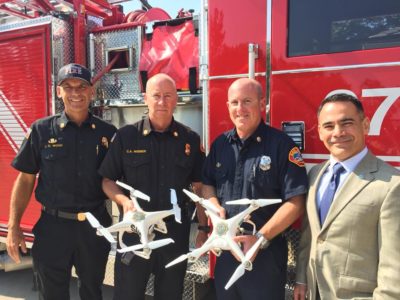 Juan
: Can you give us an update on the FAA's IPP program with the City of San Diego?
Chris
: In addition to the emergency fire response demo we conducted with the San Diego Fire Department, in the coming months, we will be deploying drones with the Chula Vista Police Department for emergency response support -- including providing real-time aerial visibility to first responder teams both on scene and in the command center to better and more quickly inform resource decisions for emergency situations. Our IPP participation builds on our long-standing history with the FAA, as one of the first and only companies in the U.S. to be awarded precedent-setting waivers under both section 333 and Part 107 regulations -- to date, we've conducted more than 100K drone flights with zero incidents.
Juan
: What would you say CAPE key differentiator is?
Chris
: We've taken a fundamentally different approach to drone technology by focusing on the software to create aerial intelligence assets from commercially available, off-the-shelf drones. This provides organizations with access to the full benefits of real-time aerial visibility and intelligence, without the traditional hassle. As a result, organizations are seeing significant outcomes -- from reducing expenditures associated with paying experts to travel onsite, to driving efficiencies around manual and ongoing tasks, to keeping personnel out of harm's way.
Juan
: Is CAPE currently working on an international presence?
Chris
: We've developed a multitude of best practices with regards to public safety applications in other markets around the world. In 2017, Cape technology was used to enhance the capabilities of the forces providing security for the Arab League Summit in Jordan. More recently Cape worked with the Municipal Police in Ensenada, Mexico, helping them use the drone for incident response and search and rescue support. In just the first four months, a single drone reduced the city's crime rate by 10 percent and improved call response times by 90-95 percent, crediting the drone with more than 500 arrests. Chula Vista personnel visited Ensenada and had the opportunity to see what we were doing first-hand. Chula Vista is now leading the efforts in public safety to define operational improvements, safety management systems and regulatory improvements. CAPE is fortunate to be the private entity in this public-private partnership. We are one of the few companies with existing experience and proven success, and we're in a unique position to help U.S. agencies build drone integration into standard operating procedures. We're excited to apply those to our work with the San Diego IPP to help shape the future of drone integration in the U.S.Today, Cape technology is relied upon by enterprises and government organizations in markets around the world, including the U.S., Middle East, Australia and Mexico. We've been at the forefront of autonomous drone innovation since our founding and are excited to continue leading the way for commercial drone innovation around the world.