Earthquakes are one of the most devastating and difficult natural disasters to forecast or predict. Hurricanes can be seen developing over weeks, and that gives authorities and the affected areas time to prepare and evacuate. Even tornadoes give unsuspecting populations a few minutes or seconds to enter a shelter, but earthquakes arrive without warning, and the technology to increase accuracy or improve warning time is years if not decades away.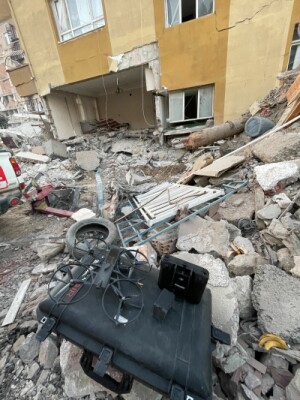 In the case of the 7.8 magnitude tremor in Southern Turkey and Northern Syria on February 6, the timing could not have been worse. It happened in the middle of the night when most people were sleeping, and the buildings that collapsed were full.
But if we cannot predict earthquakes, we can at least use technology to improve detection and rescue efforts. One company in particular, BRINC has taken the initiative on detection and rescue with the creation of its rapid response team, "BRINC Global Rescue Network." The idea behind the BRINC Global Rescue Network is to donate the use of equipment, staffing, and expertise to support local first responders, NGOs, and government agencies in natural disaster and humanitarian crisis situations.
We had the opportunity to talk to Andrew Cote, Chief of Staff at BRINC, for an exclusive interview about how his company helped the Turkish authorities with the immediate aftermath of the devastating February 6 earthquake.
"As soon as he heard the news of the earthquake, we made a conscious decision to help. To make a difference on the ground by offering our uncrewed technology to improve the chances of finding survivors," Cote reflected. "We started the arduous process of finding visas, making traveling arrangements and contacting the different government and agencies that might need our assistance. It was a titanic effort that took about two weeks until we finally arrived at the scene and started our work."
By the time the BRINC team arrived in Turkey, the effort had turned from rescue to recovery of human remains, and Andrew's team had the right tools to help the local authorities.
"Last July, we launched the BRINC Global Rescue Network composed of two dozen public safety professionals, military veterans, and current/former professional drone racing league members located around the world," Cote said. "We saw an opportunity to deploy all this brain power and technology in a place that has lost almost all possibility of recovering on its own. We are proud of the work that we were able to do."
"For this particular job, we decided to use BRINC's LEMUR S, a highly dependable drone with unique features particularly suited for urban search and rescue missions," Cote reported. "Lemur S is equipped with technology that allows operators to get eyes and ears in locations that are too dangerous to send a human, and this particular mission was perfect, given the number of aftershocks and the instability of the rubble where the vast majority of victims were located."
The BRINC Global Rescue Network sounds like one of those initiatives that is destined to become a fixture in every corner of the world where nature and circumstances conspire to make the recovery from natural disasters an international effort. Kudos and thanks to Andrew Cote and his team for their dedication and generosity.