In the commercial drone world, one of the biggest risks to developing commercial UAV programs is public approval of drones. With recent events in Colorado, effective outreach is becoming even more important than ever. Because their primary focus is working with the public, this is especially true for drone operators working within public safety and emergency services.
Ensuring successful relationships is something the Airborne International Response Team (AIRT) excels at. The 501(c) non-profit organization is home to DRONERESPONDERS – the world's fastest growing program supporting public safety UAS. In 2019, AIRT DRONERESPONDERS blazed a trail through the industry developing partnerships, alliances, and generating much needed visibility surrounding the use of drones by first responders.
For 2020, they are launching their Drones For Good™ campaign focused on demonstrating the value drones have to offer across a wide variety of public safety and emergency response use cases. Examples of the Drones For Good™ campaign include mapping the disaster zone of Hurricane Dorian in the Bahamas, establishing safety standards for flight training and operations, conducting public awareness campaigns with key partners, and by helping to educate first responders at the DRONERESPONDERS Global Public Safety UAS Summit, which is set to take place at AUVSI XPONENTIAL 2020 in Boston.
Commercial UAV News spoke with Chief Charles Werner, director of DRONERESPONDERS, and Christopher Todd, the executive director of AIRT, about their experience with mapping the Bahamas with Pix4Dreact, the different types of public outreach initiatives they have been planning, and how Drones For Good™ will impact the unmanned systems industry in 2020.
Danielle Gagne: A major game changer in the space was the introduction of Pix4Dreact, which can operate without any internet connection. You recently tested the new Pix4Dreact software in a real-life situation assessing the aftermath of Hurricane Dorian in the Bahamas. How did this tool add value to your SOP? Do you think it will expand use cases for drones in other emergency scenarios?
Christopher Todd: It absolutely will.
The situation in which we tested Pix4Dreact had nothing standardized about it. It was a true disaster scenario with significant loss of life. We were in a foreign country under austere conditions with no mobile connectivity. So, our standard operating procedures were basically thrown out the window as we developed an ad hoc playbook as the incident unfolded. This is not entirely uncommon for extreme emergencies and disasters, you are often forced to piece together a new plan based on the dynamics of the incident.
Our base of operations became Palm Beach International Airport because there was no infrastructure in the northern Bahamas that we could rely on. We used small aircraft to enter the Bahamas each day. Pix4Dreact came into play on day two when we flew into Great Abaco Island where Marsh Harbor is located. This is the area that took the brunt of Hurricane Dorian. They had significant storm surge of upwards of 20 feet, sustained category 4 to 5 hurricane force winds for 40 hours or more—it was absolutely devastated. It reminded me of a war zone like the TV news coverage you see from Iraq and Afghanistan.
It was eerily quiet there. In the US when something bad happens, you start seeing a lot of movement once the weather clears; relief aid starts flowing in through the interstate highway system almost immediately. In contrast, there was nothing happening on Great Abaco. Access to the island was primarily via air or boatlift, so aid and support was evolving very slowly. When we landed at the airport we met with some locals and went into town. By the time we were set up and ready to fly it was already late afternoon.
We flew the mission over the area known as "The Mud" – perhaps the most devasted area of Marsh Harbor. Shortly after landing, we transferred the data to a Panasonic Toughbook 31 with a beta version of Pix4DReact preloaded on it. We were able to generate a digital map for damage assessment of the target area within 45 minutes.
In the past, we probably would have had to take that data back to an Internet connected base – in this case that would have been West Palm Beach or Nassau – in order to upload and process the data to have a map rendered. Then we would have to fly that map back to the disaster zone where the search and rescue teams were, so that they could then use it. In this case, we were able to process it right on the spot in a timely manner. It represented an absolute game changer for the workflow surrounding how disaster response operations will be conducted moving forward.
When going out in the field on an emergency response call, drone operators invariably have to deal with the media and other players who are also utilizing drones to capture their own data or footage. With your latest partnership with the National Press Photographers Association, DRONERESPONDERS is starting to bring these people into the conversation. Can you tell me a little bit about the goals of this partnership and how it is improving/going to improve safety and communication when sharing national airspace with other stakeholders?
Chief Charles Werner: This goes back to the DRONERESPONDERS UAS Public Safety Summit we held in conjunction with Commercial UAV Expo Americas. One of the really unique things we did at that summit was boil down what the top pain points were within public safety. We started with a list of about 50 or more different things, and we worked to boil it down to the top three.
The first one was standardized training and certification of equipment. The second was tactical beyond visual line of sight waivers allowing public safety to use drones outside their line of sight in compact areas to get around visual corners like houses during a structure fire. And the third one was getting help reaching out to the general public and making them aware of drones being used by public safety, what the benefits were, and really helping them create an understanding and appreciation of the value of these tools.
Coming out of that conference, we put together an action plan to start acting on these three pain points. A really easy lift for us was to solidify the partnership we had already been working on with the National Press Photographers Association. They have similar goals and they are a great source for public outreach to amplify our voice to different populations.
When working with media on a scene, collaboration is absolutely crucial. News and public safety helicopters essentially have seamless integration when there's a major incident; they communicate and understand each other. We want to try to replicate that relationship at the drone operations level and the National Press Photographers Association is probably the best organization out there to help us do that.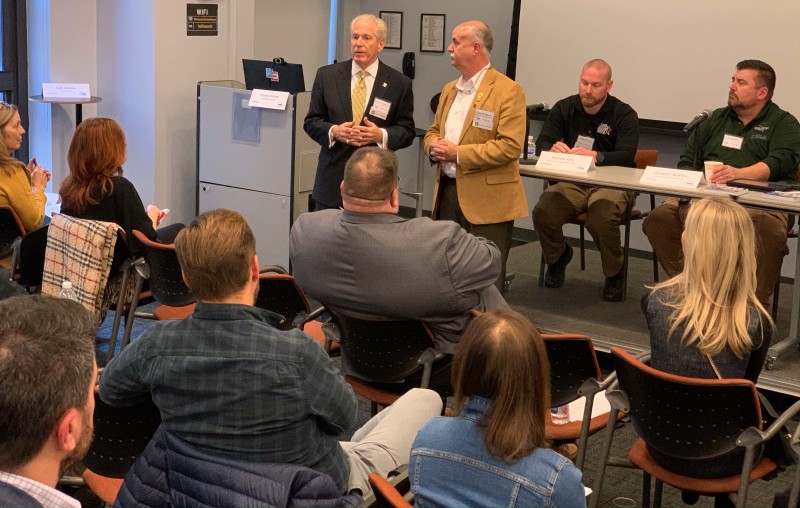 You seem to be doing a lot with this third point right now. With DRONERESPONDERS' participation in the FAA's National Drone Safety Week and the latest announcement that AIRT and DRONERESPONDERS will be hosting the Global Public Safety UAS Summit, your organization is definitely keyed in on educating the public about drone safety. What is the importance of outreach like this for emergency response and for commercial drones in general? How effective do you think these kinds of outreach programs are?
Chief Charles Werner: I think all of these outreach efforts are important because what we've seen is that the perception of the general public makes a huge difference in how drones are received in their communities.
We have some really great partnerships with top-tier organizations like AUVSI, ANSI, the Alliance for Drone Innovation, the Commercial Drone Alliance, Women and Drones, and others. These relationships allow us to work together to make a greater impact across the board for public outreach.
Events like National Drone Safety Awareness Week really help to highlight how drones are being used for many good things, in many ways. This makes a huge difference. We plan to expand the number of outreach events we are conducting as DRONERESPONDERS continues to grow.
These programs are really great for getting information out to the public. But, as the old adage says, "you can lead a horse to water, but you can't make it drink." How do you get the public to come to these events, listen to the information you have to share, and get them involved?
Chief Charles Werner: That's really the holy grail that every organization, like the FAA and every safety-related organization is trying to do. It's really tough but you've got to show the dangers and the risks.
There are so many touch points, but you want the public to know that the industry as a whole is operating responsibly. Different things are going to appeal to different people, so I think that's why the FAA did a really good job this year by having different categories for its first National Drone Safety Week. Whether you were a hobbyist, in public safety, architecture or construction, they were hosting events through all of their different partners around the country trying to appeal to each group of drone operators. We hope that there was enough appeal to draw interest across the board, because drone safety really touches everywhere.
DRONERESPONDERS has also recently announced the Major Cities Working Group, which will be hosting their first in-person meeting during the Global Public Safety UAS Summit. What are some of the key differences between urban and rural emergency response practices? Can you tell us about what this initial meeting will be focusing on and what challenges urban emergency response operators are currently dealing with?
Chief Charles Werner: It is really a different type of situation. When you look at large cities with tall buildings, you start having different types of micro weather and wind canyons that whip around tall buildings and affect the operations of drones during public safety emergency incidents. You've got to be aware of how to operate in those conditions. I think this is what the group will tend to explore as it starts to mature.
This meeting is really about bringing together those major cities that have unique metropolitan, urban issues. For example, skyscrapers can also interfere with GPS signals. The FDNY did two years of research to find out all the various types of radio interference that were out there, but there aren't a lot of avenues to disseminate that information.
The goal of this meeting is to get people from these major cities together to discuss issues like these in public safety and to share the successes and challenges they've had, so that others can benefit and learn more quickly as opposed to reinventing the wheel in every district. We have been planning with the Major Cities Working Group leadership team over the holiday break and will soon be pushing out information about how other major cities with UAS program can get involved with this working group.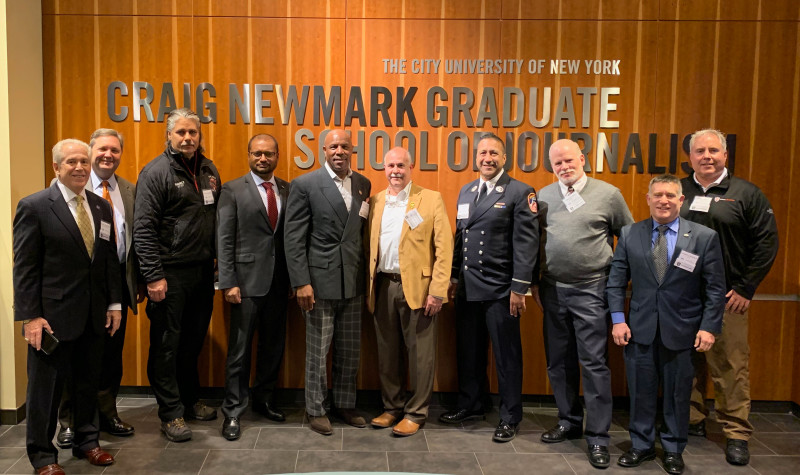 What developments surrounding public safety UAS are you looking forward to most in 2020?
Christopher Todd: We are looking forward to developing solutions surrounding the key pain points identified at the fall summit. We need to continue to develop standards surrounding public safety UAS training and certification. We need to give first responders the ability to conduct tactical BVLOS flight operations for specialized threats and hazards. And we need to expand our public outreach and awareness campaigns so that the whole community can better understand and embrace the amazing potential of unmanned aviation and Drones For Good™.
You're going to see us working to check each of these boxes in 2020. After we do, we'll identify a new set of goals of objectives to keep pushing the conversation forward.
As we enter the new year we are very pleased to welcome incredible corporate partners such as GE AiRXOS, Pix4D, the Motorola Solutions Foundation, Skydio, First IZ, JMA Solutions, and the Virginia Unmanned Systems Center at CIT. The generous financial support these organizations are providing will help us expand the AIRT DRONERESPONDERS non-profit mission to make a greater impact.
Ultimately, it is about the people who volunteer their time to help make both AIRT and the DRONERESPONDERS program a success. We have an amazing team in place which is getting larger every week. We now have over 1,500 members in the DRONERESPONDERS program representing 33 different countries. We recently created an International Advisory Council to help guide our mission around the world. We are adding new leadership positions as we expand the organizational structure. There will undoubtedly be a few growing pains as we put all of these pieces together, but we are extremely excited about the potential 2020 shows for highlighting Drones For Good™.
For information about AIRT visit http://airt.ngo and to learn more about DRONERESPONDERS please visit http://droneresponders.org.