Polish drone manufacturer FlyTech UAV recently announced an upgrade to their flagship fixed-wing BIRDIE, launching detachable extension modules that allows for VTOL.
For FlyTech, the development of the new 2-in-1 VTOL solution was all about creating flexibility for their customers."Whenever your aerial survey is urgent, you typically cannot afford to be dependent on neither the weather not the take-off/landing spot availability," said Przemek Lekston, FlyTech's CTO and co-founder. "We didn't want to change what is the best in BIRDIE (accuracy, easiness of use and superb efficiency) but to give our users something extra: the flexibility of choice. And having the extra flexibility of choosing to go with vertical take-off and Landing or with an exceptional range and wind tolerance of a fixed-wing ensures that the jobs is done in time."
The module is compatible with all BIRDIE models (the first fixed-wing model was first launched in mid-2017, although the oldest units will require minor wiring adjustments for compatibility."To those who are interested in the upgrade, we will only send the VTOL case with all of the equipment and of course with clear instructions how to attach and detach the module," said Lekston. "The introduction training is not necessary as the upgrade is very simple, fast and intuitive."The VTOL extension does increase weight and drag to the unit, cutting the average flight time in half from the fixed-wing's one hour down to 30 minutes. But the unit has increased accuracy and lifting capacity with the module attached. Lekston said FlyTech is already working aerodynamic improvements to allow further extension of the flight time.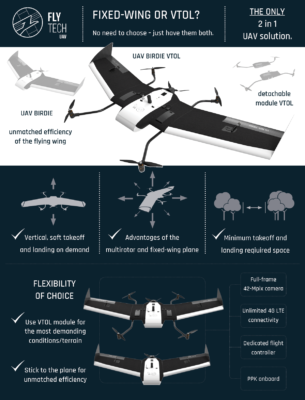 The use of VTOL extension module is recommended when it is not possible to use fixed-wing due to hard surfaces, lack of proper takeoff and landing space."The flying wing is excellent for mapping in open-pit mines, crops, and opened areas. The VTOL option is perfect to takeoff in narrow spaces, forests or in urbanized areas, or when we would like to provide the extra protection to the camera (which might be a good choice on hard surfaces, such as rocks)," said Lekston."I am sure our 2-in-1 option will be a perfect fit for surveying services providers, that have a lot of diversified clients and jobs. Imagine one day you are mapping the highway and the next day - you are going to examine plants health in the forest (due to high vegetation it is not possible to make a belly landing). Thanks to our solution you are able to use one drone for multiple jobs and in every environment."The first pre-release of VTOL module was in October 2018 and was still in development for the next several months. The 2-in-1 platform is now being delivered to clients.