Commercial UAV Expo 2023 launched on a high note as five companies put their drones on display Tuesday morning for the annual Live Outdoor Flying Demonstrations, sponsored by Sundance Media Group.
"Each year, the live flying demonstrations are one of the most talked about events at Commercial UAV Expo," said Lee Corkhill, Group Event Director for Diversified Communications' Technology Group.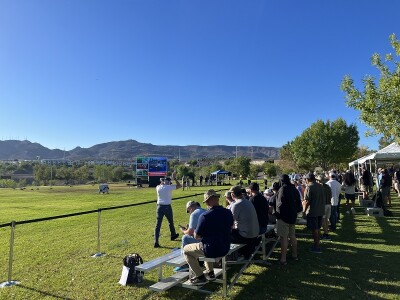 "Drone companies get to showcase their innovations, and attendees get to see the latest drone technology up close and in action. There's nothing like it!"
Held at Cornerstone Park in Henderson, NV, the flying demonstrations showed how today's drone technology can be used for a wide variety of use cases. Included in the roughly three-hour event were companies presenting how their technology can be used for security and public safety, surveying and mapping, delivering life-saving supplies during a search and rescue mission, and more.
Here's a look at the five demonstrations:
Autel Robotics
Autel Robotics demonstrated advancements to its EVO MAX series and the capabilities of its Dragonfish VTOL series, focusing on its value in data collection and reconnaissance within UAS programs. Autel's demonstrations showcased the ability to control two EVO MAX 4T vehicles individually and in tandem. They finished their presentation by demonstrating how they can use the EVO Max series drones to drop and deliver key supplies like floatation devices and cell phones in search and rescue mission, a quick process which does not require landing to load the supplies to the drone.
Event 38 Unmanned Systems
Event 38 presented its E400 Drone with a Nextvision Nighthawk2V Payload. A long endurance Fixed Wing VTOL UAS, the E400 can carry a variety of DSLR Mapping Payloads of up to 3lbs. Designed for applications such as mapping & surveying, security, and surveillance, the E400 ISR is a multi-role UAS capable of flight times of up to 2.5 hours. In their presentation, they flew the E400 ISR, demonstrating how it can be used for mapping projects, as well as the capabilities to manually take over an autonomous landing if necessary.
Andrew Wilber, Business Development Specialist at Event 38, told Commercial UAV News, "The outdoor flying demo gave our E400 ISR drone an ideal platform for DFR industry leaders and law enforcement professionals to get first-hand exposure to the aircraft. This firsthand account opened the door to several who otherwise had no perspective on our capabilities. This event secured a long-lasting impression in our minds."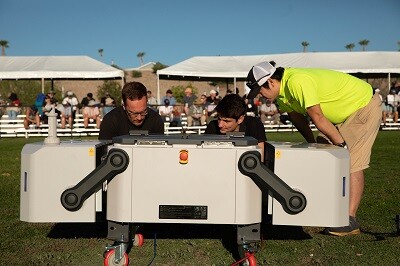 Frontier Precision Unmanned
Frontier Precision's demonstration focused on the benefits that be derived when commercial drone missions can operate Beyond the Visual Line of Sight (BVLOS). In their presentation, they flew two different drones: the Censys Sentaero 5 and the Matrice 30 with the DJI Dock. They noted their ability to fly in even the most remote areas as they utilize Starlink connections, including a recent project in which they flew a mapping research mission following an avalanche in Alaska.
Cassandra Greenwalt, Operations Manager with Frontier Precision, told Commercial UAV News, "Frontier Precision Unmanned was thrilled to be able to exhibit some of the latest BVLOS technology in front of industry leaders from around the world. It's a great opportunity to give attendees a sneak peak into what Frontier has to offer."
ideaForge
ideaForge presented an exclusive sneak peak of its NETRA V4 UAV. Offering 90-minute endurance and the ability to operate in extreme temperatures ranging from -4 °F to 131 °F, this IP-54 rated drone boasts an operational range of up to 10 miles. One of their focuses was on the drone's capabilities in public safety and security use cases, showcasing impressive zoom and tracking capabilities for people and vehicles. Additionally, they showed off their flight planning software for mapping projects and the ability to save video and sensor data.
Skyfish
For this demonstration, drone maker Skyfish showed how its M4 drone paired with the latest camera technology from Sony can be used to create "digital twins" of infrastructure, an integration they said is the result of two years of collaboration between the two companies. Skyfish also showcased its M6 drone with the NextVision Raptor long-range dual EO-IR sensor with X80 day/night zoom capabilities, which can be used for defense and surveillance applications. This drone can be used for public safety and disaster use cases as well, with the ability to track things like fire, smoke, and marine activity.