May 18 2023, Tel Aviv, and Washington. XTEND – the developer of XOS, a human-guided autonomous operating system that is revolutionizing 'human to machine' interaction, has acquired Performance Rotors, the Singapore-based

leading drone inspection specialists, in a move that will boost XTEND's ability to offer human-guided, remote interactive operations in a range of inspection scenarios, and grow its global business. Financial terms of the transaction were not disclosed.
"Our acquisition of Performance Rotors marks the latest step in furthering XTEND's vision of making remote interactive operations accessible to everyone, in a range of scenarios, including inspection, public safety and security," said Aviv Shapira, co-founder, and CEO at XTEND. "Every day, people risk their lives to make our world safer. Inspection is just one area, among many, where machines, robots and drones can be used to accomplish what people can't, in a more economical, efficient, and safer manner. We are delighted that Keith Ng, Performance Rotors' co-founder and CEO, and his team are joining XTEND on our journey towards making XOS the operating system of choice for controlling drones, robots, vehicles, smart devices, and smart machines remotely, safely, and intuitively."
XTEND provides revolutionary human-guided autonomous machine systems that enable any operator to perform extremely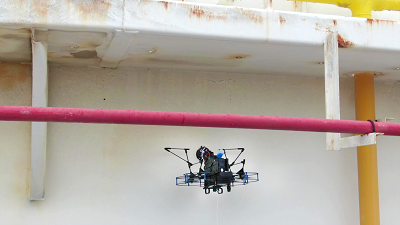 accurate manoeuvres and actions, in any environment with minimal training. XTEND's patented XOS operating system enables effective, practical autonomy, by fusing the best of human intelligence and machine autonomy, to enhance the operator's abilities, and simultaneously reduce the risk of injury. Allowing professionals to control drones and smart machines and carry out complex tasks that require human interaction and decision-making safety and remotely.
"Performance Rotors's mission has always been to develop drones and robotics solutions for data acquisition in GPS-denied and confined space environments, without the risk to human lives," said Keith Ng, co-founder, and CEO of Performance Rotors. "Our extensive client base spans many of the world's major oil and gas, maritime and infrastructure projects, and our hardware is being used across the World, particularly in APAC. We are confident that combining XTEND's innovation XOS software with our world-class technology brings the best of the industry together in one powerful and easy to use solution that comprehensively addresses the critical challenges facing our customers today."
Chartered Group, who led the acquisition, is an innovative global private equity firm, which provides extraordinary global investment funds and opportunities for a greener and more digitalized world across several disciplinaries. Eyal Agmoni Chairman of Chartered Group adds: "The acquisition of Performance Rotors not only enriches XTEND's offering in industrial inspection, but it will also enable Aviv and his team to further diversify their expertise in oil and gas, maritime and infrastructure projects, and develop XTEND's software business globally, particularly here in APAC and Japan."
Alongside expanding application of its easily programmable and configurable XOS operating systems into inspection, public safety, security, and other civilian markets, the XTEND team have recently been awarded several multi-million $ contracts with the U.S. Department of Defense and MAFAT, the Israeli Ministry of Defense's Research & Development Directorate, to modernize their use of drone technology. In both cases, XOS is already enabling military drone operators to interactively operate multiple smart machines from a remote, safe distance, with zero training.
Source: XTEND