While not everyone has the expertise to become a top drone investor, there are still ways to get financially involved in the industry. These include monitoring publicly traded drone companies and their stock performance. Drone Industry Insights recently continued their series on drone stocks by monitoring UAV stock performance, air mobility stocks, and drone technology ETFs. Here is a glimpse into the topic for those who are interested in financially investing in the rapidly growing drone industry and may be wondering where to start.
To assess UAV stock performance, Droneii looked at the market cap of 13 publicly traded drone companies focused only on hardware and service from the beginning to the end of 2022. Only four of these companies recorded an increase in market capitalization. Among these companies, Primoco UAV (PRG:PRUIA) had the highest percentage increase in its market cap (+62%). The other UAV stocks to register an increase in market cap for their company were: AeroVironment (NASDAQ: AVAV), Drone Shield (OTC: DRSHF) and Parrot (FR: PARRO).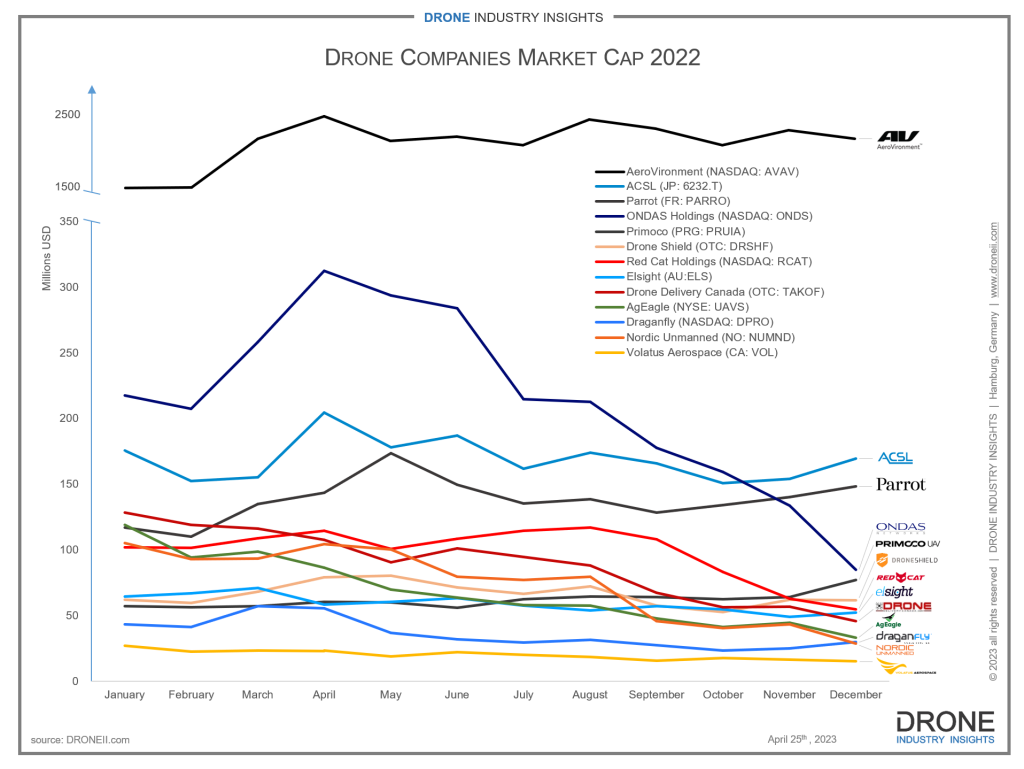 Nine companies recorded a decrease, with Japanese ACSL (JP:6232.T) showing a high level of stability. Meanwhile, AgEagle (NYSE:UAVS) experienced the biggest percentage loss in its market cap, and ONDAS Holdings (NASDAQ:ONDS) had the biggest absolute loss in market cap.
In the area of advanced air mobility, there has been a noticeable increase in companies listed. In 2021, there was only one company listed, which then became five in 2022, and has now reached seven advanced air mobility stocks. The three companies which consistently held the highest market cap throughout all of 2022 were: Joby Aviation (NYSE:JOBY), Eve Air Mobility (NYSE:EVEX), and Vertical Aerospace (NYSE:EVTL). Eve Air Mobility (NYSE:EVEX) showed the most stability, but it only began properly trading in May of 2022, making the data more limited. The company with the biggest loss in market cap from the start until the end of 2022 was Lilium (NASDAQ:LILM).
Despite the lackluster stock performance, the EVTOL market still has some way to go before the products enter the market. But the companies that are already being traded offer an opportunity for those who want to monitor and invest early in this segment of the drone industry, which will continue to evolve in the coming decades.
In terms of other financial instruments, the only ETF available that is focused on drone technology is the AdvisorShares Drone Technology ETF. According to the Wall Street Journal, the investment policy followed by this ETF is to invest at least 80% of its net assets in securities of companies that derive at least 50% of their revenue or profit from the use and/or manufacture of drones or technology. However, the analysis by Droneii suggests that this is should likely not be considered a "drone stock" by industry professionals.
As a final note, it is important to note that this information is not meant to serve as investment advice. However, monitoring these stocks may provide useful information for those looking to get involved in the rapidly growing drone industry.